Spoticar is a new name with a long history, as it has origins in one of the UK's first approved-used schemes. Network Q gave secondhand Vauxhalls the same marketing and consistency as new ones, and now Vauxhall is part of a huge multi-brand group, the advantages of that dealer programme are open to Peugeot, Citroen, Vauxhall, Fiat, Jeep and others
Because Spoticar covers so many marques, dealer locations and networks it's a truly national programme, and though some brands aren't fully integrated their cars are available through Spoticar's website and retailers in addition to their own schemes. DS Certified, Approved Used Alfa Romeo, and Maserati Approved are part of the Stellantis group, but offer an upmarket showroom experience.
Spoticar is not quite an online shopping experience. There's a one-stop-shop website, though the idea is still to buy via a showroom. When searching for cars for sale near you through Parkers and other adverts, Peugeot, Citroen, Vauxhall and Fiat dealers will almost always offer Spoticar scheme cars.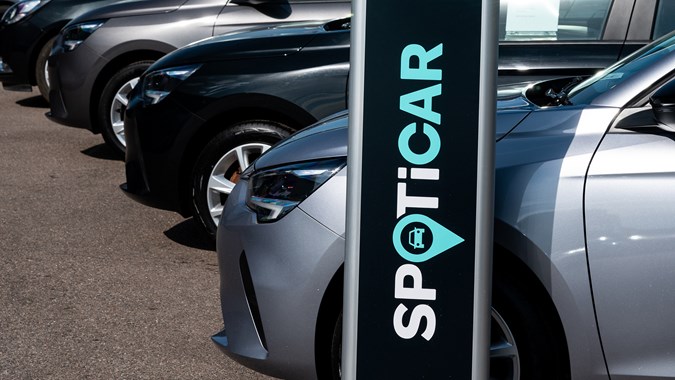 Even though it's a relatively new brand, coverage is provided by over 500 retailers at first, meaning most of the UK will have a local dealer. Spoticar is also unusual in that it covers more than just the Stellantis brands; any suitably low-mileage, high quality car entering the network such as a trade-in gets the same checks and the same warranty.
As most of the dealers are part of large groups they're well placed to support other brands, but local availability may vary. Every brand gets the same multi-point check, history vetting and 12-month warranty, though some cars with balance of factory warranty may qualify for two years cover.
Where did Spoticar come from?
Vauxhall – the UK brand became part of Stellantis via Peugeot's parent group – pioneered approved-used schemes in the UK with Network Q. Launched in 1991, the programme offered comprehensive checks, a manufacturer-backed warranty and competitive finance packages that could approach the flexibility of new car finance on younger vehicles.
From a cold start Network Q achieved 45,000 sales in the first year, and went on to sell over 600,000 before the end of the 20th century, becoming one of the largest approved-used schemes in Europe.
Now Peugeot, Citroen, Fiat, Abarth and Jeep benefit from that experience and dealer training, making this the largest single manufacturer approved-used programme currently running. Notice a missing brand? Premium marques such as DS prefer to emphasise the upmarket showroom experience rather than online convenience, and maintain their own identity for the same checks, return scheme, and warranty. Their cars show up on the Spoticar search as well.
How can I use Spoticar?
You can search all cars for sale within the Stellantis approved-used dealer network, including other brands that qualify for the background checks and warranty. A quick set of menus narrows your results, but you can choose more than one brand to consider.
Although you could find anything from an Audi to a Volvo within the network, special offers and promotions focus on the core Stellantis brands. Choosing a car online, you can get to your desired model and spec quickly – but the idea is still to view, test and buy your car from a nearby dealer. With such a large portfolio of brands you won't have to go far.
Stellantis plans full online sales, but even with the dealer-centric approach you get a 30 day exchange if the car isn't perfect. The detailed specifications, with plenty of high-resolution images, come close to the best online buying platforms already.

There's no quick defect overview for a completely online delivery, so we'd agree that visiting the dealer remains the best way to buy.
Part exchange valuations are based on Europe-wide data from realtime adverts, but for buyers in areas with strong preferences for car or colour you'll be reassured to know that at the moment, the dealer you're part exchanging with has final say over the deal and price.