Volvo V60 Coupe (2010 - 2018) review
About to be replaced, but still highly appealing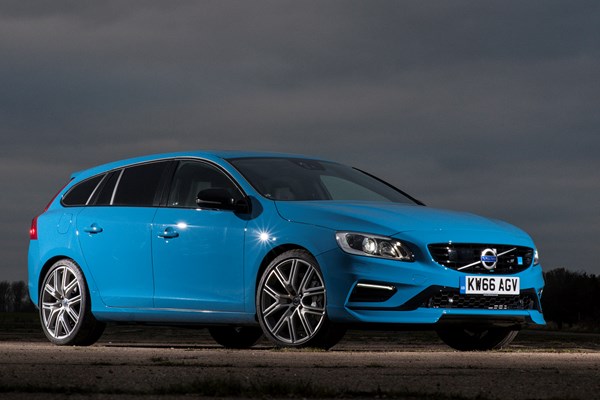 PROS
Appealing exterior styling
Flexible boot space
A wide range of engines
Excellent safety equipment
CONS
One of the smallest boots in the sector
Vague steering and average handling
Build quality lacks ultimate ruggedness
Most rivals simply do it better
PROS
Appealing exterior styling
Flexible boot space
A wide range of engines
Excellent safety equipment
CONS
One of the smallest boots in the sector
Vague steering and average handling
Build quality lacks ultimate ruggedness
Most rivals simply do it better

The long-lived first-generation Volvo V60 arrived in in 2010, and set the Swedish company on a new design direction that led to the increasingly plush XC60 and XC90 off-roaders and the V90 and S90 saloon and estate duo.
This small five-door estate sits in an interesting part of the market, as it's not commodious, like a traditional family wagon. It's not really a standard hatchback, either – more of a vaguely upmarket halfway house between the two – unlike the V60 to follow, a far more practical prospect.
With that in mind, we could see this V60 on the same shopping list as the Volkswagen Golf Estate, larger models like the Audi A4 Avant, BMW 3 Series Touring and VW Passat Estate, or equally alongside smaller, premium-badged rivals, such as the Audi A3 Sportback, or Mercedes-Benz A-Class.
Volvo V60: the Swedish take on German premium
So, the Volvo V60 is stylish and highly appealing for anyone that doesn't want to pick a mainstream German car. Due to its age, you'll see the quirks inside – some of which are more grating than others – such as the multi-button dashboard and dated media system.

Still, you can't say it doesn't look good. And Volvo is great at choosing the right trim materials and colours, lending this car a classy look. The instruments are a little on the baffling side, looking cluttered and cheaply styled – a shame, given that the rest looks so premium.
The Volvo S60 saloon forms the basis of the V60 but the sports wagon is a better looking car. But it's appeal isn't merely aesthetic – there's the added advantage of a tailgate at the rear, even if it opens to reveal a boot that's more hatchback than estate sized.
Volvo V60 with petrol, diesel and plug-in hybrid power
Like its German rivals, you can't argue at the V60's sheer range of power units. The petrol choice is a tad limited in its scope, starting with the 2.0-litre turbocharged petrol, boasting 150hp (T3). You can also get that same engine in T4 (180hp), T5 (240hp) and T6 (310hp) forms. There's also the Polestar, which we'll come to later.
Diesel buyers get the choice of a 2.0-litre engine, offered in 115hp (D2), 150hp (D3), 180hp (D4) and 210hp (D5) incarnations – all of which are reasonably refined. The D5 has to be the most appealing thanks to its prodigious performance.
You can also buy your V60 in Twin Engine hybrid form – and there are two options here. These cars are based on the charismatic old 2.4-litre five-cylinder diesel, which ends up making them far more enjoyable to drive than they have any right to be. These are expensive to buy outright, but deals are numerous. You get a choice of 163hp and 220hp versions.
Don't forget the Volvo V60 Polestar
This is the second iteration of the V60 Polestar. The first one was a charismatic six-cylinder offering, which was as flawed as it was fun. This was replaced in 2016 by a downsized 2.0-litre version.

Don't think for a moment that it's downsized in performance. The 2.0-litre Polestar packs a turbocharger and supercharger, with hybrid assistance to produce an impressive 370hp. It's a low-key looking Q-car, which will appeal to those who want BMW M3-style performance without attracting the same attention.
The 2016 version came with a new eight-speed automatic transmission, 20-inch alloys, a recalibrated four-wheel-drive system, and revised steering. But sheer brute acceleration is what this car is all about – 0-62mph is dispatched in 4.4 seconds.
Handling is similarly upgraded, thanks to Ohlins dampers, and some careful fine-tuning of the four-wheel drive system. In practice it's a point and shoot kind of car – and very different to the front-wheel drive cars it's based on.
Other Volvo V60 (2010 - 2018) models: