View all Abarth 595 reviews


Abarth 595 Hatchback
Review
Current Model
Stylish and exciting, but not for everyone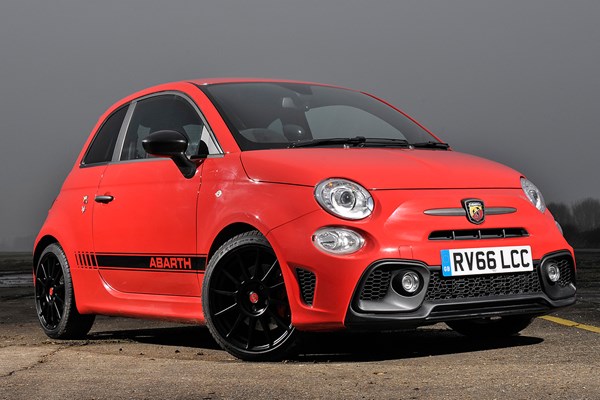 PROS
Excitable handling
Thrilling top-spec engine and exhaust
Stylish Italian design
CONS
Seriously compromised ergonomics
Higher spec models aren't good value
Lacks practicality of its rivals
PROS
Excitable handling
Thrilling top-spec engine and exhaust
Stylish Italian design
CONS
Seriously compromised ergonomics
Higher spec models aren't good value
Lacks practicality of its rivals
Verdict
Based on the Fiat 500 city car, Abarth's entry into the hot hatch market offers a stylish bundle of fun brimming with character and Italian charm. The top-of-the-range 595 Competizione model is especially exciting, blending genuine performance car levels of speed with an enthralling soundtrack.
However, it falls well short of the mark in a number of key areas meaning it's hard to recommended one over similarly priced and more practical rivals – such as the Ford Fiesta ST, Peugeot 208 GTi and Suzuki Swift Sport.
Remember, while it may be sized to compete with cars such as the Renault Twingo GT, the 595's premium pricing takes it from sporty city car into full-blown hot hatch territory.
Three trim levels and power outputs
Depending on how hardcore customers want their 595 to be, there are three separate trim levels to choose from.
The core 595 is the basic trim level and offers up 145hp, the mid-spec 595 Turismo produces 165hp and the top-spec 595 Competizione boasts 180hp and a swathe of performance upgrades.
Enthusiastic handling lacks poise
Boasting agile cornering and road holding, there's plenty to like about the Abarth 595's handling. It retains the charm of the Fiat 500 on which it's based, yet crucially manages to add some genuine performance car character into the mix as well.
Compare its driving dynamics with class-leading contemporaries such as the Ford Fiesta ST and Peugeot 208 GTI, however, and the 595 falls short on overall engagement. It lacks the stability and control of its larger rivals, meaning the all-important confidence-inspiring approachability of the finest hot hatches is absent from the 595.
Cabin comfort needs addressing
Drivers of an average height and above will struggle to get comfortable in the 595 – its non-adjustable standard seats are positioned far too high within the car to ever get properly comfortable.
There are also issues with the headrest and adjustment levels for the seats and steering wheel, meaning potential buyers would be advised to take an extended test drive before committing to a deal.
To find out more about this stylish and sporty small car, read on for the full Abarth 595 review.