View all Ford Fiesta reviews

Ford Fiesta ST
Review
Current Model
The best hot hatch on sale right now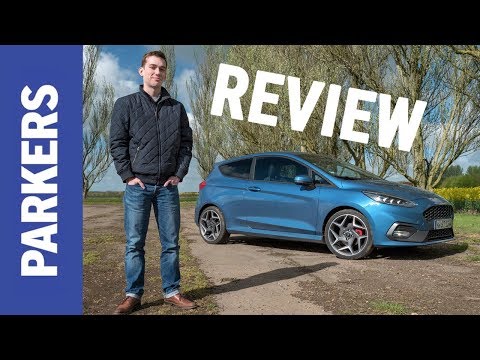 Enlarge
1

videos
Enlarge
43

photos
PROS
Fabulous steering and dynamics
Rorty performance, great soundtrack
More power than similarly-priced rivals
CONS
Looks a little tame for a hot hatch
Finance options not great on entry-level model
PROS
Fabulous steering and dynamics
Rorty performance, great soundtrack
More power than similarly-priced rivals
CONS
Looks a little tame for a hot hatch
Finance options not great on entry-level model
Verdict

There's something pretty special about a fast Ford. From the days of the Escort RS to the Sierra Cosworth, they've managed to capture the imaginations of their generation – something Ford is hoping it can recapture with the Fiesta ST.
The performance version of the seventh-generation Fiesta looks to have all the ingredients with which to do that. The new ST model has a been significantly upgraded over the standard Fiesta it's based upon, which is no bad thing when it's up against such talented opposition as the Renaultsport Clio, MINI Cooper, Suzuki Swift Sport, and Volkswagen Polo GTI.
So, it gets a stiffer body, a faster steering rack, trick shock absorbers, and uprated springs.

It's powered by a new three-cylinder, 1.5-litre turbocharged engine that produces 200hp and 290Nm of pulling power. It has plenty of fuel-saving tech built in, such as cylinder cut off, in order to make the most of its efficiency.
Anything else we need to know about the Ford Fiesta ST?
It's tuned to deliver its power playfully, and make a fantastic noise. You can play with Normal, Sport and Track modes, which deliver an increasingly interesting exhaust note. The claimed performance figures are impressive, with a 0-62mph in 6.5 seconds and a maximum speed of 144mph.

Sharp steering, high grip levels and excellent overall feedback means the hot Fiesta is staggeringly rapid over a twisty country road, while still retaining much of the usability that makes the regular car so popular. Head over to the Buying and Selling section to read our full review of the Fiesta ST.
It's available in ST, ST-2 and ST-3 forms, and there's also an optional Performance Pack, which is available as an option for £850. This premium should also pay for itself come resale time, because Performance Pack vehicles will be more desirable.
The Parkers Verdict
We rate the Ford Fiesta ST very highly. So highly that we've awarded it our Car of The Year in the Parkers New Car Awards 2019. That's quite an achievement given the sheer talent of its rivals, and how good the previous-generation ST was. But it came and claimed class leadership almost too easily.
It's blessed with playful, pin-sharp handling, which combines brilliantly with strong and accessible performance, while five-door practicality if you want it, impressive finance deals and low running costs add even more to this fast Ford's compelling appeal.
Considering it's a three-cylinder car in a four-cylinder playing field, that's all the more impressive – but, it's currently the very best cheap fast car that money can buy, this succeeding in Ford's aim of creating yet another hot hatch icon.