View all Alfa Romeo 4C reviews


Alfa Romeo 4C Spider (2015 - 2018) review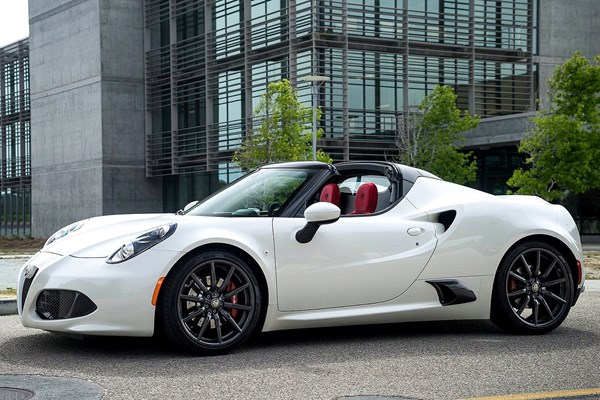 PROS
Stunning looks
Revised headlights
CONS
More expensive than Coupe
Handling may suffer
PROS
Stunning looks
Revised headlights
CONS
More expensive than Coupe
Handling may suffer
If you've managed to stop staring at this beautiful Italian sports car for a few minutes, allow us to formally introduce you to the Alfa Romeo 4C Spider.
We've been waiting for a look at the new open-roof 4C since it was unveiled at the Detroit motor show last month.
Looks-wise it's quite similar to the Coupe but gains covered projector-style xenon headlamps as standard and an optional yellow paint scheme.
Removable roof
The roof plays a key structural role in a car so there is danger that removing it can turn the handling into jelly. Worse still, strengthening bars required to stiffen the chassis add weight and can take the shine off performance.
Alfa Romeo says the 4C Coupe required minimal structural enhancement in its transformation, aside from an aluminium rollover structure, a carbon fibre windscreen frame and an engine compartment cross-member made from steel.
You get a removable cloth top but can spec a removable carbon fibre hardtop too if you wish.
Engine and gearbox from Coupe
It has the same 238bhp engine as the Coupe and shares its top speed of 160mph and 0-62mph time of around 4.5 seconds. The Spider promises the same lateral and braking g-force too. We'll have to drive one to see whether it feels the same as the Coupe.
Ensuring the 4C Spider sounds right with the roof down is an optional Akrapovic titanium exhaust system. You can also have a carbon-fibre air intake system, which Alfa Romeo says will provide additional transmission cooling for track-focused drivers.
New wheel designs come in two sizes, either 17/18-inch (front/rear) or 18/19-inch, in silver or dark finishes.
An audio system with Bluetooth telephone and music streaming is now available, and you can trim the Spider's cabin in premium leather with accent stitching, and carbon fibre vent surrounds.