View all Aston Martin Vanquish reviews


Aston Martin Vanquish review
Current Model
A very British riposte to front-engined V12 Ferraris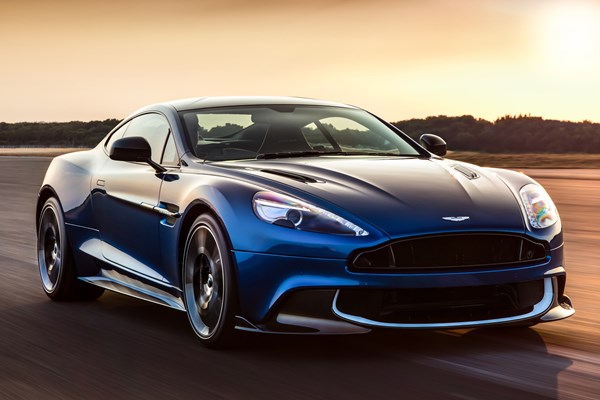 PROS
Beautifully styled
Craftsmanship quality
Sonorous V12 engine
CONS
Doesn't look as muscular as the original
PROS
Beautifully styled
Craftsmanship quality
Sonorous V12 engine
CONS
Doesn't look as muscular as the original
Latest in a long line of exquisite British supercars is the second generation of Aston Martin Vanquish Coupes, which arrived on the market at the start of 2013.
Powered by a front-mounted V12 engine, the Vanquish offers performance as intoxicating as its looks are beautiful.
Not that the Aston Martin has it all its own way in this rarefied segment of the market. Enormously expensive alternatives include the Ferrari 812 Superfast and Lamborghini Aventador, although the latter's power unit sits immediately behind the cabin rather than in front of it.

Lightweight but luxurious
There's little surprise that the Vanquish's styling is a further evolution of that used to great effect elsewhere in the marque's range, but with added curvature and swooping lines. There's elegance where its predecessor championed muscularity. However, since the debut of the Aston Martin DB11 Coupe with its new design direction, the Vanquish is begining to look dated.
It's built using lightweight materials - aluminium and carbon-fibre in particular - while the cabin majors on luxurious craftsmanship as opposed to cutting-edge design.
Depending on your requirements, you can specify your Vanquish as a 2+2 seater (essentially two adult chairs up front, with two, smaller, child-friendly seats behind). If weekends away are more your thing then order it with a luggage shelf in place of the rear seats, or as Aston Martin amusingly refers to it, the 2+0 version.

There's also a convertible alternative, the Aston Martin Vanquish Volante, should you wish to experience more of the elements.
Strong V12 performance
Nestled beneath that elongated bonnet is a 5.9-litre V12 engine, already familiar from a number of larger Aston Martins.
At the time of launch, 570hp propelled the Vanquish to 183mph and reaching 60mph from a standstill in four seconds flat.
Barely 18 months into its life and the mechanical elements were improved, with a revised eight-speed Touchtronic III gearbox – including an altered ratio for a higher 201mph top speed – a modest power increase to 573hp and 630Nm of torque, an boost of 10Nm. The dart to 60mph was shaved to 3.7 seconds.

Efficiency also became (slightly) more palatable too, with claims of 31mpg on the official test and CO2 emissions of 298g/km.
Even more performance - the Vanquish S
At the end of 2016 a more substantial power upgrade - heralding the return of the S suffix to the Vanquish name - saw the V12 engine upgraded to 600hp, with a recalibrated Touchtronic III transmission helping to access its performance more readily.
The Vanquish S also sported a more aggressive bodykit together with firmer suspension settings when in Sport mode.
Vanquish Ultimate - a fond farewell
Aston Martin announced the 2018 demise of the Vanquish S with the Ultimate, a limited edition restricted to 175 examples.
Power remains unchanged at 600hp, but the Ultimate was hallmarked by a number of carbon-fibre and rose gold details. Its three colourschemes are limited to monochrome Ultimate Black, Xenon Grey and Cobalt Blue accents or White Gold with Warm Bronze detailing.