Sports cars sacrifice practicality, fuel economy and (for the most part) affordability in the name of fun. If you're a keen driver with a bit of disposable income and space on your driveway for a second vehicle, we highly recommend you opt for one of the cars in this list.
For this compilation, we've only considered vehicles that were designed to be sports cars from the offset. Our round-up consists purely of two-door coupes and convertibles, most of which are strict two-seaters. You won't find any hot hatchbacks here. They're much too practical.
The best sports cars on sale in 2023
Performance you can enjoy every day – for a price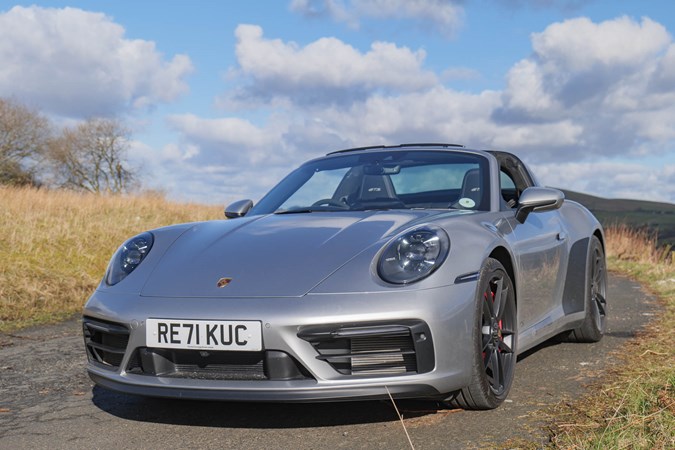 Pros
✅ Superb driving experience
✅ Surprisingly practical
Cons
❌ Rivals are more dramatic
❌ Expensive options
The Porsche 911 has been the default choice for an everyday sports car since the original model was launched in 1964. The formula hasn't changed much since then, either – the styling has remained almost identical and the engine (which is still a flat-six) remains defiantly slung over the rear axle.
Because the weight balance was set so far rearwards, early cars were a bit wayward in the corners. But Porsche's engineers are a clever bunch and, after 70 years of tweaking, they've turned the 911 from a widow-maker into one of the finest-handling cars on sale. And it's genuinely useable every day. It's comfortable when you're not hammering it and you get a reasonably sized boot up front.
Search for a new or used Porsche 911 for sale
Porsche 911 lease deals | VIEW OFFER
Drop-dead gorgeous looks and a massively powerful V8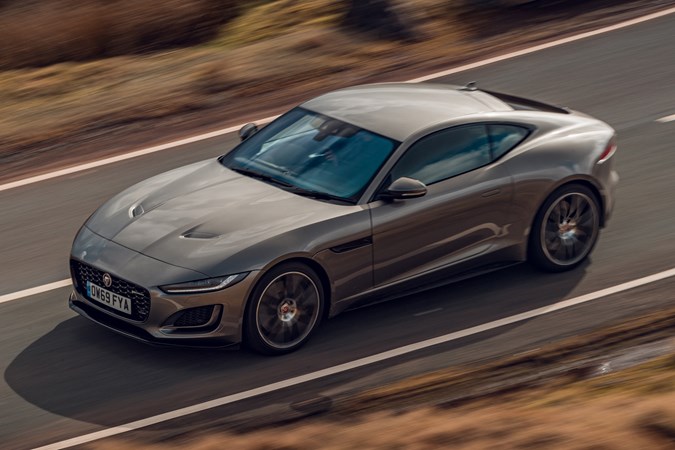 Pros
✅ V8 model offers sensational performance
✅ Exciting handling on every variant
Cons
❌ Harsh ride on largest wheels
❌ Interior quality is patchy
The F-Type is beautiful to behold, sensational to drive and dramatic to listen to when paired with Jaguar's supercharged 575hp 5.0-litre V8. The 2.0-litre four-cylinder model doesn't have quite as good an exhaust note, but it still produces 300hp which is enough to shove the F-Type from 0–62mph in 5.7 seconds. You can also have a convertible model, so you can hear the exhaust better.
And it isn't just quick in a straight line. Jaguar set the F-Type's suspension up very well, giving it a great mix of grip and slip for when you're feeling playful. The V8 R model also comes with four-wheel drive, bigger brakes and adaptive dampers, which allows it to carve chunks out of any mountain pass or B-road. It's also staggeringly competent in wet weather.
Search for a new or used Jaguar F-Type for sale

Jaguar F-Type lease deals | VIEW OFFER
Brutish looks, raucous performance and a rowdy V8 soundtrack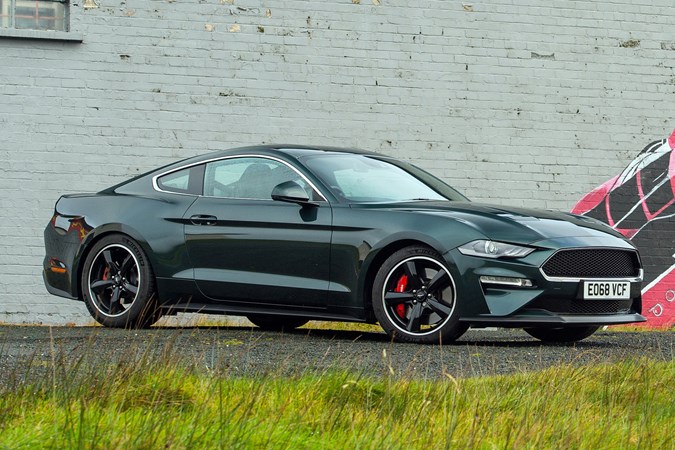 Pros
✅ Amusing straight-line performance
✅ Reasonable value for money
Cons
❌ Handling lacks finesse
❌ V8 engine drinks like a pirate
We know the Mustang is a muscle car, so it technically doesn't belong in this list. But when Ford brought it to Europe, it priced it to compete with sports cars – so we feel its inclusion here is justified. It's also an absolute riot to drive, especially if you option yours with a V8 engine.
It's hilariously quick in a straight line. The range-topping Mustang Mach 1 produces 460hp – and you need to manage it yourself through a proper six-speed manual gearbox. The controls also need a heavy hand to get the best out of the car. It also goes around corners better than you'd expect, although it trails the BMW 4 Series for outright agility.
Ford Mustang lease deals | VIEW OFFER
Search for a new or used Ford Mustang for sale
Reborn Supra is an excellent all-round sports car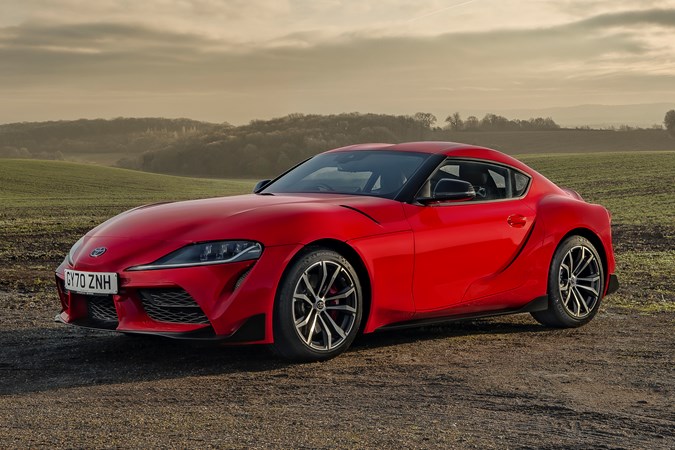 Pros
✅ Grippy, confidence-inspiring handling
✅ Impressively comfortable
Cons
❌ Engines aren't as exciting as they should be
❌ Enthusiasts will lament heavy BMW influence
When Toyota relaunched the Supra in 2019, it simultaneously pleased and enraged its fanbase. Die-hard Supra enthusiasts were pleased to see the car return, but they loathed the fact that it was powered by BMW engines. We're not too fussed about the latter point – sure, the engines are a little dull, but they make good power and they're reliable. You can't complain about that.
You also can't complain about the way the Supra drives. It's somewhere between a sports car and a GT which, unlike the harder-edged Porsche 718 Cayman, means its predictable and approachable. The steering is direct and quick, but it's a little dead. If you want a sports car that talks to you as you're driving along, opt for something else.
Search for a new or used Toyota GR Supra for sale
Toyota GR Supra lease deals | VIEW OFFER
Swansong TT offers great performance and quality cabin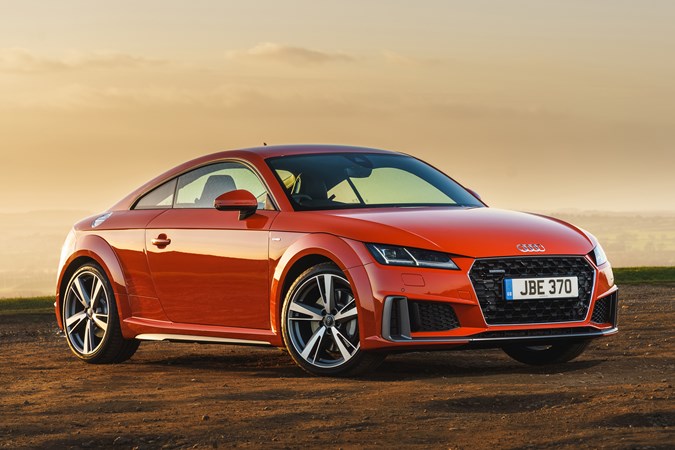 Pros
✅ Excellent interior quality
✅ TT RS is a downsized supercar
Cons
❌ Could be more fun to drive
❌ Ride can be fidgety and firm
Audi's third-generation TT is a triumph. Yes, it's based on the same underpinnings as the Volkswagen Golf and SEAT Leon, but Audi has set the components up very well. Every version of the TT is great to drive and, if you opt for the range-topping 400hp 2.5-litre TT RS, you'll have a baby supercar on your hands. How does 0–62mph in 3.7 seconds sound?
It's also one of the only sports cars in this list with four seats – although the rear bench is only really suitable for carrying children or luggage. You certainly wouldn't want to spend a long journey stuck under the TT's sloping roofline. Daft rear seats aside, the rest of the TT's interior is sublime. It's very well finished and features Audi's excellent Virtual Cockpit infotainment system.
Search for a new or used Audi TT for sale

Audi TT lease deals | VIEW OFFER
More exciting than parachuting out of a burning aeroplane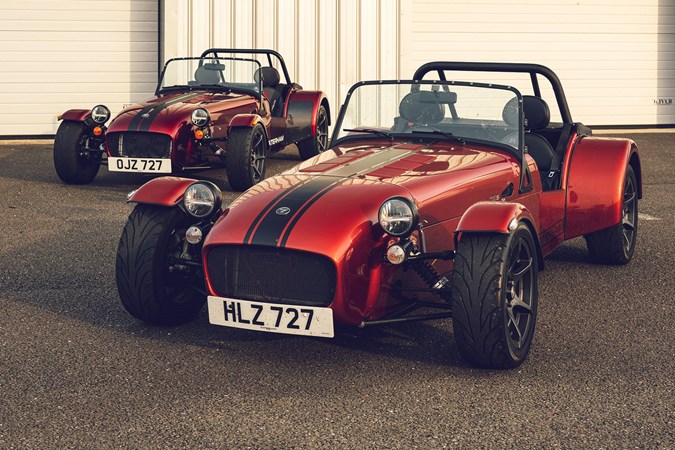 Pros
✅ Thrilling pace and great exhaust sound
✅ Hugely engaging driving experience
Cons
❌ Cramped cabin and no storage space
❌ Exposed cockpit, so not ideal when it rains
If you want something comfortable, look elsewhere. The Caterham Seven is a blast from the past – which means it's about as refined as an allotment shed in a hurricane. No other new car on sale will give you a rawer driving experience. The controls feel like they're set in concrete, you're completely exposed to the elements and you have no driver aids. Get it wrong and you're on your own.
But get it right and you'll wear a mile-wide smile. The Seven's suspension is beautifully well-judged, offer a level of directness normally only accessible to Formula One drivers. The flagship 620R model is trouser-troublingly quick, too. It has a better power-to-weight ratio than a Bugatti Veyron, which means it can embarrass almost every supercar out there on a track day.
Search for a new or used Caterham Seven for sale
The future of Lotus is here – and it's off to a great start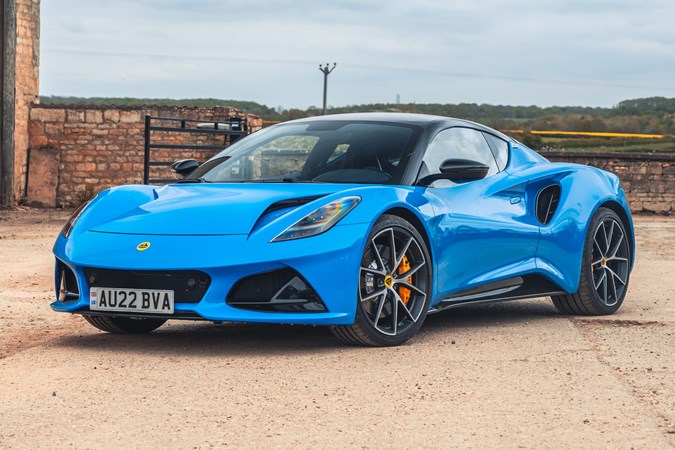 Pros
✅ Immense power and rapid acceleration
✅ Handling and steering are brilliant
Cons
❌ Interior can't match Porsche for quality
❌ Rather expensive compared to old Elise
Lotus is going through the latter stages of its reinvention after being acquired by the Chinese automotive giant Geely in 2017. The brand killed off the iconic Elise in 2021 and replaced it with the Emira in early 2022. That was a bold move, especially when you consider how attractively priced the Elise was in comparison to its rivals from Porsche and Jaguar.
The gamble seems to have paid off, though. We've driven some pre-production versions of the new Emira, and we're deeply impressed by its ability to both thrill you and flatter your driving ability. Even if you're not Kimi Raikkonen, you can still enjoy the Emira's performance.
Search for a new or used Lotus Emira for sale
Lotus Emira lease deals | VIEW OFFER
Cheap to buy, affordable to run and enormous fun to drive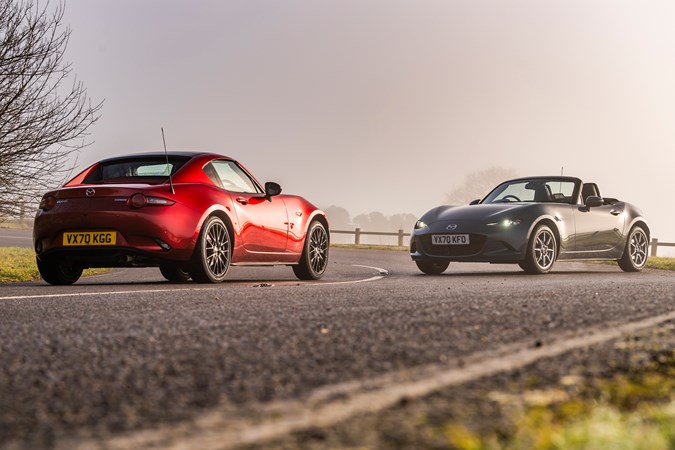 Pros
✅ Revvy petrol engines love being worked
✅ Razor-sharp handling and excellent gearbox
Cons
❌ Cramped cabin with little storage space
❌ Boot is hilariously small
The Mazda MX-5 has been on sale since 1989, passing through four generation changes. In that time, the formula has remained almost unaltered. It has always been a front-engined, rear-wheel drive roadster – and, except for the slightly portly third-generation model, they've all been very light.
The current MX-5 is the best of the bunch. It's powered by a choice of excitable naturally aspirated petrol engines and has a sublime manual gearbox. This combination really encourages you to wring every drop of power you can from the engine, and you'll be constantly changing gear to keep it in the sweet spot. The handling is nigh-on perfect, too, while the steering is bordering on telepathic.
Search for a new or used Mazda MX-5 for sale

Mazda MX-5 lease deals | VIEW OFFER
Entry-level Porsche with top-shelf performance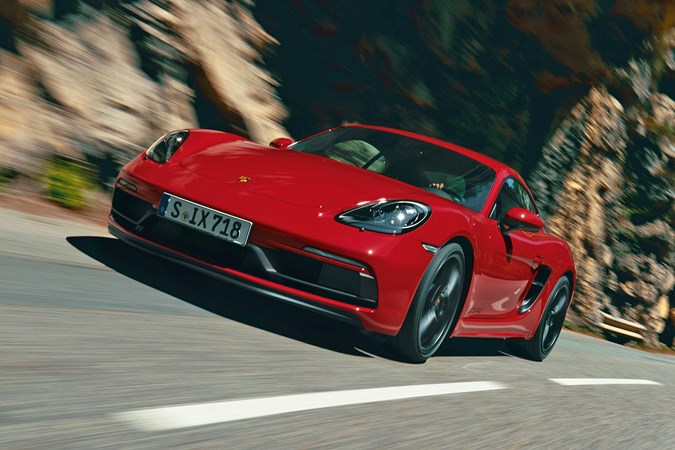 Pros
✅ Power, handling and comfort
✅ Flat-six engines sound fantastic
Cons
❌ Four-cylinder models are a little dull
❌ Very expensive if you explore the options list
The 718 Cayman (and its drop-top sibling, the 718 Boxster) is the most affordable sports car in Porsche's range. It's a little more focused than the likes of the Ford Mustang and Audi TT, offering a more visceral driving experience – especially if you opt for one the faster six-cylinder variants. Cheaper models have 300hp, while the range topping GT4 RS has a frightening 500hp.
Every version of the 718 Cayman offers sharp handling and it's a lot more approachable than its big brother, the 911. It isn't desperately uncomfortable, either. The suspension is well-judged for a sports car and its seats strike a keen balance between padding and support. Our only complaint is the slightly stingy level of standard equipment.
Search for a new or used Porsche 718 Cayman for sale
Winner of the Parkers Fun Car of the Year award
Pros
✅ Lightweight construction, so it's rapid
✅ Perfectly set up for rutted UK roads
Cons
❌ Infotainment system lags behind rivals
❌ Long waiting list for UK buyers
Alpine absolutely nailed it with the reborn A110. We reckon it's the best sports car on sale today. It's powered by a peppy turbocharged 1.8-litre four-cylinder petrol engine which, in the most potent version, sends 300hp to the rear wheels through a seven-speed automatic gearbox.
That doesn't sound like much for a sports car but, because the Alpine A110 only weighs a shade over a tonne, it leaps forward with enthusiasm if you so much as look at the throttle. Its bantamweight construction is coupled with a supple also suspension system, which means it floats down a British B-road with far greater ease than a Porsche 718 Cayman. You could comfortably use it every day.
Search for a new or used Alpine A110 for sale
Alpine A110 lease deals | VIEW OFFER
---
Sports cars: always in demand
Sports cars have grown in popularity in recent years. The Society of Motor Manufacturers and Traders (SMMT) reported a 21.2% increase in sports car registrations between 2012 and 2021 – but that change is dwarfed by the increase in SUV registrations. During the same nine-year period, SUV sales shot up by 120.6%.
In response to this trend, lots of manufacturers have refocused their line-ups, shunning sports cars in favour of SUVs. Ford relaunched its Puma coupe as a crossover in 2019, Lotus unveiled the Eletre SUV in October 2022 and Alfa Romeo has confirmed it'll launch a smaller SUV in 2024 to sit below the Tonale. Even Lamborghini hopped on the bandwagon with the Urus.
Thankfully, sports car buyers have plenty of choice for now. Scroll down for our top 10 list of the best sports cars on sale in the UK. Once you've picked your favourite, head over the Parkers Cars for Sale website and start shopping. You could pick up a bargain.