Audi A3 Cabriolet review
Current Model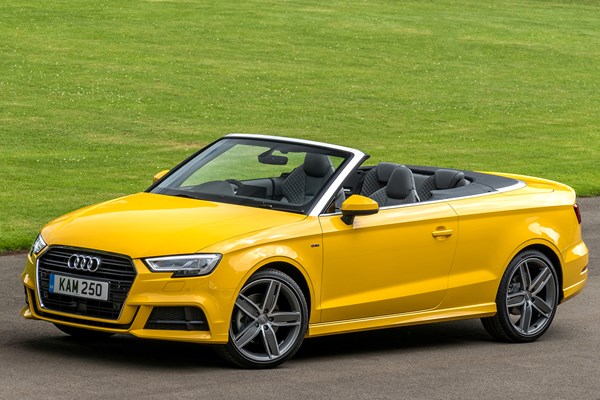 PROS
Glamorous looks
Easy to drive
Ample space
Very efficient
High resale value
CONS
Roof reduces boot room
Top-spec models pricey
Not very exciting
PROS
Glamorous looks
Easy to drive
Ample space
Very efficient
High resale value
CONS
Roof reduces boot room
Top-spec models pricey
Not very exciting
The Audi A3 Cabriolet is yet another addition to the burgeoning A3 range, which now includes both three- and five-door hatchbacks, a 'three-box' saloon version and various S3 high-performance derivatives.
It's a quality package, with desirable looks, a relaxing driving experience and a similarly classy interior to the rest of the A3 family.
More space than before
Whereas the previous-generation A3 Cabriolet was based on a hatchback body shell, the 2014-on version is spun from the A3 Saloon variant and as a result it's longer and sleeker looking.
It's a bigger car than the model it replaces but Audi has managed to make it more than 50kg lighter nonetheless. Those savings together with the latest generation of engines make the new A3 Cabrio faster and more efficient than the old version, as well as being more spacious.
The longer dimensions mean that four real-life average-sized adults really can fit in without difficulty. Boot space is improved too, although with the roof down you may struggle to accommodate more than a couple of medium-sized bags.
Fast-operating electric soft top
An electrohydraulic fabric roof with a heated glass rear window is fitted to all derivatives. It can be raised and lowered in 18 seconds while the car is travelling at speeds of up to 31mph.
There are three trim levels – SE, Sport and S Line – and the latter two include a secondary layer of acoustic insulation which makes the A3 impressively quiet on the move, regardless of which engine is fitted.
Good range of engines
From launch there are three engines: a 2.0-litre diesel, a 1.4-litre petrol and a powerful 1.8-litre petrol. They are joined by a more powerful version of the 2.0-litre diesel early in 2014 alongside a 1.6-litre diesel with excellent fuel economy and low emissions.
Both a six-speed manual gearbox and a seven-speed automatic transmission are available – see the Performance section of this review for more information on engines and gearboxes.
For now, all Audi A3 Cabriolets are front-wheel drive but four-wheel-drive quattro variants are scheduled to reach the UK in the first half of 2014.
Don't expect a sports car driving experience – the soft-top A3 isn't a thrilling drive, but it is a stable, sure-footed and in all very pleasant car to pilot.
It's comfortable, quiet and very easy to drive, and the smart interior (which is more or less unchanged from the hatchback and saloon versions) is a relaxing place to be, roof up or down.

Loaded with technology
Inside the A3 convertible you'll find the usual Audi fare – sophisticated and high-quality switchgear with top-drawer materials.
There are also some very clever systems such as a wireless network using 4G – a mobile network which is about as fast as the average home broadband connection. It's not rolled out to many cities yet, but in the fullness of time all of the mobile operators will be offering this service all over the country.
There's also facility for features we've seen on other modern Audis such as Google Maps and Street View, plus parking information.
All of the information is displayed on a 5.8-inch screen that slides out of the dash on start-up, while functions are controlled using the 'touchwheel' situated near the gear lever.
To find out more, click through the categories below or at the top of the page for the full Audi A3 Cabriolet review.