Audi A6 Avant (2011 - 2018) review
Top quality premium estate offers high mpg or huge performance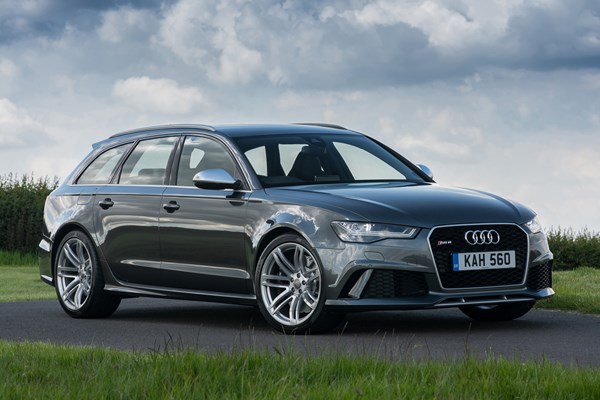 PROS
Best handling A6 Avant ever
Plush, well-designed interior
Refined engines
S6 and RS 6 Avants seriously fast
Ultra versions off low running costs
CONS
5 Series a better drive
Bumpy with larger wheels
Rivals have more modern tech
Styling doesn't differentiate from other Audis
No hybrid version for this generation
PROS
Best handling A6 Avant ever
Plush, well-designed interior
Refined engines
S6 and RS 6 Avants seriously fast
Ultra versions off low running costs
CONS
5 Series a better drive
Bumpy with larger wheels
Rivals have more modern tech
Styling doesn't differentiate from other Audis
No hybrid version for this generation

The Audi A6 Avant has rather a lot to boast about. It's 70kgs lighter than its predecessor thanks to a body that's 20% aluminium, it's faster, it has fewer emissions, fuel economy has been improved partly down to the inclusion of stop/start technology, there's loads more kit and it's more refined.
Audi tells us this car, the seventh generation, handles better than the previous six. To passers-by you might consider it better looking than the rest too, but that's a moot point.

The A6 Avant now includes the Drive Select system allowing the driver to tweak the settings of the suspension and throttle response and this kit should bring this car closer to its rivals.
This sector is filled with class acts, however: the BMW 5 Series Touring, Mercedes-Benz E-Class, Jaguar XF Sportbrake and the Volvo V70 to name but a few that all have their ace cards to play in terms of driving ability, practicality and CO2 emissions.
Engine and transmission choice
There are several engine and gearbox options for the Audi A6 Avant. Drivers who commute primarily on the motorway will probably be best choosing one of the flexible 3.0-litre TDI engines. They are more refined than the 2.0-litre TDI option and can prove more economical, as they aren't as hard-worked on the motorway.
If you want something really quick you can pick from the 3.0-litre twin-turbo BiTDI diesel or the 3.0-litre TFSI petrol engine. These options are costly to run, and road tax costs will be higher, but the fuel consumption of both engines is still reasonable. When it comes to gearboxes you've a choice of either manual or automatic transmissions, although the specific type of automatic gearbox you get depends on the engine you are looking at.

All of the transmissions are excellent, however, but if you are considering the Multitronic CVT option then it's best coupling it to the 3.0-litre TDI diesel engine. This makes for a more relaxing and rewarding drive.
High-performance Audi S6 Avant
The Audi S6 Avant comes with a rather boisterous 4.0-litre twin-turbo V8 engine producing 450hp and, while this is smaller than the 5.2-litre V10 engine found in the previous S6, it's actually more powerful – producing an extra 18hp.
Available in both saloon and estate bodystles, it makes light work of the 0-62mph sprint and is quicker than the previous generation. The Avant, despite the added length and weight over the S6 saloon, will cover the 0-62mph benchmark sprint in 4.6 seconds. Using a smaller engine has also helped to improve fuel economy.
Ballistic Audi RS 6 Avant
The Audi RS6 Avant is an ultra-high performance car, created by slotting an enormously powerful engine into the innocuous A6 Avant estate. The German firm promises 'supercar performance with estate car practicality' – and you'd be hard-pressed to argue they haven't provided exactly that.
With 560hp and 700Nm of torque, this is one immensely fast car. It simply devours motorway miles and almost feels too fast for enthusiastic B-road jaunts. That's not all though; at lower speeds it's also very quiet and simple to drive.

Official figures have the 0-62mph time as 3.9 seconds, while top speed is limited to 155mph as standard or can be raised to 174mph with the optional Dynamic pack and 189mph with the Dynamic Plus package.
In 2015 an Audi RS 6 Avant Performance model was introduced with 605hp along with 750Nm and a 0-62mph time of 3.7 seconds. Top speed remains 189mph.
Facelift in 2014
A mild refresh was carried out in 2014 and this ushered in more efficient engines along with the cutting of the CVT gearbox from the range, replaced with a seven-speed S Tronic automatic which is far better to drive. You've got the optional of the super-efficient Ultra model too, which depending on gearbox and wheel size is capable of CO2 emissions as low as 109g/km and fuel economy of 67.3mpg on the claimed fuel economy cycle.

As the SE model came with a considerable amount of equipment there was no great necessity to tick numerous boxes on the ever-tempting options list.
Facelift in 2016
The A6 Avant range was updated again in 2016, ushering in SE Executive trim with more kit to replace SE. New features include LED interior lighting, heated seats and powered lumbar support.

The S Line trim adds the same bits along with fully electric seats with a memory function and electrically folding door mirrors.
The S6 Avant got high-beam assist as standard along with the above additions, while the RS 6 Avant got a swathe of new matt paint colours.
Other Audi A6 (2011 - 2018) models: