Audi A6 review
Current Model
Tech-heavy saloon with an over-large grille and restrained interior styling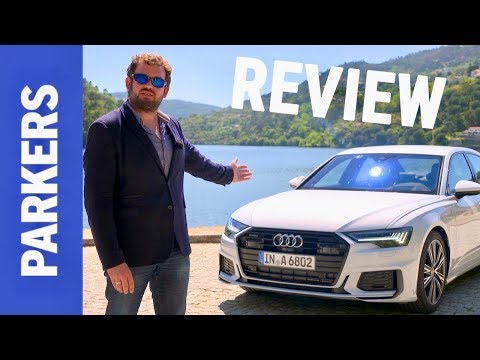 Enlarge
1

videos
Enlarge
25

photos
PROS
Better to drive than ever

Rammed with cutting-edge tech
Good range of engines to choose from

Simple trim structure
CONS
Extremely predictable styling
Confusing options list
Some navigation issues
Air suspension slightly unsettled
PROS
Better to drive than ever

Rammed with cutting-edge tech
Good range of engines to choose from

Simple trim structure
CONS
Extremely predictable styling
Confusing options list
Some navigation issues
Air suspension slightly unsettled
Despite its familiar styling, the fifth-generation Audi A6 Saloon is all-new from the ground up, and comes laden with the cutting-edge interior tech and features that made their debut in the range-topping A8. The A6 benefits from a huge number of changes and upgrades across the board, including its new larger body, more efficient engines and those huge screens dominating the interior.
The A6 Saloon has a tough task ahead of it, given the strength of the current opposition in the executive saloon market. It goes head-to-head with the BMW 5 Series, Mercedes-Benz E-Class, Alfa Romeo Giulia and Jaguar XF, offering cutting-edge driver assistance equipment that takes it within a hair's breadth of fully-automomous driving.
Despite the technical and dynamic brush-up, the new A6 still looks unmistakably Audi – and that entails – but has a lot of new, sharp design elements also seen on the fresh Audi A7 Sportback and the luxurious A8 Saloon. The whole car is long, low and wide; in fact, it's 7mm longer but with a wheelbase (the distance between the front and rear wheels) extended by 25mm for increased interior space. It's also 14mm wider than the previous-generation A6 Saloon, which Audi says is better for handling stability. Its 530-litre boot has a wider opening as a result.
What engines can I get?
The engine range comprises of five power units – two petrol and two diesels, plus the more sporting S6. These are detailed and reviewed in the performance section of this review, but needless to say that they are all punchy, refined and efficient, which reflects Audi's position as a builder of great engines.
As well as the engine and transmission options, you also have a choice of four suspension set-ups – two each for Sport and S Line trim, which deliver decent ride quality and stable and flat cornering. There's also the option of rear-wheel steering, which is a first for the Audi A6. We've tested all this extensively in the engines section, and you can read all about the benefits that this system brings to you there.
Premium interior quality and tech

Inside, it's classic Audi: it's impeccably well-built and looks grea twith fantastic build quality for all those important touch points. The technology on offer here – standard and optional – has some very clever features, including twin touchscreens that work with the Virtual Cockpit instrument screen. The lower one of the two is used for controls such as drive mode, sat-nav input and temperature input into the climate control system. There's Haptic feedback like your mobile phone, too, so you'll know when you've pressed the screen successfully.
But as it's a complex car, Audi encourages the driver to use speech input. So, it comes with an online-assisted voice control system (like Amazon's Alexa or Apple's Siri) that accepts natural speech. Tell it you're hot and it'll lower the climate control temperature. And yes, it really does work.
Being a full-sized executive car, it's scaled up for all the family or those all-important mobile business meetings. There's more rear leg and shoulder room than there was in the already roomy previous-generation Audi A6, plus plenty more space for taller passengers' heads.
It'll look after you and your family if things go wrong – it's a safe four-door, too, achieving the coveted five-star rating from Euro NCAP in autumn 2018.
UK trim levels are nice and simple, and consist of Sport, S Line, and Black Edition, with a healthy line-up of petrol and diesel engines to choose from. A full plug-in hybrid (PHEV) version will undoubtedly follow later, in order to head off the challenged from the BMW 530e and Mercedes-Benz E 300 de. To find our more, there are full spec details listed on the Features page.
So, the latest Audi A6 looks and feels very much like the tech-heavy premium saloon you'd expect it to be, but the big question is – would you take one over a BMW 5 Series or Mercedes-Benz E-Class. Read on to find out.