Audi TT Roadster (2007 - 2014) review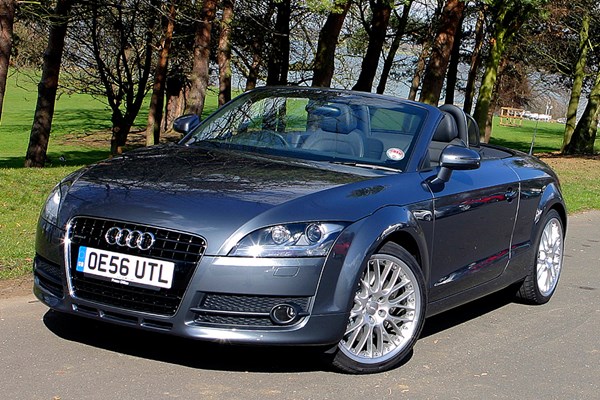 PROS
Fun to drive
Fast folding roof
Build quality
Superb interior
CONS
Fabric hood not as secure as metal top
Expensive options
PROS
Fun to drive
Fast folding roof
Build quality
Superb interior
CONS
Fabric hood not as secure as metal top
Expensive options
Audi has taken its iconic TT Roadster and given it a sharper design, aggressive looks and a more rewarding drive. The new car is also bigger and lighter thanks to aluminium body panels, which help the Audi feel fast and nimble.
There's no metal folding roof like some rivals (such as the Mercedes-Benz SLK) but the fabric hood is excellent, well insulated and best of all folds down in just 12 seconds - plus it's very effective at cutting out road and wind noise. Stylish, good to drive and great to be seen in the TT is a perfect soft-top. There's even an economical TDI model available, which means that running a TT needn't be an expensive experience.
Engine line-up
There's a good choice of engines to choose from, with even the petrol engines offering affordable running costs, while earlier versions are also available with a 3.2-litre V6. There's also the option of a six-speed manual gearbox, six-speed automatic or seven-speed automatic.
One of the highlights is the 1.8-litre petrol engine, introduced from 2012. The turbocharged engine will go from zero to 62mph in around seven seconds, while economy is a useful 43mpg. Despite the smaller size, it's an eager engine and, as well as the running cost savings, it is an excellent low-cost entry in to the range.
Buyers also have the choice of a 2.0-litre TFSI turbo petrol which is available with front or quattro four-wheel drive. The 2.0 TDI diesel offers 170bhp and 51mpg fuel economy.
Choice of models
The Audi TT Roadster comes in three versions – Sport, S line and Black Edition. All major on sportiness with heavily bolstered seats and stylish alloys, although Sport models ride on 17-inch wheels, S line on 18s and Black Edition models an inch larger and finished in a titanium grey effect.
At the top of the regular TT Roadster range is the TT S, using quattro four-wheel drive and a 272bhp version of the 2.0-litre turbo petrol engine.
With more rivals than ever, the TT has got a tough task on its hands to appeal to drivers who want fun and fashion from their car. Have the improvements over its predecessor been enough to keep it ahead of the competition?
Read the full Audi TT Roadster review to find out.
Other Audi TT (2006 - 2014) models: