View all Bentley Continental GT reviews


Bentley Continental GT GTC Convertible (2011 - 2018) review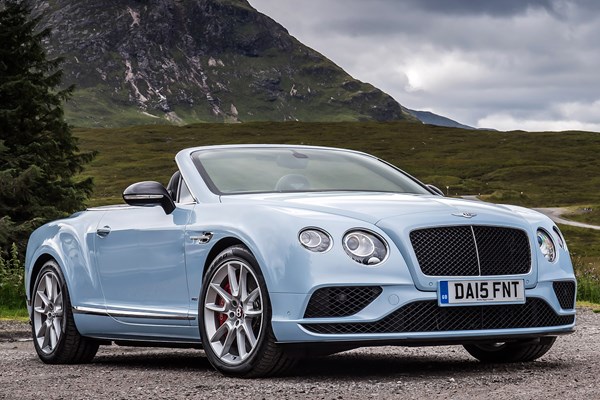 PROS
Straight-line performance
Grip
Sounds like thunder
Built in Britain
CONS
Optional extras add cost
Looks like previous model
PROS
Straight-line performance
Grip
Sounds like thunder
Built in Britain
CONS
Optional extras add cost
Looks like previous model
Bentley Continental GT GTC Convertible rivals
The new Bentley Continental GT Convertible is fresh out of the factory blocks in 2012. Compared to the previous model it is hard to see at first glance where the major changes are - visually it looks very similar but there is a host of changes going on under the metal.
Choice of two powerful engines
The entry level Continental Convertible is the GTC V8. This 4.0-litre petrol engine is fitted with twin turbos to boost both power and torque.
If that isn't enough to light your fire then the 6.0-litre W12 should. Despite the much bigger capacity it isn't that much more powerful than the smaller V8, which makes 500bhp and enough torque to embarrass a large Massey Ferguson.
The 6.0-litre version churns out 567bhp and 700Nm of pulling power, so both Bentleys packs a serious performance punch. No wonder the English sports car company claims that this Crewe missile is the fastest four-seater convertible in the world.
Quicker and cleaner
With all that power and four-wheel drive as standard the Continental GTC is quick. The V8 is capable of clearing the 0-60mph sprint in 4.6 seconds and can hit a top speed of 187mph – roof up or down. The 6.0-litre clears the dash in 4.4 seconds and is capable of hitting 195mph, so there isn't a lot in it.
There is, however clear water between the two engines when it comes to emissions. The official combined fuel figure for the V8 is a shade under 30mpg and emissions are 254g/km of CO2. That stands in comparison to the larger engine six-litre W12 monster that emits 364g/km of CO2 and guzzles one gallon of fuel for every 19 miles on average - according to the official test stats.
Distinctive styling
While from an initial glance there seems little to separate the V8 from the W12 with its bigger engine, Bentley has marked out the V8 with some subtle design tweaks.
These include a black gloss matrix grille with chrome surround and centre bar. This is topped off with a red enamelled 'B' for Bentley badge. To further signify the V8 power plant the twin rear exhausts are in the shape of an '8' plus the boot badge is also fitted with a red enamel 'B'.
Host of options
This may be the 'entry-level' Bentley Continental Convertible, but there is still a massive range of optional extras that can be selected for that bespoke look.
Wheels and paint work - especially of the more garish kind - prove popular, though there is a full range of options including a high-end stereo, remote powered boot opening, massage seats, neck warmers, remote garage openers and a heated leather steering wheel with contrast stitching. For the full Bentley Continental GTC V8 review, read on.
Other Bentley Continental GT (2011 - 2018) models: