BMW 6-Series M6 Convertible (2012 - 2018) review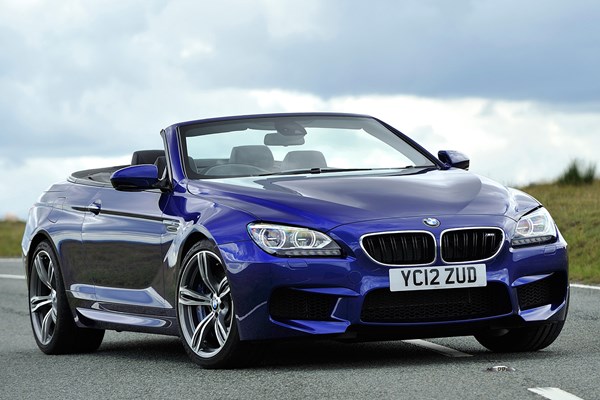 PROS
Fantastic handling, rapid, classy interior
CONS
Expensive, high running costs, heavy steering
PROS
Fantastic handling, rapid, classy interior
CONS
Expensive, high running costs, heavy steering
BMW 6-Series M6 Convertible rivals
The BMW M6 Convertible represents something of a problem for true-blue driving enthusiasts. Awesomely fast, great handling, a fantastic noise and uncompromising looks but… it's still a convertible. Open-tops, droptops, ragtops, cabriolets, call them what you will, often incur the wrath of the purist who will decree that 'proper' performance cars have roofs. Still, this offering doesn't entirely fit with that mentality because, in terms of driving dynamics, there's little between it and the fixed-roof version: the entrenched then, might allow themselves some room for manoeuvre when considering the M6 Convertible as a pure driver's car.
What's changed?
More than 14,000 of the previous-generation BMW M6 were sold worldwide but only a handful were sold in the UK - a market where loyalties lie with the M5 saloon. The M6's £100k pricetag may well have something to do with it. This iteration, obviously, is based on the revised 6 Series model but this carries the M apron with wide air-intake apertures, the new M front grille and the latest adaptive headlight technology for a fresher, more aggressive look. Inside the cabin it's all very driver-focused with bespoke M detailing, but the more important changes concern the chassis and the engine. For a start there's been a 30mm increase in the front track, which means even bigger front wheel arches to house 19-inch alloys or optional 20-inchers.
Increased efficiency
On the engine front, this M6 uses the same V8 engine as the M5 saloon - which produces 52bhp more than its ten-cylinder predecessor with a maximum power output of 552bhp. This means it's faster but with more fuel-saving technology it's more economical and has lower CO2 emissions. The M6 now comes with stop/start, brake energy regeneration and active aerodynamics which all help to reduce consumption and emissions by approximately 30%. With an increased fuel tank size of 80 litres the range has been extended too. Both the M6 Convertible and the Coupe use BMW's latest seven-speed double-clutch transmission which operates in either a fully automatic mode, or in a semi-automatic mode using paddles behind the steering wheel or via a gear selector in the central console.