View all Bentley Flying Spur reviews


Bentley Flying Spur review
Current Model
A luxury limousine that's also great to drive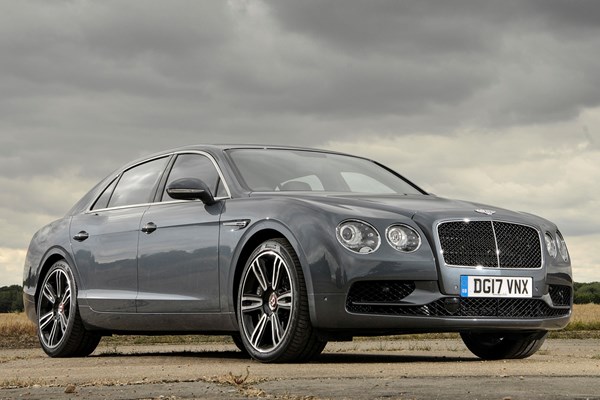 PROS
Huge presence, pace and prestige
Effortless performance, especially in W12
Acres of room, an excellent VIP express
CONS
Dated multimedia system and controls
Newer rivals pack way more tech
W12 offers few advantages over V8
PROS
Huge presence, pace and prestige
Effortless performance, especially in W12
Acres of room, an excellent VIP express
CONS
Dated multimedia system and controls
Newer rivals pack way more tech
W12 offers few advantages over V8

Considering it's an entry-level model, few people would ever need more than a Bentley Flying Spur. It occupies a rarified place in the market – it's considerably more expensive than supremely capable limos, such as the Audi A8, BMW 7 Series, Jaguar XJ and Mercedes-Benz S-Class. But is something of a bargain compared with the similarly-sized Rolls-Royce Ghost.
So, that places the Flying Spur in a very good position, then? It does – but Bentley isn't resting on its laurels. It's been subjected to continuous improvements since launch in 2013, and comes in two varieties: the V8- and W12-engined models.
Although the engines and transmissions are bristling with technology, the body and interior retain plenty of olde world Bentley charm. The company describes the Flying Spur as having 'effortless driveability' and 'exquisite luxury', and we won't argue with that. But is it enough with so many cheaper alternatives vying for your money?
Bentley Flying Spur styling and engineering
Few would argue against this being an extremely handsome car. The styling echoes earlier generations of the company's saloons, with carefully sculpted flanks, beautiful detailing around the front and rear, and that all-important meshed radiator grille.

The good-looking nose houses weapons-grade firepower. We'll start with the 6.0-litre twin turbocharged W12 version. With 625hp on tap (and 635hp in S form), this is a limousine that will keep your average supercar honest, at least until the bends.
Performance figures are impressive. It'll do 0-62mph in 4.6 seconds and powers on to a maximum speed of 200mph. Given that most rivals are limited to 155mph, that gives Bentley owners pub-bragging rights.
The V8 isn't too shabby, either. The 4.0-litre twin-turbo develops 507hp in standard form, which rises to 528hp for the V8 S. That's good for 0-62mph in 5.2 seconds and a maximum of 185mph.
What these figures don't tell you is just how comfortable and effortless the Flying Spur is to drive. Despite its sporting image, Bentley has managed to make the ride as pillow-soft as possible, thanks to air suspension. The seats as comfortable as they can be and the interior a benchmark for luxury.
Bentley Flying Spur equipment
Equipment-wise, the Flying Spur offers plenty. There's a touchscreen multimedia system with sat-nav and mobile connectivity including WiFi. It looks distinctly off-the-pace, even compared with parent company Volkswagen Group's offerings in much more modest models – it can't be long before it gets an overhaul in this department.

If you plan to spend a lot of time relaxing in the rear seats, a hand-held remote control is available, and this controls the infotainment, heating and ventilation functions. An eight-channel, eight-speaker audio system is installed as standard, but you can go for a more powerful one kilowatt system if you so desire. At extra cost, of course.
That's the case with individual rear seats, the Champagne cooler, and all manner of other fixtures and fittings. Check the Equipment section, below, for a full run down of what you get with your Flying Spur.