Mild hybrid technology isn't something many manufacturers shout about. In fact, you could well be driving a mild hybrid car right now and not be unaware of it.
You see, unlike other hybrid cars such as fully self-charging hybrid or plug-in hybrid models, a mild hybrid powertrain doesn't really affect anything on the driver's side of the equation. A mild hybrid is a car with just a little tickle of electrical assistance – it can't be used to drive solely on electric power, nor does it make your car zero-emissions capable.
So if you're looking for a new car and you're not ready to commit to a full hybrid, one of our top 10 mild hybrid cars might be the ideal choice for you. Keep reading to see what we recommend.
Best mild-hybrid cars of 2023
Editor's choice: Ford Puma
Multi-award winning small SUV is bags of fun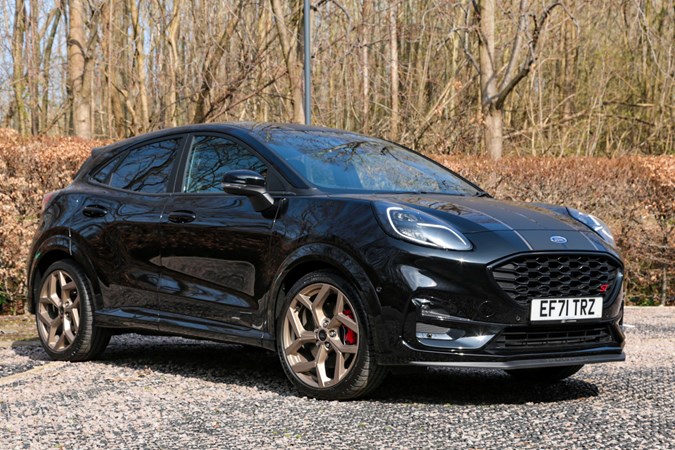 Pros:
✅ Very practical for its size
✅ Packed with clever touches
✅ Great fun to drive
Cons:
❌ A Skoda Kamiq is more mature
❌ Infotainment not the most intuitive
The Ford Puma is the small SUV that does it all. Multiple-time winner of the Parkers Small Family Car of the Year award, it really does tick every box – it's good looking, practical, well-equipped, reasonably priced and a riot to drive.
The Puma's had mild hybrid engines since the beginning, and while the 1.0-litre petrol engine is perfectly passable in 125hp form we'd recommend going for the 155hp model to make the most of the Puma's playful chassis. Definitely opt for the manual gearbox – it makes this car even more of a pleasure to drive.
Read our full Ford Puma review
BMW 3 Series Touring
A brilliant-to-drive estate car packed with tech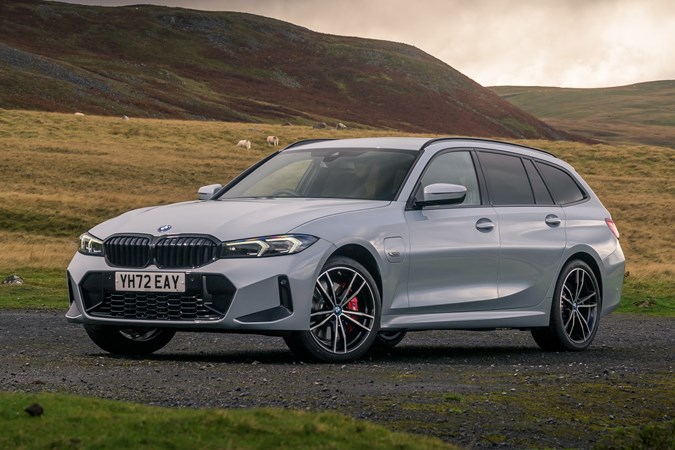 Pros:
✅ Great to drive
✅ Posh interior with brilliant infotainment
✅ Clever boot
Cons:
❌ Rivals have more rear seat space
❌ Can get pricey
The 3 Series Touring, for many of the Parkers team, is the default choice whenever anyone asks 'which estate car should I buy?' It's like the 3 Series saloon but significantly more practical for those who need to carry significantly more junk in their trunk.
The 3 Series' boot is wide, flat, and has some clever features like grippy load rails that hide away when you're stationary. The front of the car's no less smart – the infotainment system is one of the best on the market, particularly the way it handles smartphone integration. The range of mild-hybrid petrol and diesel engines are all powerful and efficient, and we love the way the 3 Series rides and handles.
Read our full BMW 3 Series Touring review
Range Rover Sport
95% as much car as the full-size Rangey for 80% of the price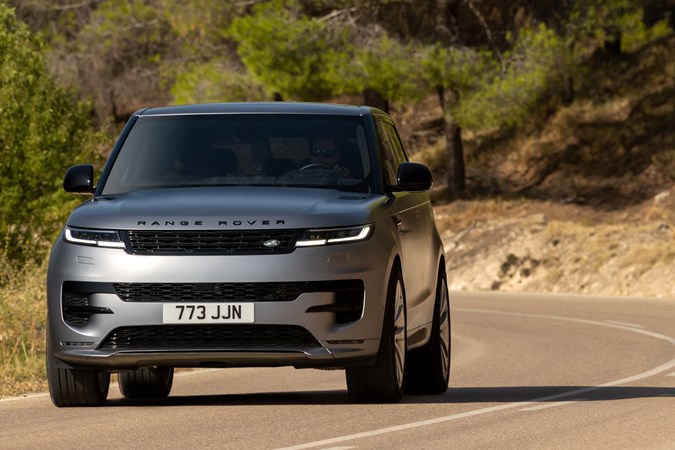 Pros:
✅ Opulent, luxurious interior
✅ Superb ride and handling
✅ Great engine range
Cons:
❌ Expensive
❌ Not historically the most reliable
Everyone knows Range Rover is a synonym for some of the most luxurious off-roaders money can buy. A lot of money, that is – we won't beat around the bush reminding you that even the Range Rover Sport has a starting price the wrong side of £80,000.
All engines have mild hybrid assistance (except the plug-in hybrids, of course) and it's the excellent six-cylinder diesels we recommend, with the capacity for more than 40mpg plus brilliant drivability. The Range Rover Sport is comfortable on a cruise, competent in the corners and exceptional off-road.
Read our full Range Rover Sport review
Suzuki Swift Sport
A cheeky chappy of a warm hatchback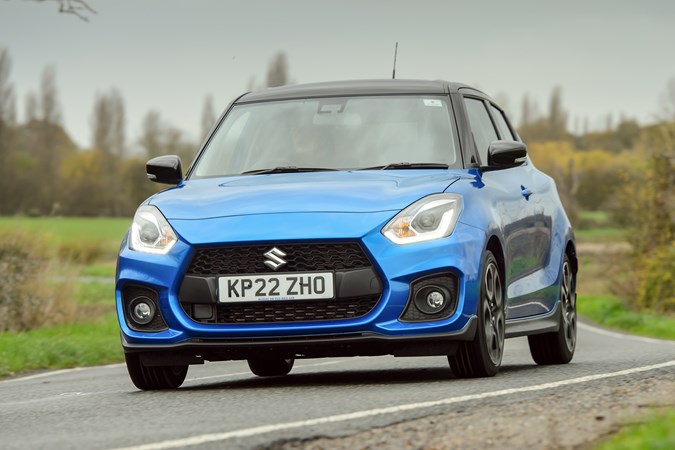 Pros:
✅ Tiny and chuckable
✅ Efficient when driven carefully
✅ Super-lightweight
Cons:
❌ Awful infotainment
❌ Not as much character as previous model
The Suzuki Swift Sport isn't a full-blown hot hatchback in the same vein as the Ford Fiesta ST or Hyundai i20 N. But with its 129hp mild hybrid petrol engine it offers zesty performance, while its featherweight body ensures low running costs.
There's a practical, five-door body, plenty of equipment and great sports seats, but the Swift Sport's appeal is in how analogue it feels. Despite the hybrid assistance the engine revs willingly, the dials are analogue and the gearbox resolutely manual. It's a welcome foil to increasingly more automated modern hatchbacks.
Read our full Suzuki Swift Sport review
Hyundai Tucson
Space-age styling for this family SUV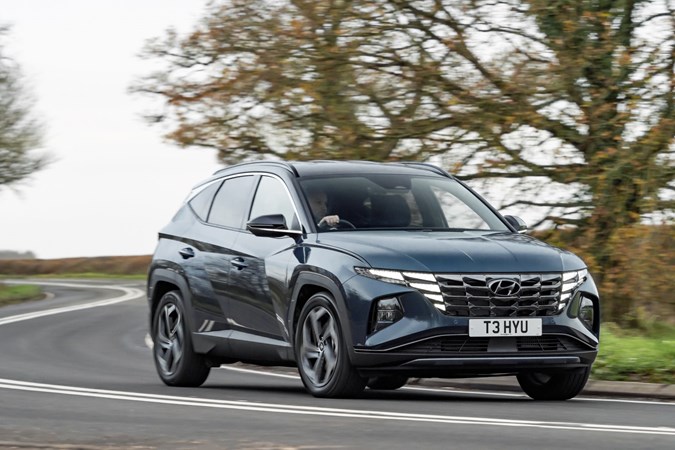 Pros:
✅ Looks great
✅ Spacious interior
✅ Five-year warranty
Cons:
❌ Rivals are better to drive
❌ Unimpressive economy
The Hyundai Tucson is available with the full spread of engine options – mild hybrid, full hybrid and plug-in hybrid, all based around the same 1.6-litre petrol engine. The mild hybrid is the more inexpensive choice, and it's plenty powerful enough for most people's needs.
The Tucson's space-age styling hides a very user-friendly interior, with a widescreen infotainment display that's fully-featured and really easy to use. There's plenty of space in the back seats and boot too, perfect for a growing family.
Read our full Hyundai Tucson review
Mercedes E-Class Estate
Comfy cruiser with a vast boot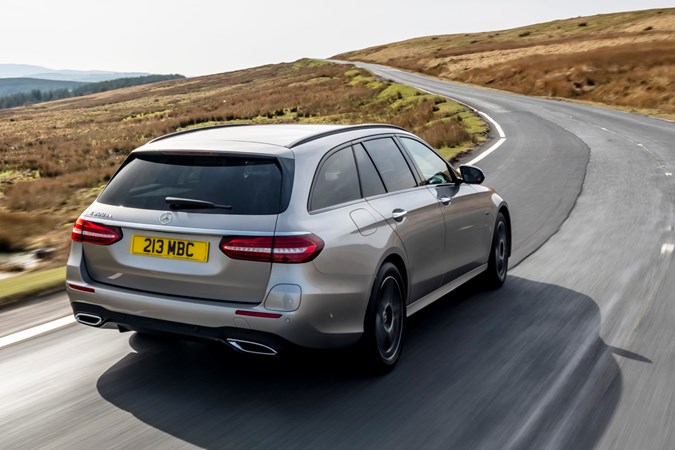 Pros:
✅ Tons of space for luggage
✅ Very comfortable
✅ Efficient diesels
Cons:
❌ A 5 Series is better to drive
❌ Convoluted tech
There's something rather classy about a Mercedes-Benz estate car, isn't there? And if you want a premium badge and lots of space you can't do much better than the E-Class. With plenty of space in the back seats and one of the largest boots on sale today, it's about as practical as estate cars come.
The E-Class's engines all have mild hybrid assistance (apart from the two plug-in ones) and it's the diesels we recommend, which can offer in excess of 60mpg if driven carefully. Combined with a huge fuel tank, this is a car that can cross continents before breakfast. Just make sure you get on with its tech-heavy dashboard.
Read our full Mercedes E-Class Estate review
Audi Q7
Premium seven-seater SUV has a lot to like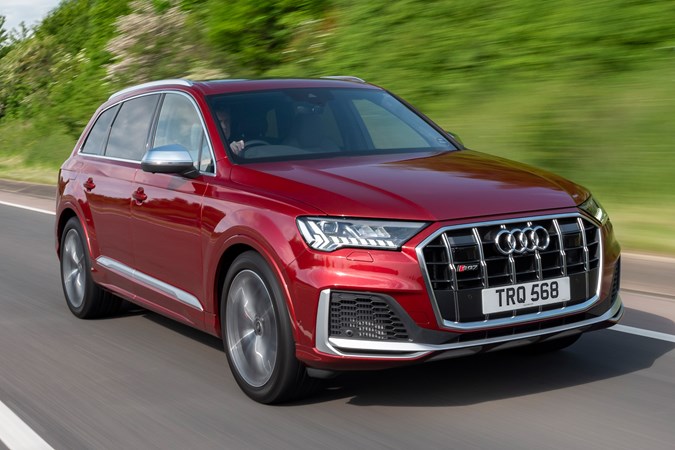 Pros:
✅ Excellent to drive
✅ Premium, well-built dashboard
✅ Powerful, efficient engines
Cons:
❌ Expensive
❌ Feeling its age in places
Audi's Q7 has been a hugely popular SUV since its launch and the good thing is that it deserves its success. It's a practical family car, with all models (even the hot SQ7) equipped with seven seats as standard, and has a fantastic sense of quality and solidity you can hear as soon as you flick a switch.
The Q7's mild hybrid engines are powerful and, for the sheer size of the car, surprisingly efficient. Our pick of the range are the diesels, which have the torque needed to shift the Q7's bulk effortlessly.
Read our full Audi Q7 review
Mazda CX-60
Clever mild hybrid diesel offers astounding economy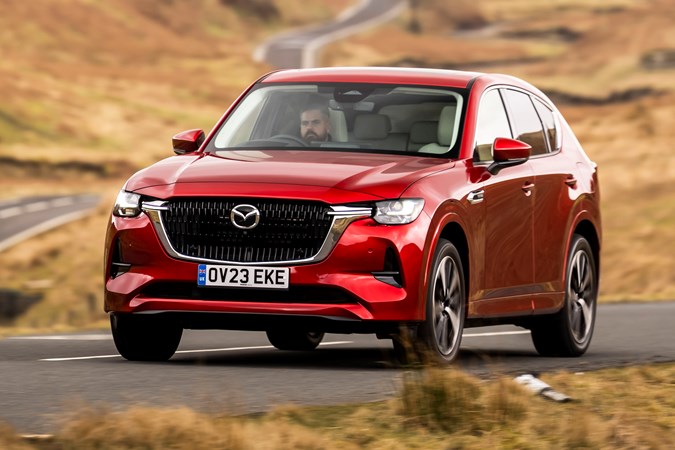 Pros:
✅ Great diesel engine
✅ Quality interior
✅ Great infotainment
Cons:
❌ Rides poorly
❌ Avoid the plug-in hybrid
Mazda surprised people when it announced that its CX-60 SUV would be fitted with an all-new diesel engine – and the surprise continued when it said it'd be a 3.3-litre straight-six. The best surprise, though, is that the diesel CX-60 is pretty good – in stark contrast to its plug-in hybrid sibling.
The extra engine capacity allows Mazda to keep the diesel engine relatively unstressed, which allows for some fantastic fuel economy. This is helped by the mild hybrid system that lets the CX-60 coast with the engine off. The ride is still quite firm, especially the back axle which can seem uncontrolled, but otherwise this is a much better car to drive than the CX-60 PHEV.
Read our full Mazda CX-60 review
Ford Transit Custom
The best family car may be a van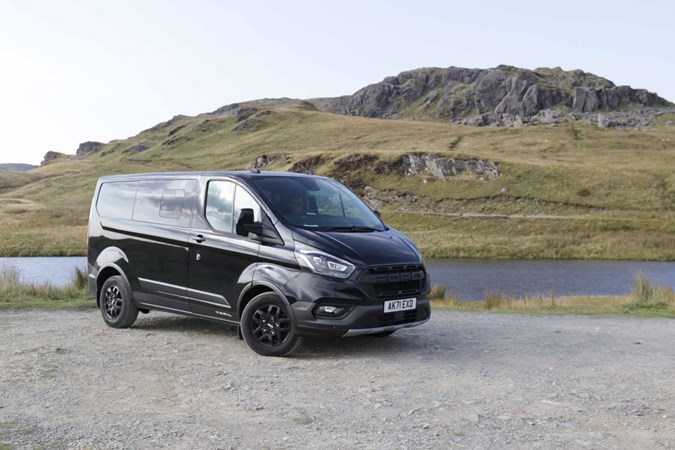 Pros:
✅ Loads of space – of course
✅ Drives more like a car
✅ Lots of choice in the range
Cons:
❌ Not as refined as a car
❌ Higher running costs
There are fewer and fewer proper MPVs on the market these days, but in many people's affections they've been replaced by vans. The appeal is easy to see – you get the wipe-clean interior and massive, flexible space valued by tradespeople across the country, but the latest models also offer comfy seats, plenty of equipment and modern, refined engines.
The Transit Custom's probably the best of the bunch, and you can have everything from a basic single-cab van with a bulkhead up to the luxurious Tourneo Custom. We like the DCiV (double cab in van) models with two rows of seats and a massive load area perfect for all sorts of family detritus. And all Transit engines are now mild hybrid diesels, providing decent economy – but only by van standards.
Read our full Ford Transit Custom review
Nissan Qashqai
Lots to like from latest version of crossover pioneer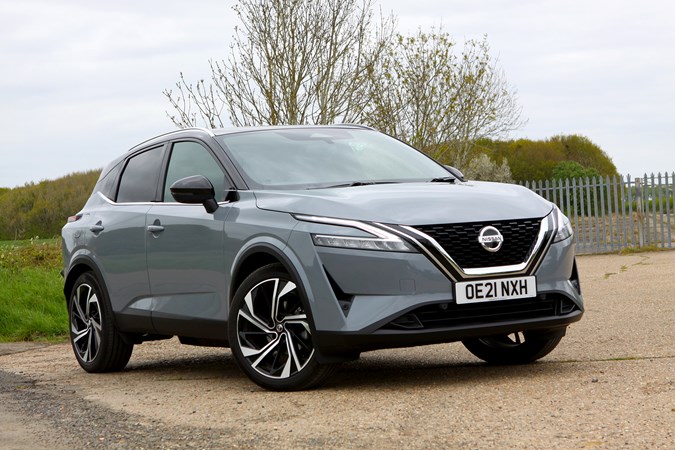 Pros:
✅ Posh, comfortable and spacious interior
✅ Perky mild hybrid petrol engines
✅ Reliable
Cons:
❌ Not exactly imaginative
❌ Rivals are better to drive
The Qashqai was one of the pioneers of the family SUV as we know it and this latest, third-generation model is the most convincing yet. Nissan's moved a little bit upmarket, and the Qashqai exemplifies this with a solidly built and premium-feeling interior that also offers plenty of space for the family.
The Qashqai offers a hybrid model named e-Power, but you can also opt for two mild-hybrid petrol models that have good performance and are nice and refined.
Read our full Nissan Qashqai review
---
Best mild hybrid cars FAQ
What is a mild hybrid car?
So what is a mild hybrid? What mild hybrid systems do is fill in some of the gaps where engines are less efficient. So, a small motor usually placed just ahead of the gearbox assists when pulling away, can give a boost during hard acceleration, and helps make engine stop/start systems more responsive. This has the result of improving performance and drivability while reducing fuel consumption and emissions – all with minimal negative impact on the driver behind the wheel.
Just don't go expecting miracles. While more full-featured hybrids often offer impressively low running costs, a mild hybrid will be much closer to a conventional petrol or diesel in this regard. Mild hybrid engines aren't usually a choice you can make as a buyer, either – in some model ranges, they've just replaced non-hybrid engines wholesale, while other manufacturers choose not to offer them in favour of concentrating on full hybrids and pure EVs.
Is a mild hybrid worth having? 
It depends on what your priorities are. If you are looking at a mild hybrid as an evolution of your existing petrol and diesel as a 'fit and forget' system, then of course, it's worth plumping for one. These cars offer better fuel economy and lower emissions than their non-hybrid equivalents, and although they don't (typically) run on battery only, they're definitely better than not being electrified at all.
Which is better mild hybrid or hybrid? 
The biggest difference between the two systems is that a mild hybrid cannot (typically – there are a couple of exceptions) drive on pure battery alone, whereas a full hybrid (also known as a self-driving hybrid) can travel some distance without any assistance from the engine.
A full hybrid is designed to drive on battery power alone and operate in fuel efficient, zero emissions mode especially in stop/start traffic. However, a full hybrid is heavier and costs more than its mild equivalent – so it comes down to your personal priorities.
What are the pros and cons of mild hybrid? 
A mild hybrid is lighter and costs less than a comparable full hybrid, so you get some of the benefits of electrification without many of the compromises. Viewed as a replacement to a straightforward petrol (or diesel), they're better around town, thanks battery-assisted acceleration from rest. They offer lower overall emissions, too.
The downsides are that there are marginal improvements in emissions and fuel consumption compared with a full hybrid, and aside from a couple of exceptions, you can't drive on battery only aside from foot-off coasting at speed.
Are mild hybrid cars cheaper to insure? 
Surprisingly, being hybrid does make a difference. They're more common than all-electric cars, so insurance costs are lower, but compared with a standard car, premiums can be higher, as the costs of parts can often be higher.
How long do mild hybrid batteries last? 
Mild hybrids are still a relatively new phenomenon so it's a little too early to say. But there's little reason to think they'll behave differently to full hybrids. And in this case, batteries last at least 100,000 miles. Properly maintained, some owners are able to push this number to 200,000 – although mild hybrids use their batteries very differently.
Tom Wiltshire is a Senior Staff Writer on Bauer's Digital Automotive Hub. He's written for numerous outlets, including Auto Express, evo and the Press Association, and now divides his time between Parkers and CAR. Tom's a committed Peugeotist but buzzes off almost any car that's tiny and silly.