Audi Q7 review
Current Model
Modern, imposing, capable and efficient full-sized SUV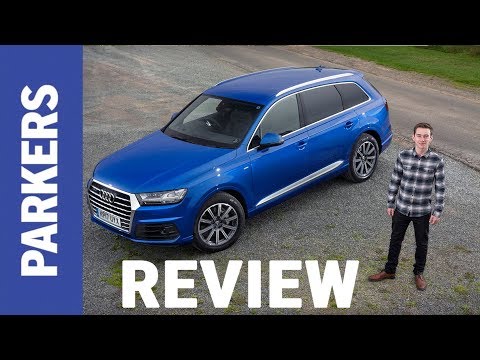 Enlarge
1

videos
Enlarge
153

photos
PROS
Easy and very comfortable to drive
Exemplary build quality, inside and out
Acres of interior space, front and rear
Hugely impressive SQ7 performance model
Range of smooth and powerful engines
CONS
Lacks ultimate off-road ability
High-spec models are expensive
No engine smaller than 3.0-litre
Touchscreen-heavy layout is fiddly
Won't be cheap to run
PROS
Easy and very comfortable to drive
Exemplary build quality, inside and out
Acres of interior space, front and rear
Hugely impressive SQ7 performance model
Range of smooth and powerful engines
CONS
Lacks ultimate off-road ability
High-spec models are expensive
No engine smaller than 3.0-litre
Touchscreen-heavy layout is fiddly
Won't be cheap to run
The Audi Q7 is the largest SUV in the company's range, and the only four-ringed model with the availability of seven seats. If you're confused, the Q8 is based on the Q7, but is a sportier, more luxurious slant on the Q7 for those wanting more prestige than practicality.
That's not to say the Q7 is without prestige – far from it. In 2019 it received a comprehensive update with tweaked exterior styling, more technology, an updated engine range and the modern interior borrowed from the Q8, A6 and A7 to keep it up to date.
Of course, the Audi Q7 is up against some tough competition, not least the Volvo XC90, BMW X5, Land Rover Discovery and Mercedes-Benz GLE. Does it compete effectively enough to secure your money?
Lightweight but packed with tech
Audi has always been proud of its aluminium technology, and the Q7 is lighter than the model that came before it.
This ruthless approach to weight management means it's good to drive. If you're looking for a full-size SUV that feels no more taxing to pilot than a family hatchback, the Q7 is a worthy proposition.
The Audi Q7 is packed with a vast array of technology. The four-wheel steering means that it feels more stable at speed. However, at less than 9.3mph the system turns the rear wheels in the opposing direction to the front axle direction, increasing agility and manoeuvrability.
Standard adaptive air suspension ensures it remains comfortable regardless of road surface, while a suite of driver assistance systems (Audi claims up to 30) ensures the Q7 is as safe as possible too.
This includes warnings to stop you opening your door into oncoming traffic, autonomous emergency braking and adaptive cruise control. The Audi Q7 was among the first cars to feature these driver aids. But it goes even further – the Q7 will even park itself, and the Trailer Manoeuvre Assist makes short work of reversing anything you may be towing.
Beautiful cabin with updated technology
As a company famed for its interior design and quality, it's pleasing to note the new Q7 continues the tradition; the dashboard looks to be solidly constructed, tastefully designed and uses plush, premium materials.
As part of its 2019 facelift, the Q7's interior was dramatically revamped. In truth, there was nothing wrong with how it was before – in fact it was the best in the business. However, the rest of Audi's range is becoming more modern with a suite of touchscreens featuring, and the Q7 now features this like in the Q8.
The infotainment system is controlled via a large central touchscreen, while the centre console sweeps down with a lower screen for the climate control and other vehicle settings. The central tunnel is high around you to feel cocooning, while in front of the driver sits the firm's latest Virtual Cockpit digital dials. While the user-friendly rotary dial has gone, the touchscreens are easy to use once you learn where all of the functions are, plus the screens are crisp, bright and responsive to inputs.

Broad selection of engine options
The engine line-up is made up of two 3.0-litre V6 TDI diesels and a 3.0-litre V6 TFSI petrol, with power ranging from 231hp to 340hp. While the powerful 55 TFSI is smooth and silky, the best all-rounder is the 286hp 50 TDI.
A high-power SQ7 TDI is also available and returns to the range as part of the car's facelift updates with 435hp and a considerable 900Nm of torque, bringing some seriously strong performance for such a large car.
A Q7 E-Tron plug-in hybrid is expected to re-join the range as well, offering the chance for full-electric driving for a few miles. One was available previously, but went off sale after a short while.
An efficient and smooth-shifting eight-speed automatic gearbox transmits power to all four wheels – Quattro is standard on this car – and the Q7 comes with hill descent control as standard. Not that many owners will venture off the beaten track, but it's good to know it will if it has to, while air suspension and mild-hybrid technology is standard across the Q7 range.
Trim levels and equipment
UK-spec Q7s come with seven seats as standard (five-seat models are available in other markets), and the third row can be folded electrically using buttons in the boot. There's a generous amount of space wherever you sit, the middle row especially benefitting from generous head and shoulder room.
Buyers here can choose from Sport, S Line, Black Edition and Vorsprung trim levels, all of which come packed with extensive kit lists. Go for the Vorsprung if you want your Q7 loaded with every piece of equipment available to the model.
The majority of UK cars will be S Line or Black Edition models, and come with full Matrix LED lights, leather upholstery, privacy glass, S Line body styling and all the kit that comes with Sport models, including air suspension, Virtual Cockpit, twin screens on the dashboard, Audi Sound System, power bootlid, reversing camera, sensors all-round, climate control and keyless go.
Read on for the full Audi Q7 review