BMW 3-Series Convertible (2007 - 2013) review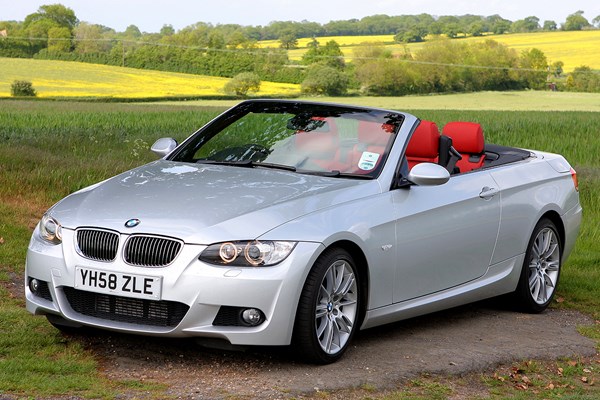 PROS
Beautiful folding metal roof, great choice of efficient engines, superbly refined
CONS
Small bootspace, much more expensive than the similar 3 Series Coupe
PROS
Beautiful folding metal roof, great choice of efficient engines, superbly refined
CONS
Small bootspace, much more expensive than the similar 3 Series Coupe
BMW 3-Series Convertible rivals
The BMW 3 Series Convertible is undoubtedly one of the most desirable models in the German brand's back-catalogue. It combines effortless elegance with everyday practicality and an exciting drive - in fact it is one of the finest drop-tops the firm's produced.
The three-piece electric metal roof folds gracefully in 25 seconds and is a very compact design. That means with the roof up, it looks like a coupe, and it retains the smooth shape associated with previous 3 Series Convertibles with the roof down - there's no 'bump' that has marred many other coupe-cabriolets.
Further innovations such as heat-reflective leather upholstery and easy access to the luggage area show great attention to detail and add to the premium feel. Punchy engines and a high spec (all have at least SE trim) are the icing on the cake.
BMW 3 Series Convertible stalling recall announced in May 2018
Resulting from an investigation by BBC TV's Watchdog programme, a recall affecting 312,000 BMWs was confirmed in May 2018.
Relating to a number of models, including 3 Series Convertibles, built between March 2007 and August 2011, the fault centres upon an electrical issue that can cause the engine to cut out while the cars are being driven.
Considering buying a drop-top 3 Series? Check with a BMW dealer first to confirm that any remedial work relating to the recall has been carried out.
Other BMW 3-Series (2005 - 2013) models: