BMW i8 review
Current Model
BMW's futuristic coupe is fast yet frugal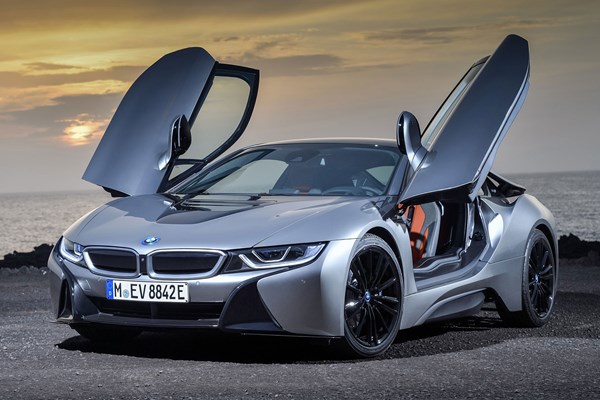 PROS
Futuristic styling
Impressive performance
Surprisingly economical
Very easy to drive
CONS
Expensive to buy
Ride is quite firm
Lack of steering feel
Getting in and out is tricky
PROS
Futuristic styling
Impressive performance
Surprisingly economical
Very easy to drive
CONS
Expensive to buy
Ride is quite firm
Lack of steering feel
Getting in and out is tricky
No, it's not a concept car, the BMW i8 really does look like the pictures. The i8 is a mid-engined two-door sports car featuring a hybrid electric powertrain, sitting alongside the i3 and i8 Roadster in BMW's i range of cars. The i8 doesn't have any direct rivals because of its ability to travel up to 32 miles on battery power alone, but in terms of style and drama (and cost), it wouldn't be unreasonable to compare it with the Porsche 911, Audi R8 and Honda NSX, despite it being down on power compared to those three. And while the i8 is part hybrid sports car, part eco-friendly electric car, it does have strong performance figures, so it's not all show and no go. Plus, those gullwing doors and sleek lines really add to the futuristic feel BMW has gone for with the i8.
Petrol engine combined with electric motor
Constructed of two halves – an aluminium drive module sits enclosed in a sleek carbon-fibre 'life module' – the BMW i8 is lightweight (for a car laden with batteries and two powerplants), weighing in at under 1,500kg. There's an electric motor up front, producing 143hp, that drives the front wheels through a two-speed automatic gearbox and a 1.5-litre turbocharged three-cylinder petrol engine with 231hp driving the rear wheels with a six-speed automatic transmission. That means a total system output of 374hp and a 4.4-second 0-62mph time.
The electric motor does most of its work low-down, with 250Nm of torque available from the get go, but will continue to boost the overall output once the engine is working. That means there's instant power whenever you want it, regardless of engine and road speed, and the i8 can increase its speed with unrelenting alacrity.
Capable, but not as fun as a Porsche 911
This setup also makes for an incredibly intelligent four-wheel drive system that sees much of the power sent rearwards at the entry to a corner, then pushed forwards to pull the car past the apex and out onto the straight. It all works seamlessly, with no detectable change in the way the car behaves on the road save for an abundance of grip.
The result of all this low-down torque and four-wheel drive is a car that can carry real speed through even the most challenging corners and continually builds and instils confidence in the driver. However, it isn't quite as involving as a Porsche 911 - the steering feels artificially light and lacking in feel, and the lack of engine noise at times can take away from the raw sports car thrills you might be expecting. However, there's still something very satisfying about whirring around in silence in something as dramatic to look at as the i8, and when the engine does fire up, it sounds suitably aggressive for a fast sports car.

Trim levels and equipment
There's no getting away from this car's £100k+ price tag, but apart from the cutting-edge technology and exotic materials it justifies its numbers thanks to high levels of standard equipment and a luxurious interior. The car rides on 20-inch alloy wheels on adaptive dampers, the seats are electrically adjustable, heated and covered in leather while sat-nav, DAB radio, Bluetooth and a 20GB hard drive feature. Parking sensors ensure you don't damage that exquisite bodywork while the high-tech theme inside is bolstered by a colour head-up display.
Smartphone users can take advantage of BMW Apps which allow remote access to the car's systems to monitor and control them – for example you can pre-heat or pre-cool the car before a journey or browse previous trip information from the comfort of your own home. BMW also offers a specially designed wallbox charger for the i8.
Running costs
Officially, despite the incredible performance figures, the BMW i8 is capable of achieving 128.4mpg, though in the real world you'll never come close to that – especially if you take advantage of this car's sheer grunt. In fact to get close you'd need to run on electric-only power, which the i8 is capable of for up to 32 miles at a speed of 75mph.
One thing that's not up for argument is the 42g/km CO2 output, which ensures it's in a lower tax band than many city cars, however you will to need to fork out the extra charges as the car is worth over £40,000. Expensive to buy yes, though some would say the dihedral doors are worth the price alone (even if they do hamper entry and egress for some), but it's one of the most special cars currently available.
Is the BMW i8 sitting pretty in its own niche, or does it have genuine appeal as an everyday supercar? Read on to find out.