View all BMW i8 reviews


BMW i8 Roadster review
Current Model
Hybrid supercar finally goes roofless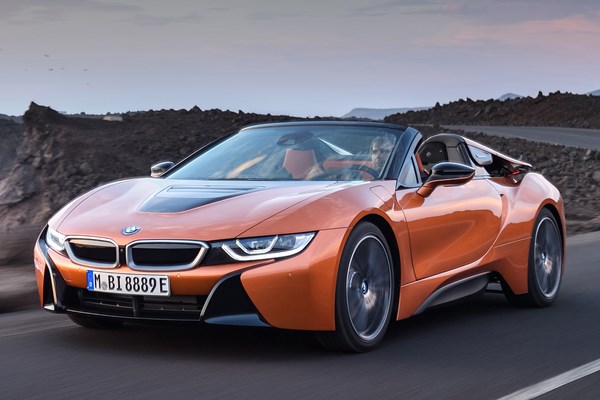 PROS
Futuristic looks are even better roofless
Has an EV mode you'll actually use
Sharpened handling and more precise steering
CONS
Still not as quick as supercar rivals
Sound is largely fabricated
Majority of interior and exterior mostly identical to i8 Coupe
PROS
Futuristic looks are even better roofless
Has an EV mode you'll actually use
Sharpened handling and more precise steering
CONS
Still not as quick as supercar rivals
Sound is largely fabricated
Majority of interior and exterior mostly identical to i8 Coupe

The BMW i8 Roadster has finally arrived, and it's an altogether new proposition for the supercar and GT market. Priced in the same ballpark to the Porsche 911 and Audi R8, the i8 Roadster offers a unique prospect if you're looking for a fast, dramatic – yet unusual car.
BMW i8 Roadster: the looks
The original i8 is one of the most futuristic-looking cars on the road, and the Roadster somehow betters it.

Removing the roof and lowering the rake of the windscreen makes the i8 Roadster even more svelte than the original car – and compared to rivals like the R8 and 911, it's certainly unique-looking.
BMW i8 Roadster: performance
While the original Coupe looked the part, it didn't feel as engaging as you'd expect. However, BMW says the new i8 Roadster has the performance to match its looks. On paper, it doesn't look much better; it'll launch from 0-62mph in 4.6 seconds – around the same as the i8 Coupe – but it offers a significantly more engaging drive.

Steering is sharper, and although the car isn't any faster, it feels more responsive, and quicker to react to throttle and wheel movements. Is it supercar fast? We're not sure, but it's certainly more fun than the previous model.
The BMW i8 Roadster powertrain
The i8 Roadster carries over the same automatic transmission as the Coupe, and you get the same turbocharged three-cylinder engine seen in that car, too. However, in Sport mode, a HUD rev-counter helps you squeeze the most out of the hybrid powerplant – so it feels faster.
Elsewhere in the powertrain, advances in battery tech mean an increased range in this i8, and you're able to use EV mode at higher speeds, too.