BMW X3 Estate (2011 - 2017) review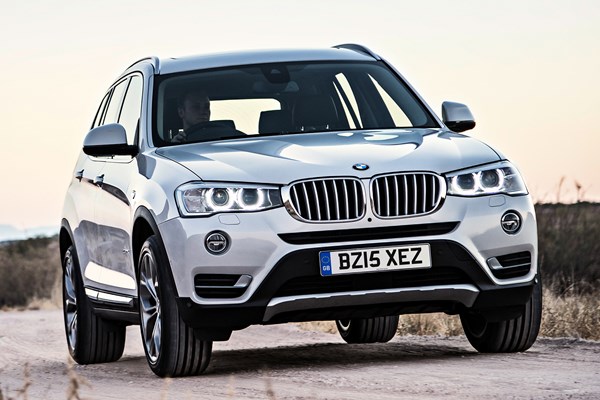 PROS
Decent handling both on and off-road
Strong resale values
Spacious interior
Plenty of standard safety kit
CONS
Long waiting lists
Servicing can be expensive
PROS
Decent handling both on and off-road
Strong resale values
Spacious interior
Plenty of standard safety kit
CONS
Long waiting lists
Servicing can be expensive
BMW has built a reputation for building cars that are engaging to drive and that even extends to its off-road models. However, the first-generation X3 was the exception to that rule: it wasn't much fun on the road and it wasn't much cop off it.
On the tarmac the ride was lumpy due to the overly stiff suspension and you couldn't guarantee that it would be able to negotiate muddy slopes and rutted terrain like a Land Rover Freelander.
However, BMW has improved the second generation - the suspension has been reworked to be a little more forgiving but thankfully the car still corners well.
On the slippery stuff, it also acquitted itself well: we tested the car in snowy conditions and it proved up to the task. Because of restricted numbers residuals are now on a par with the rival Audi Q5 and emissions have been lowered making the X3 a much better proposition.
2014 facelift
BMW has given the X3 a mid-life facelift, to keep it looking fresh against its rivals. Most obvious changes are at the front end with the headlights now connected to the reframed 'kidney' grille and a restyled lower grille.
Standard equipment has been increased, with the Business Media Package (Bluetooth telephone, satellite navigation) and heated front seats heading up the lengthy kit list.
Engine choices have also changed, with an all-new range of diesels available. Replacing the older units, the new engines are Euro-6 compliant with lower carbon dioxide emissions and improved fuel economy.
The entry-level 187bhp 2.0-litre diesel xDrive20d SE delivers low carbon emissions of 142g/km and averages a claimed 52mpg.
Excellent engines
When the BMW X3 was launched in late 2010, it was only offered with the 2.0-litre turbodiesel engine. This is a great engine and the most commonly chosen unit among X3 buyers, helped by the choice of slick six-speed manual or eight-speed automatic gearboxes.
However, BMW responded to demand for larger engines with the 30d and 35d models. The 30d offers 254bhp and sees off 0-60mph in just 5.7 seconds.
If you want even more pace in the X3, the 35d model uses a twin turbocharged 3.0-litre six-cylinder diesel engine to deliver 308bhp and 0-60mph in a mere 5.1 seconds.
Expensive servicing
BMW is not noted for its bargain service offers and so it is with the X3 that you'll pay a premium for the benefit of BMW's dealer attentions for your X3.
This can be offset to some extent by the 2.0-litre engine's fine fuel economy and low CO2 emissions that make it an appealing prospect for company car drivers. Even the 30d model sneaks under the 160g/km mark, though the 35d is not far behind.
So is this a complete package? Read the full BMW X3 review to find out.