View all Volvo XC60 reviews


Volvo XC60 Estate (2008 - 2017) review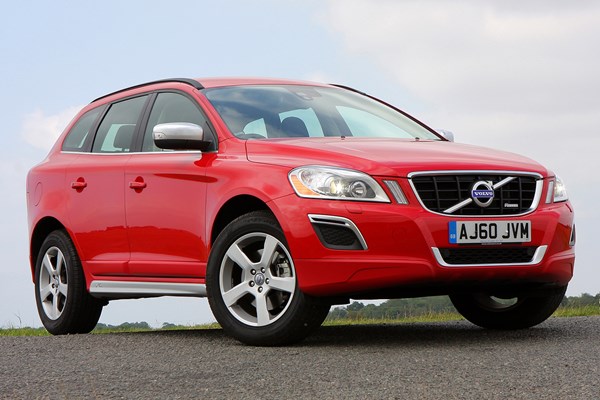 PROS
Comfortable and refined on the move
Modern cabin, neat styling, high-levels of standard safety kit
CONS
Optional auto gearbox can be hesitant
Steering lacks feels
Diesel engines on the noisy side
PROS
Comfortable and refined on the move
Modern cabin, neat styling, high-levels of standard safety kit
CONS
Optional auto gearbox can be hesitant
Steering lacks feels
Diesel engines on the noisy side
Combining off-road toughness and practicality with coupe styling and driving characteristics doesn't sound like an obvious mix, but that's exactly what the Volvo XC60 aims to do - an alternative to cars like the Land Rover Freelander and BMW X3
It's certainly very stylish with a less boxy and bulky look than the larger XC90, but it's designed to also be spacious and family-friendly. Volvo also offers a low-emission, front-wheel drive version badged DRIVe.
On the road it doesn't handle like an off-roader, with good body control, while the ride quality is excellent, making it a superb long distance machine.
There are three engines available, including the punchy D5 diesel, although this is fairly noisy and not as refined as newer diesels.
The XC60 is also the safest car Volvo has ever made and all models get City Safety - a system designed to prevent low speed impacts.
Comfort and refinement
The Volvo XC60 is notable for the comfort and refinement it offers, making most of its rivals in the premium SUV and crossover sector look a little second rate.
Ever since it introduction in 2008, the XC60 has offered a cushy ride quality as Volvo has not sought to make the XC the sportiest SUV on offer. The Swedes do offer the R-Design model for those who want to make their XC60 a little more athletic in appearance and in driving manners.
Most XC buyers, however, appreciate the car's subtle approach and the way it can cover large distances in quiet and comfortable fashion.
Drive trails best in class
While Volvo may not seek to out-point a BMW X3 with the XC60, the Swede can also be accused of wallowing a little too much in corners and not offering sufficient driver feedback. The steering holds much of the blame here as it doesn't have much in the way of feel, being too light at all speeds, though this does make the XC an ideal companion for town driving.
If you choose the automatic gearbox, it's also a fraction too hesitant in its decisions, which also makes the XC feel that little bit less satisfying to drive than the likes of the BMW X3 or Audi Q5. Read the full Volvo XC60 review to find out whether it's a better bet than its rivals.