Families and lifestyles come in all shapes and sizes and so cars do too. Sports Utility Vehicles, better known as SUVs, can give such families a level of comfort and convenience that most hatchbacks struggle to match. But with so many on sale, it can be tough to work out which is the best family SUV.
As a complete package, when coupled with the higher ride height, practicality and safety, SUVs are great family cars that suit a growing number of motorists, enough to become one of the most popular body shapes on the road. As battery technology gets better, there's a variety of electrified versions too.  
But which models available to buy really are the best for families? Parkers has put its considerable expertise to good use here and created this list of the top 10 family SUVs for UK buyers in 2023.
The best family SUVs
Our choice for THE best family SUV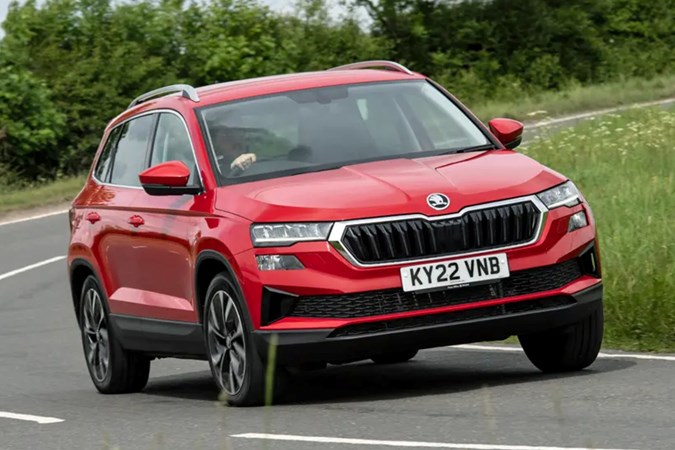 Facelifted in 2022, the conventionally styled Skoda Karoq sports improved fuel economy, lower emissions and a more refined interior. While there's no hybrid option, there's a swathe of clever tech to assuage any residual eco-guilt. With any engine option, the output isn't slow per se, just relaxed.

The comfortable, calm vibes continue in the cabin too. The Varioflex seating system is especially flexible for families, offering a larger fifth removable seat. What's more, the careful choice of interior materials offer both practicality and durability.  
Pros
Comfortable
Flexible rear seats
Cons
No hybrid option
1.0-litre engine a little slow
Mercedes reinvents the MPV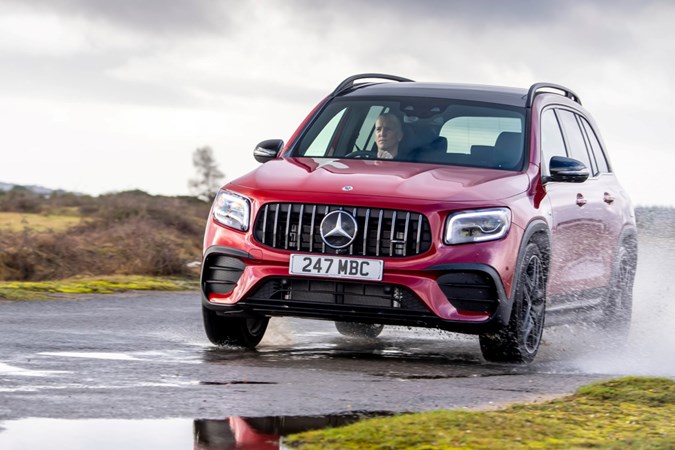 The Mercedes Benz GLB is smaller than most other seven-seat SUVs, making it easier to park and to live with. What's more, it earned recognition as the Best Medium Family Car in the Parkers New Car Awards 2021. 

A broad choice of engines, four trim levels and pleasing agility—despite its greater weight and height—means there's much to smile about in this family wagon. Combine that with the capacious rear space, stunning standard in-cabin tech and superb safety features and, two years on, the GLB earns its place here too. 
Pros
Well equipped
Seven seats in a compact package
Cons
Third row best left to kids
Not as flexible as a traditional MPV
<strong>The spacious choice</strong>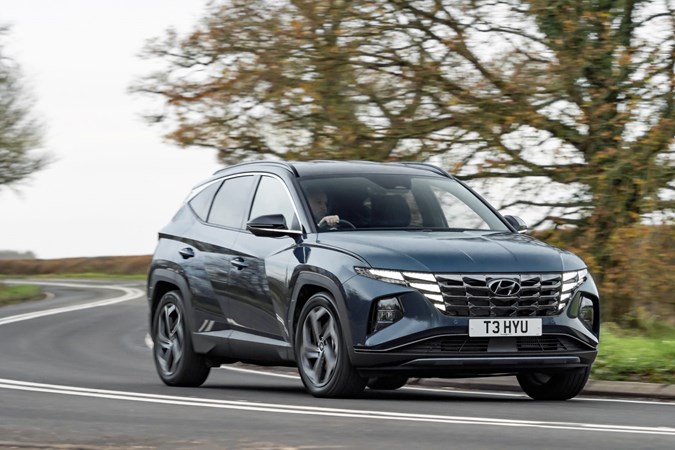 With a solid reputation for reliability, the Hyundai Tucson is a great family all-rounder. It's got its work cut out considering the rivals it's fending off, yet the Ford Kuga and Peugeot 3008 don't even make this list.

The Tucson has a very conventional drive, despite its daring exterior styling. The cabin sets a new benchmark for the brand in design flair and usability and it's intuitively laid out too. The five-year warranty is above the industry standard as well.
Pros
Comfortable and spacious
Mild, full or plug-in hybrid
Cons
Not for keen drivers
Unnecessary adaptive suspension
<strong>Adaptable all-rounder with striking design</strong>
It's amazing to think the Qashqai pioneered this segment back in 2007. Nissan has however kept this popular model looking fresh and attractive, and has now innovated with some wallet-friendly hybrid engine options too.

Standard kit includes LED lights, intelligent cruise control and parking sensors, while options will integrate a swanky Bose sound system and massage seats. The interior space is great for four, less so for five, but a flexible boot system impresses. 
Pros
Quality interior
Tech works well
Cons
No high-performance or diesel models
1.3-litre mild hybrid is weak
<strong>Classy and comfy family SUV</strong>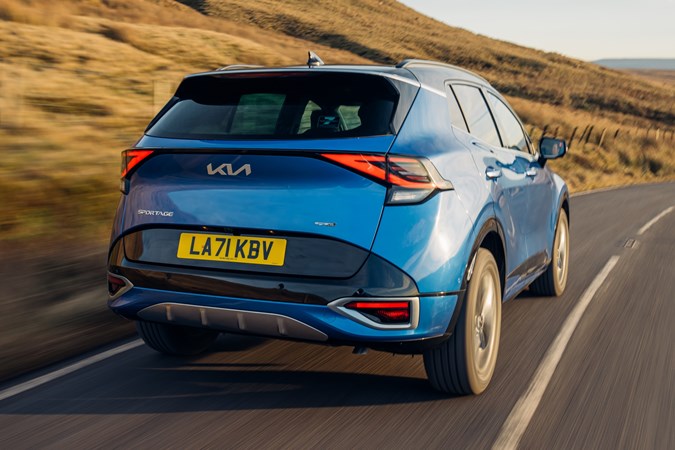 The Kia brand has made a reputation for reliability, style and affordability in the family car market. The fifth generation Sportage does nothing to undermine that hard-won image. With generous proportions, plenty of safety kit and a high quality interior, the Sportage is an attractive proposition.
 
Though there's no pure electric model, the hybrid engines offer reasonable fuel economy—especially if you opt for the plug-in hybrid (PHEV). Though pricey, it could deliver as much as 80mpg if the battery is perpetually brimmed. When considered in the context of a seven-year warranty too, the Sportage is undoubtedly one for your shopping list.
Pros
Lots of space for people and luggage
Long warranty
Cons
Overly light steering
Pricey plug-in hybrid
Grown-up premium family SUV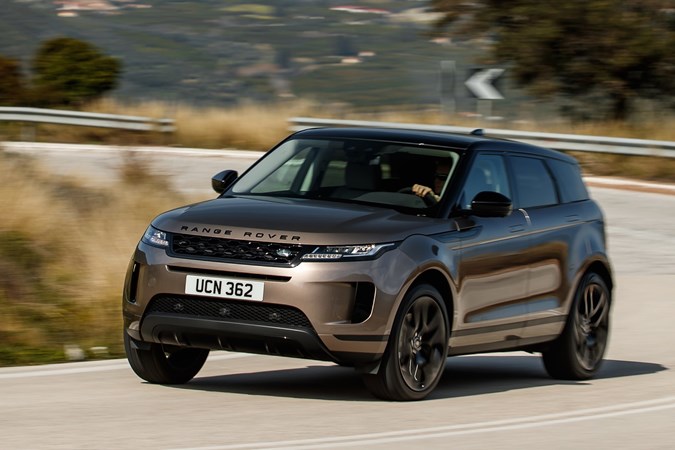 A longstanding Parkers HQ favourite, the Range Rover Evoque has the holy trinity of car appeal; elegant looks, an aspirational badge and a luxurious cabin experience. This modern motor hasn't changed significantly since launch in 2011, but now onto the second generation, gets the plug-in hybrid treatment to aid with running costs.

There's fierce competition in this space from the likes of BMW, Porsche and Volvo, but Land Rover has nailed the balance in the Evoque. It offers a capable family car with dynamic driving, well-considered interior trim and a decent amount of space. Granted, it's not cheap, luggage space is a bit smaller than some (so possibly a better choice for smaller families) and reliability can be patchy, but a favourite, nonetheless.
Pros
Comfortable and refined
Luxurious interior
Cons
Expensive to buy
High running costs
<strong>Pragmatic and sensible family SUV</strong>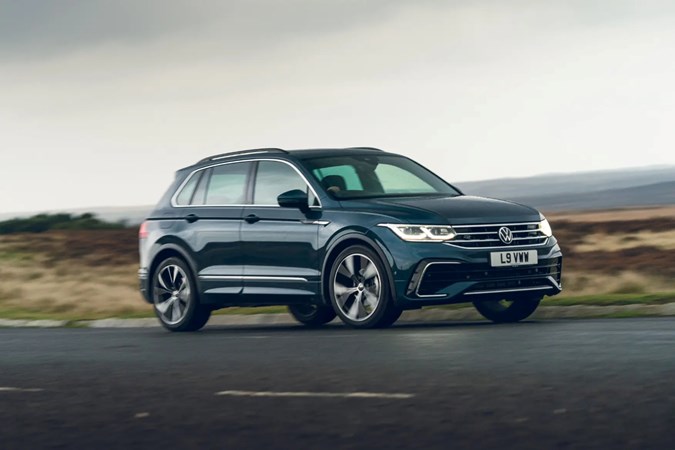 The number of choices available with the VW Tiguan means its family appeal is almost unparalleled. Swallowing all the paraphernalia that comes with family life, the practicality and spaciousness combined with a wide range of engines offers Tiguan drivers brilliant flexibility.

The Tiguan does cost a pretty penny more than its rivals. Yet, the VW reputation for reliability, safety and high quality interior finish helps to justify the additional expense. While touch-sensitive buttons are a common gripe of recent VW models, their presence isn't a total dealbreaker.  
Pros
Generous interior space
Wide range of engines
Cons
Pricey against rivals
Questionable interior switchgear
<strong>Punchy engines meet comfy cabin</strong>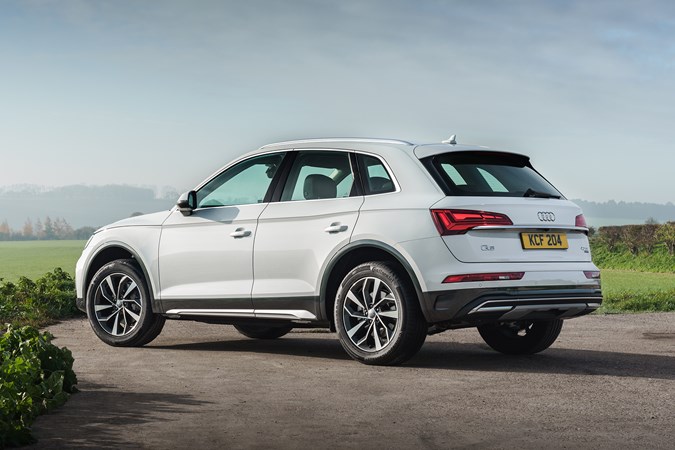 The noise of the medium-sized SUV market can be overwhelming. Cue: Audi, with its calm demeanour and reassuring residual values. For smaller families, the Audi Q5 doesn't have the larger, intimidating bulk of the Q7 and clean diesel choices prove popular for mile-munchers.

Typical VW Group practicality, safety and convenience sees the Q5 boast decent levels of space, a pop-up bonnet for pedestrian protection and an electric tailgate. A stylish and well thought-out cabin with an intuitive infotainment system completes this holistic package. The Vorsprung trim adds wireless charging and a 360-degree parking camera, though these options can prove expensive when purchased separately.
Pros
Composed ride
Impressove tech
Cons
Options costly
As is the PHEV
The sensible choice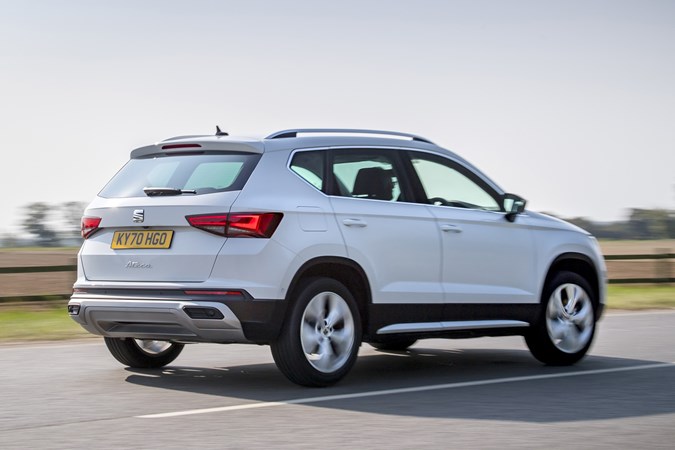 Those looking for excitement will not shortlist the SEAT Ateca, but what the Ateca lacks in sparkle, it makes up for in common sense. Sensible interior, sensible styling, SEAT has cherry-picked the VW armoury for everything that matters most to families; safety, space and sensible running costs.

Though the infotainment offering will seem dated when compared with others on this list, it's not outdated in the general schemes of things. Every trim level comes with roof bars, another string to the bow of practicality—especially for families. 
Pros
VW-based tech
Decent to drive
Cons
A bit dull
Some engines are underpowered
<strong>The best for build quality</strong>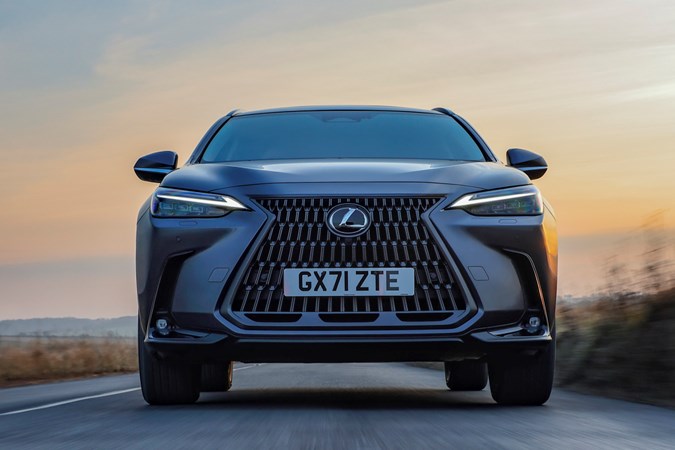 Striking to look at, the NX has had an upgrade and is all the better for it—though the model remains left-of-centre. The limited choice of two hybrid powertrains won't appeal to some. However, low emissions mean reduced tax, at least until 2025.
 
The NX has a seriously smart-looking cabin, comfortable enough for four, a commanding seating position and a much-improved infotainment interface. While rear vision is reduced physically, the high-tech suite attempts to offset any concerns using cameras and sensors.
Pros
PHEV has a good EV range
Exceptional build quality and reliability
Cons
Confusing steering wheel controls
Not especially inspiring to drive
Any other family SUVs to consider?
As mentioned above, the SUV market is big, broad and booming. Every carmaker has a plethora of sizes and so if you're partial to a particular brand or need to upsize or downsize your SUV, there's still plenty of choice.
Other mid-sized SUVs that we pored over include the BMW X3, Ford Kuga, Jaguar F-Pace, Skoda Kodiaq, Subaru XV and Volvo XC40, to name but a few. Each has a distinct USP for the right driver, but finding universal appeal is always a tougher job. 
If you're not convinced by our list, it's worth remembering there are also small SUVs and large SUVs to choose from too.
Why buy a family SUV?
The best family SUVs reduce the inconvenience of hauling parents, kids, pets and the relevant paraphernalia around while simultaneously minimising running costs.  
Of course, some hatchbacks and estates can achieve the same thing, but SUVs have gained popularity bringing an increased sense of safety, even if stats don't demonstrate any significant safety advantage.  
SUVs also offer families the option of operating a two-car household, with a haul-all SUV and a smaller vehicle for cheaper local running around.
Aren't SUVs really bad for the planet?
Not anymore. The vast range of SUVs have garnered such competition that there's an competitive fierceness to minimise emissions, maximise fuel efficiency and play to all the best benefit-in-kind (BIK) tax advantages a car maker could muster.  
While some SUVs are less friendly to your bank balance, those selected for this list bear in mind the strains on household budgets.