Everyone needs a good selection of tools in their lives, even if their DIY skills only stretch to changing a lightbulb. No matter your skill level, it's important to get the best tools for car care possible at the right price. A well-designed, ergonomic tool will make work less strenuous and hopefully quicker, even if it costs more than the no-name brand from the supermarket. A quality tool should also last for an eternity, only breaking if subjected to gratuitous misuse.
There are a lot of tools out there, all with variations and little features that need to be broken down if you're to get the best set possible. That's why we're cutting through the jargon to bring you the best tools that you'll actually need. The average car owner won't need a brake bleeding kit or grease gun, but a quality set of spanners and screwdrivers will be a must.
Join us in building our dream toolbox filled with the best hand tools for the majority of DIY tasks and basic car mechanics. We'll be breaking down what each tool does, why you'll need one in your life, a selection of brands to trust with your cash and our number one pick for each category. We'll also include a more budget-friendly option that's still worth considering.
The best tool shortlist:
• The best screwdriver set: Wera Kraftform Kompakt 60-Bit Set – Buy now on Amazon UK
• The best socket set: Bahco S380 Socket Set – Buy now on Amazon UK
• The best spanner set: Bosch Professional 10-piece Spanner Set – Buy now on Amazon UK
• The best tool kit: Siegen 2 Drawer Tool Chest + 90 Piece Tool Kit – Buy now on Tooled-Up
The best screwdriver sets
The best screwdriver set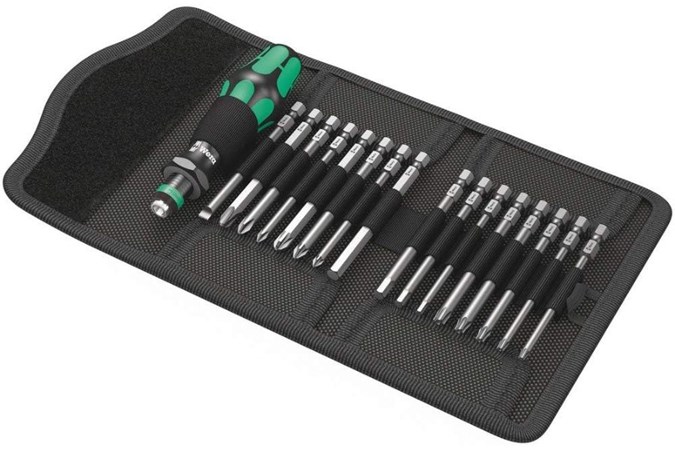 Contained in a fabric tool roll, we'd choose the Wera Kompakt 60 Bit-Holding Screwdriver & Bit Set with 16 interchangeable bits as our favourite screwdriver set. Containing a selection of Phillips, Pozidriv, Torx and slotted bits, the Kraftform handle features a quality quick-release system to make sure everything is in place properly. The ergonomically designed handles prevent the risk of chaffing while also promoting quicker turning and easier torque transfer. Anything from Wera is exceptionally crafted and well worth the price premium.
Pros
Exceptional quality
Ergonomic handles
Cons
There's only one screwdriver handle included
| | |
| --- | --- |
| Included tools | 11 screwdrivers |
| Screw heads Phillips, Pozidriv, Torx, flat head | Phillips, Pozidriv, Torx, flat head |
| Extras Fabric roll | Fabric roll |
The best budget screwdriver set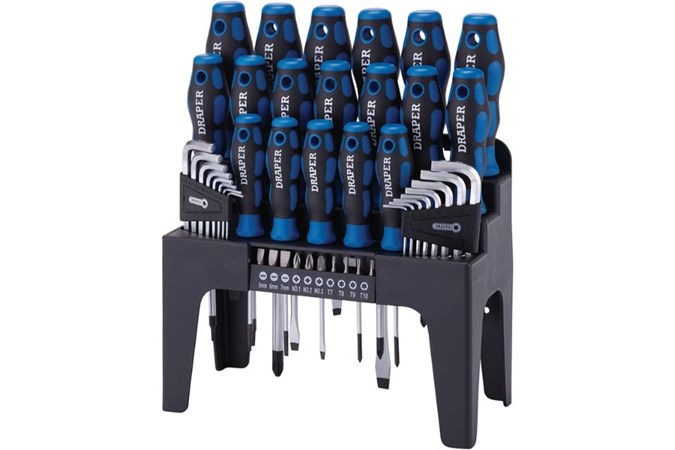 With a whopping 17 screwdrivers contained in the storage rack, alongside a bit driver with heads and Allen keys, the Draper 865/44 44PC S.Driver Set+Stand should cover just about everything you could need for working with screws. The screwdrivers can work with slotted, Torx, Pozidriv and cross slot (Phillips) screws, and each screwdriver features a sandblasted head for a better grip. There's a fair chance that a decent amount of these screwdrivers will spend their lives unused, but it does at least mean they're there should the need for them arise.
Pros
Includes loads of screwdrivers
Smart storage system
Cons
Not as ergonomic as the Wera set
| | |
| --- | --- |
| Included tools | 17 screwdrivers |
| Screw heads | Phillips, Pozidriv, Torx, flat head |
| Extras | Storage stand, hex sets, bit driver with screw bits |
The best socket sets
The best socket set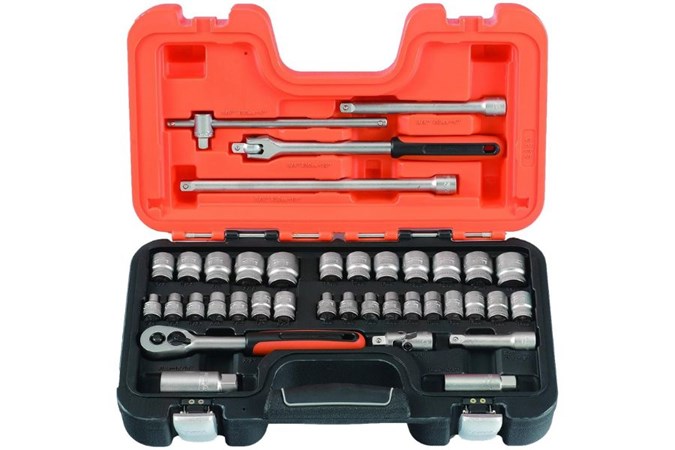 For covering yourself and that you get the best quality possible without buying a set of tools designed for daily use by professionals, this socket set from Bahco is our top pick. The S380 Socket Set features 32 different sockets ranging from 6-22mm in size, including two designed specifically for spark plugs. This set is ideal for anyone planning to work on their car. For easier working with the included ratchet wrench, this set also ships with three extension bars, a sliding t-bar and a universal joint.
Pros
Loads of sockets included
Top-quality construction
| | |
| --- | --- |
| Included sockets | 6-22mm, sparkplug sockets |
| Wrench supplied | Ratchet wrench |
| Extras | Three extension bars, universal joint, t-bar, storage case |
The best budget socket set
Simply laid out and featuring sockets that range from 8-22mm, the Draper 16359 Metric Socket Set, 3/8" Square Drive, Blue, 18 Pcs comes with a ratcheting wrench, two extension bars and an adjustable attachment for working in fiddly locations. Everything is built to last, while the included ratchet wrench comes with a comfortable handgrip. It's exceptional value for money and a fantastic starting point for any amateur mechanic.

Read our full Draper 16359 Metric Socket Set, 3/8" Square Drive, Blue, 18 Pcs review.
Pros
Loads of sockets included
Top-quality construction
Cons
No handle for the storage case
| | |
| --- | --- |
| Included sockets | 8-22mm |
| Wrench supplied | Ratchet wrench |
| Extras | Two extension bars, universal joint, storage case |
The best torque wrench
The best torque wrench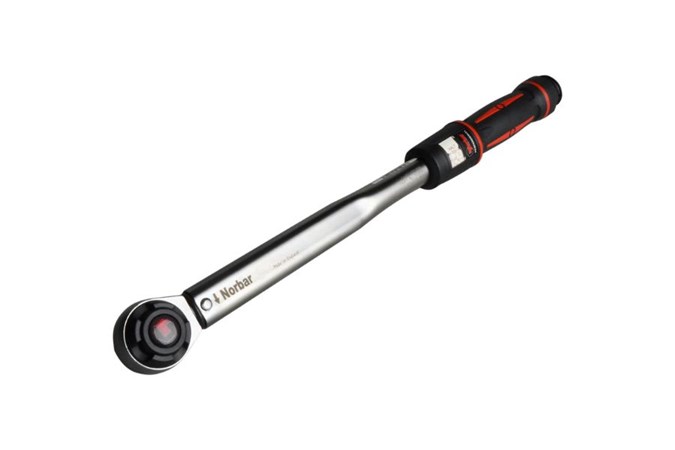 As Norbar is the go-to brand for premium torque wrenches, it's logical to include the 1/2" Drive Mushroom Head Torque Wrench as our top pick. Built to industry standards and shipping with individual calibration authenticity certificates, the Norbar even comes with a Timestrip to indicate when the tool will need recalibration.

Beyond this, this toque wrench is designed to cope with the wear and tear of regular use. The lens for displaying the torque settings and ergonomic handles are designed to withstand spills and damage, while the ratcheting mechanism is easy to use.
Pros
Accurate torque measurement
Top-quality build
| | |
| --- | --- |
| Torque range | 60-300Nm/50-220lb-ft. |
| Length | 593mm |
| Weight | 1.43 kg |
The best budget torque wrench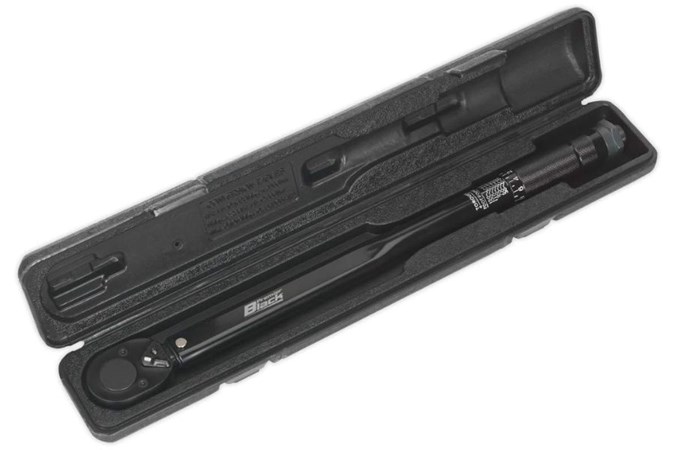 On a more affordable scale is the Sealey AK624B Calibrated Micrometer Torque Wrench. Manufactured from steel and finished with a rust-resistant black coating called Electrodeposition, this torque wrench measures in both Nm and lb.ft. Each example features a unique calibration certificate, too, so you know that it's accurate and is built in accordance with BS EN ISO 6789:2003. The torque wrench is adjusted with a simple micrometre, and it all comes in a useful blow-moulded storage case.
Pros
Affordable but still quality
Accuracy is certified
Cons
Not up to a professional standard
| | |
| --- | --- |
| Torque range | 27-204Nm/20-150lb-ft. |
| Length | 500mm |
| Weight | 1.63 kg |
The best spanners
The best spanner set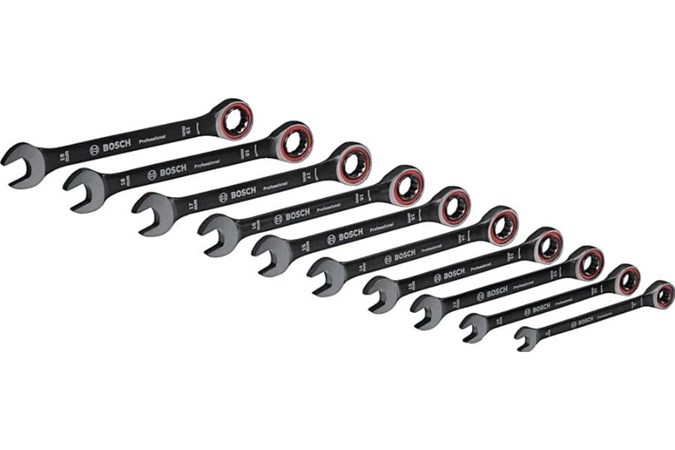 Not much can get close to these ratcheting spanners from Bosch in terms of versatility. The Bosch Professional 10-piece Ring/Open-ended Spanner Set features a toothless mechanism in the ring end, which gives exceptional ratcheting power in the tightest of spots thanks to the tiny backswing of just 3°. They're our favourite spanners by far, and the 10 included tools cover 8-19mm sizes, perfect for most domestic jobs.
Pros
Perfect for tight spaces
Clever design
Cons
Skips 9 and 11mm socket sizes
| | |
| --- | --- |
| Spanner sizes | 8-19mm |
| Tool material | Chromium-vanadium steel |
| Extras | Ratcheting mechanism, storage bag |
The best budget spanner set
Spanners don't come more basic than the Hilka Metric Combination Spanner Set. Made from drop-forged carbon steel for better durability and chrome plated to keep them shiny and resistant to oil spills, this set may be simple, but it should prove dependable. Stored in a cheap but simple case, the set includes spanners ranging from 6-22mm in size with both open and ring spanner ends, you should be covered for basically any DIY task.
| | |
| --- | --- |
| Spanner sizes | 6-22mm |
| Tool material | Drop forged carbon steel |
| Extras | Storage case |
The best pliers
The best pliers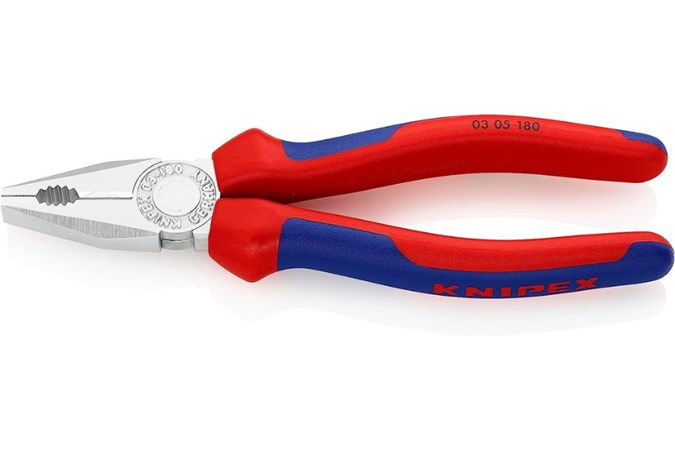 The Knipex Combination Pliers, Chrome-Plated, With Multi-Component Grips 180 mm get our top plier pick thanks to the versatility and quality offered by the go-to brand for pliers. It can easily hold rounded and flat objects thanks to cleverly designed gripping zones while also being able to cut both soft and hard wires. Add in the comfortable handles and German build quality, and it's easy to see why Knipex is an industry leader.
Pros
Covers loads of jobs
Nearly indestructible
Cons
You'll still need a few more sets to cover all bases
| | |
| --- | --- |
| Uses | Cutting, gripping |
| Weight | 254g |
The best budget pliers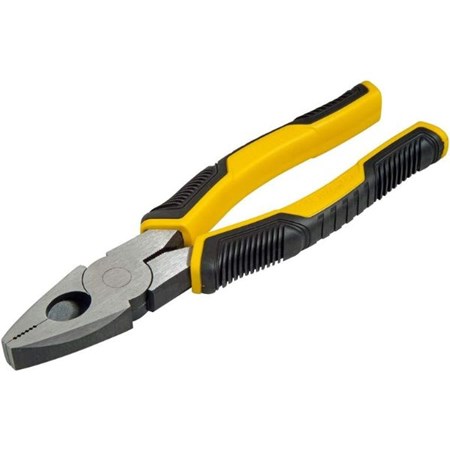 Another versatile set of pliers, but a fair bit cheaper, we do like the Stanley Combination Pliers. It features Dynagrip handles for increased comfort during use and can be used to both grip items and strip wires. The actual pliers are made from drop-forged steel, which means they should be very durable.
Cons
Handle isn't the most comfortable
| | |
| --- | --- |
| Uses | Cutting, gripping |
| Weight | 220g |
The best hex sets
The best hex set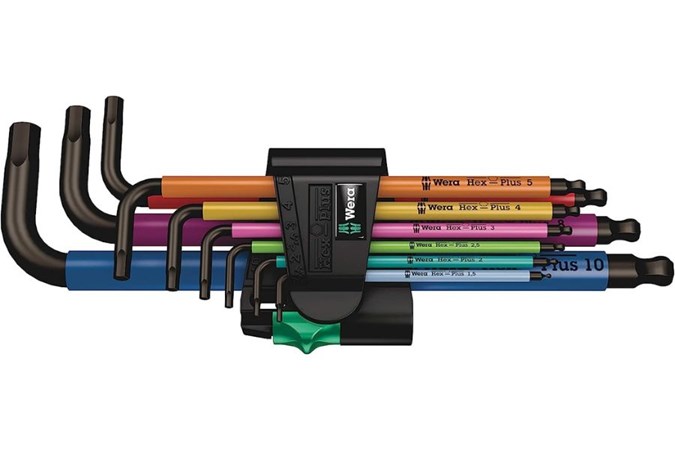 Taking the traditional L-shaped hex set and evolving it to be more pleasant to use, this outstanding hex set is our top choice for Allen keys. The Wera 950 SM N Metric L-Key Set features ballpoint design on one end makes working on awkward hex screws a lot easier without sacrificing turning power, while the plastic wrapped on the handle makes this kit more comfortable to hold, especially in the cold.
Pros
Clever design touches
Ususal Wera quality
| | |
| --- | --- |
| Hex sizes | 1.5-10mm |
| Weight | 200g |
| Extras | Storage case, plastic coating |
The best budget hex set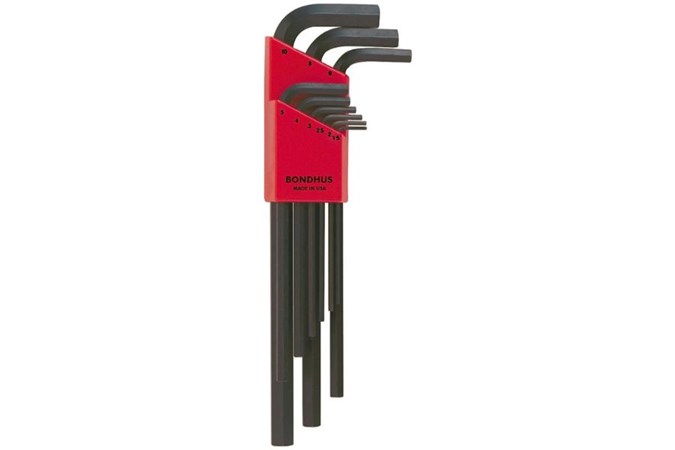 A set like this is precisely what you'd want from a basic hex set. The Bondhus Hex Tip Key L-Wrench Set covers a range of sizes from 1.5-10mm, each made from steel and designed to get the maximum torque possible. This set also includes chamfered tips to help the tool properly settle in the slot and a handy carry case.
The best tool kits
The best tool kit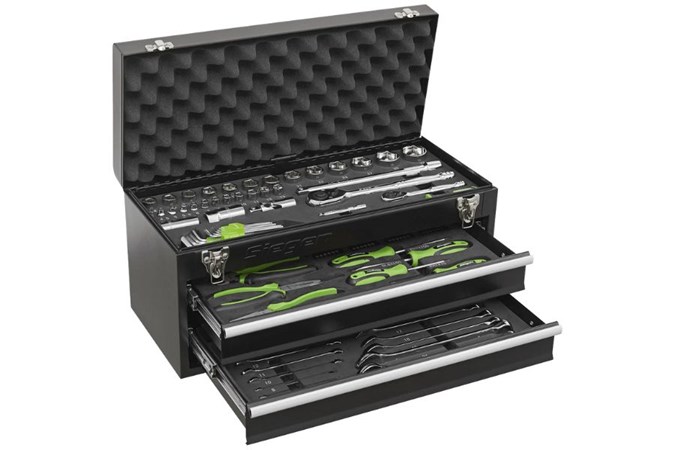 Nothing looks more visually impressive in a garage than a stocked and organised tool kit. Siegen's 2 Drawer Tool Chest and 90-piece toolkit is a prime example of this, neatly storing a selection of tools organised in foam cutouts and all kept within a quality cantilever toolbox. Expect to find an example of almost every tool listed above, all compete with variations and all sporting comfortable handles and a quality build.
Pros
Packed with quality tools
The toolbox isn't half bad either
| | |
| --- | --- |
| Included tools | Ratchet wrenches, sockets, hex keys, screwdrivers, bit sets, spanners, pliers |
| Case | Steel toolbox |
| Weight | N/A |
The best budget tool kit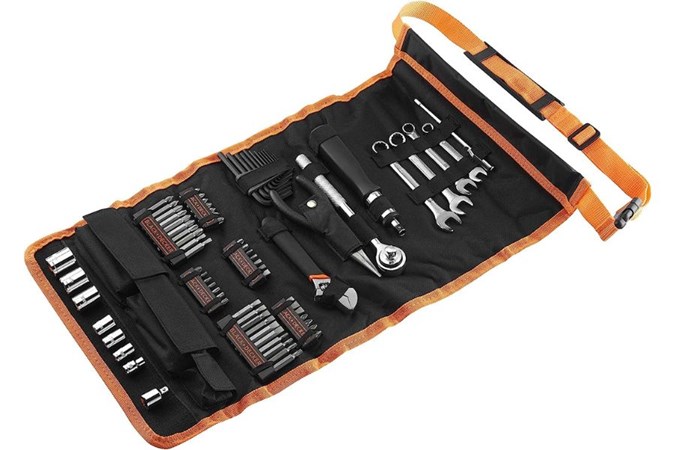 Perfect for chucking in the car for an unfortunate breakdown, the Black and Decker Tool Wrap Kit contains a selection of essential tools to hopefully get you on your way again. With 77 pieces included in the minuscule toolset, should you need a screwdriver, sockets or Allen keys, there's an acceptable selection on offer. It's just a shame there aren't more spanners included.
Cons
Only basic tools included
| | |
| --- | --- |
| Included tools | Ratchet wrenches, sockets, hex keys, screwdrivers, bit sets, spanners, pliers |
| Case | Fabric tool roll |
| Weight | 1.72kg |
The best hand tools FAQs
The best hand tool brands
A first glance at any tool catalogue or a trip down the DIY aisle at a supermarket may have you thinking all tools are basically the same. There's a reason a hammer looks the way it does, so it can be easy to conclude that all brands are the same when it comes to tools.
Like cars, coffee machines or clothes, though, there are trusted brands that offer small but important nuances to even generic hand tools. From ergonomics to material, there are reasons to spend more on a set of tools, and we've broken down the brands we'd trust with our hard-earned cash.
Premium: Wera, Facom, Sielsen, Knipex, Bahco
Mid-range: Bosch, Milwaukee, Sealey
Budget: Draper, Stanley, Black & Decker, Rolson
What to look for in a good hand tool?
Ergonomics – All DIY is in some way strenuous. A bad set of tools can leave your hands calloused and your wrists aching. This is why we place a particular emphasis on ergonomically designed handles for hand tools. Softer handles will cushion your hands while allowing for the maximum torque to be applied. In short, ergonomic tools will make you more efficient and save your hands from discomfort.
Dual uses – It's always handy when a set of tools can safely and effectively do other tasks. Take screwdrivers as a prime example of this. Quite often, these tools will include hex bits which means they'll work as Allen keys.
Storage – Not everyone has a double garage to keep their fully-stocked tool chest. In fact, the majority of the time, tool storage will be a pretty big factor to consider before purchasing anything. In these circumstances, looking for a streamlined tool set will be your best bet. Compact options (like those found in a tool roll) may not offer a wide selection of bits, but they'll take up less room while still being useful.
Ryan Gilmore is the Deputy Autos and Tools Editor for Parkers and CAR, specialising in car cleaning and hand tools. With an MA in Automotive Journalism, when he's not testing buckets he can be found looking at old Porsches.
Sign up to the Parkers Newsletter to keep up to date with more of the latest reviews, news, and recommendations from the Parkers team.
Just so you know, whilst we may receive a commission or other compensation from the links on this website, we never allow this to influence product selections – read why you should trust us