What are torque wrenches, you might be asking? One thing you'll quickly learn when you begin to work on your car is that the correct torque reading for every fastening is important. As a result, alongside the best tools for each job on your car, you'll essentially need a tool-shaped guarantor.
This is something that can accurately measure the torque on the important fasteners. That's where a torque wrench comes in.
It's not the end of the world if you're fiddling around with non-important interior trim. That's where a socket set might come in handy. But if you're changing a wheel or working on your engine, it's incredibly important to listen to a manufacturer's instructions.
The best torque wrenches at a glance:
Editor's Choice: Silverline Torque Wrench – Buy now on Amazon UK
Best budget torque wrench: Amazon Basics 1/4-Inch Drive – Buy now on Amazon UK
Best compact torque wrench: Icetoolz Torque Wrench – Buy now from Amazon UK
A torque wrench is much more advanced than a more familiar spanner set. They allow you to see how much torque has been applied as you do up the fastening. It's a real garage essential for car work and we've selected our favourites below, suitable for a whole range of tasks and budgets.
The best torque wrenches
Editor's choice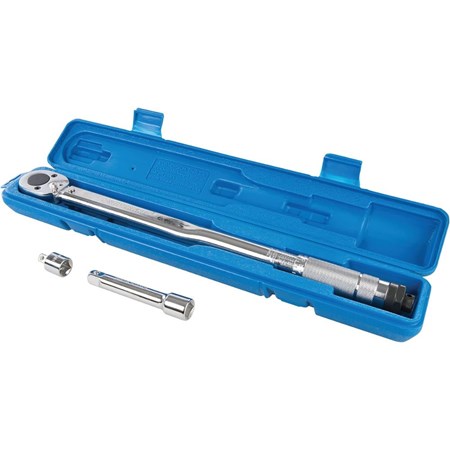 The simplest a tool wrench can be, this option from Silverline is ideal for any car-related maintenance. It features an impressive range of 28 to 210Nm and also features a reversible ratchet head. It also ships with a 125mm extension bar, 1/2in to 3/8in socket adapter and a handy plastic storage case.
Pros
Hefty limit of 210Nm
465mm long handle
Cons
Overkill for smaller fasteners
Best mid-range torque wrench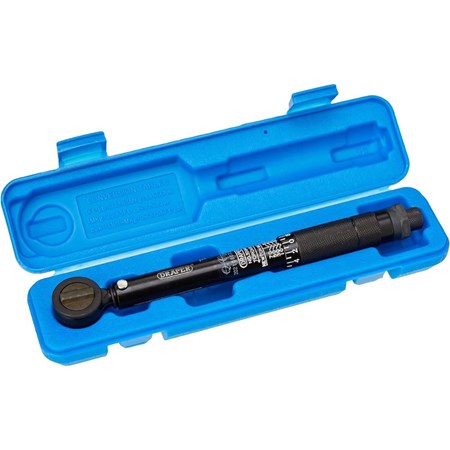 Draper's 3/8 inch Square Drive Ratchet Torque Wrench is an honourable mention simply because it's a great tool for lesser fastening jobs. It's only limited to 80Nm, but it's compact enough to be useful in tight spaces, measuring in at only 30.6 x 5.4 x 5.2 cm.
Pros
Good quality tool
Great value
Best budget torque wrench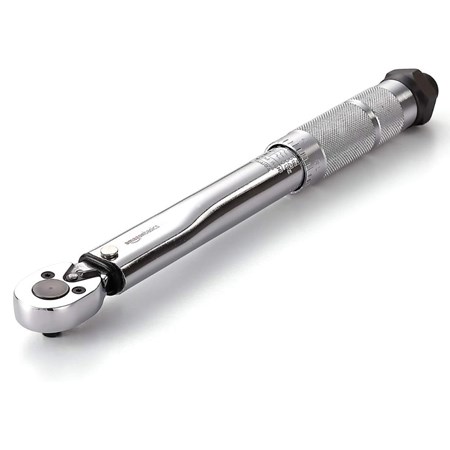 Another basic torque wrench that's perfect for basic car duties, the Amazon Basics torque wrench is a good budget option. It can be set from 27.1 to 203.5Nm and like the Silverline option, offers a reversible ratchet head and a plastic storage case.
Pros
Great value
Good limit of 203.5Nm
Cons
Too large for smaller fasteners
Best compact torque wrench
A very small option that's not really suited to cars. The IceToolz T-Handle is great for bicycles and other smaller fixtures. It only goes up to 10Nm, but it does feature an inbuilt torque meter as well as a selection of head attachments. Be warned; however, there is no pre-set torque limit, and if you're not careful, you can overtighten the fixture.
Pros
Great for smaller jobs
Changeable drive bits
Best digital torque wrench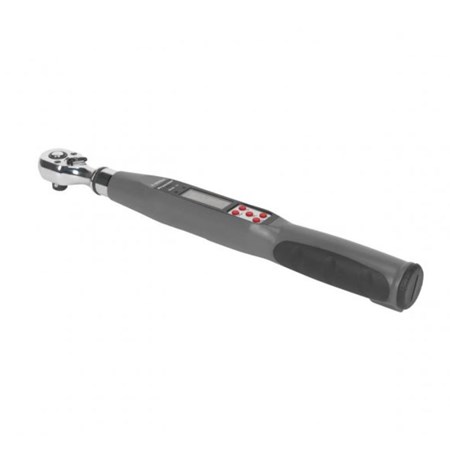 Digital torque wrenches may cost the most money but are often the easiest to use. This example from Sealey uses a 3/8in drive socket and features an alarmed pre-set torque limit so you don't accidentally over-torque a fastening. It also features a digital read-out to show how much you've torqued something. And it goes up to 85Nm, enough for most car tasks.
Pros
Actual torque read-out
Audible and visible limit
Cons
High cost for an amateur or occasional mechanic
Best old-fashioned torque wrench
You're grandad probably owned a torque wrench like this, and while they may look old and outdated, they're still an excellent option for working on your car. It's a 1/2-inch drive handle with a separate bar that indicates on the built-in scale the actual torque being applied. There's no pre-set warning or limit which means you'll need to keep your eyes on the scale as you're using it.
Pros
Good value
Simple to operate
Cons
No pre-set limit to indicate the correct torque
Best premium torque wrench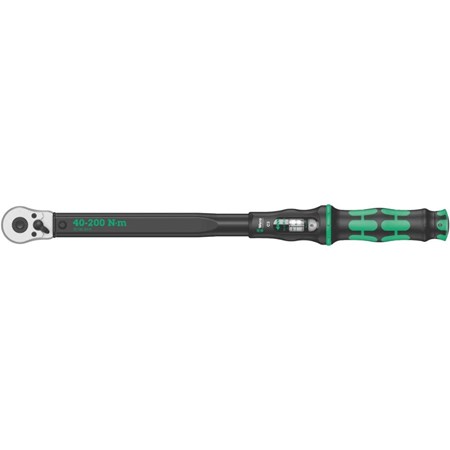 On the premium end of the spectrum from Wera, it offers the C3: a 1/2 inch square drive torque wrench with a range of 40-200Nm of torque.

You simply adjust how much torque you want using the knob at the end, and being a Wera product, you can be assured the C3 is built to great build quality. There's even a version called the C5 which can go up to 400Nm of torque.
Pros
Great build quality
Easy to adjust torque settings
Cons
Doesn't differ too much from lesser options
Best torque wrench accessory
Sometimes regular torquing isn't enough; sometimes, a fastening needs to be set to a specific angle as well as torque. This attachment makes working out angles a lot easier by slotting underneath the ratchet handle of a torque wrench to give you precise adjustability.
Pros
Make torque handle application easy
Adjustable stop bar
Cons
Doesn't indicate the actual torque value
What does a torque wrench do?
A wrench is a tool designed to turn nuts and bolts, often by connecting to an appropriate socket. While the terms spanner and wrench are technically interchangeable. In the UK, spanners are fixed sizes while wrenches can be adjusted. Over in the world of multi tools, the attachments are generally fixed sizes as well.
Everything in your car that's fastened will have a set torque setting set by the manufacturer that needs to be torqued to the correct setting. From something as simple that can't be tackled by a precision screwdriver set to important bolts that hold the wheels on and keep the engine held together, they all need to be torqued. If you're planning on doing any task like this you must use a torque wrench so you don't do some serious damage to your car as you rebuild it.
The best hand tool brands for torque wrenches
Torque wrenches require calibration and need to be accurate for more heavy-duty jobs. Therefore, there is a massive price gap for entry-level and more professional offerings. Professional options from the Sealey Professional line and Norbar are possibly the most accurate examples available. But these may be a little overkill unless you're doing some serious wrenching. Draper and Sealey cover the more affordable end of the price spectrum. The same applies when it comes to socket sets which are produced by the same brands.
Ryan Gilmore is the Deputy Autos and Tools Editor for Parkers, specialising in car cleaning and hand tools. A veteran car cleaner; if it details, waxes or washes he'll be on hand to make sure it's worth your money.
Sign up to the Parkers Newsletter to keep up to date with more of the latest reviews, news, and recommendations from the Parkers team.
Just so you know, whilst we may receive a commission or other compensation from the links on this website, we never allow this to influence product selections – read why you should trust us