View all Chevrolet Trax reviews


Chevrolet Trax Hatchback (2013 - 2015) review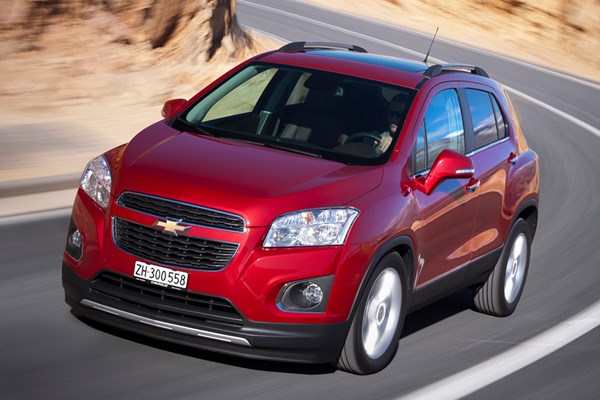 PROS
Distinctive design
MyLink
Standard Equipment
CONS
Unrefined diesel
Poor cabin quality
Firm ride
PROS
Distinctive design
MyLink
Standard Equipment
CONS
Unrefined diesel
Poor cabin quality
Firm ride
Chevrolet claims it invented the Sports Utility Vehicle (SUV) back in 1935 in the US, its Suburban being so successful that its nameplate still survives today. Which is why it's so surprising the firm has taken so long to come out with the Trax, a small family off-roader that does battle in one of the most hard-fought and rapidly-growing segments out there.
It looks familiar
If you think you've seen the Chevrolet Trax before, don't worry, you're not going mad. It's closely related, as in very closely, to the Vauxhall Mokka – though actually every single body panel is different.
And to be fair the Vauxhall's styling is one of its strong points, so this similarity shouldn't be regarded as a negative for the Chevrolet. The additional Chevrolet design touches – a bold double-height grille with oversized Chevrolet bowtie motif being the most obvious change – are few and far between though.
Still, the Trax is distinctively styled – even if the bottom edge of the front bumper seems impossibly low for a 4x4.
Limited engine range
Your choice is limited to three engines; two petrol and one diesel. The latter clearly makes the most sense, but unfortunately it also makes the most noise.
Turn the stereo, and the wick, up and it'll cover the 0-62mph sprint in a little over 9 seconds. Ease off the accelerator and you can expect to achieve 63mpg – in the front wheel drive manual.
If you can live with the increased fuel consumption and slightly slower acceleration, the 1.4-litre petrol Turbo is far more refined and agreeable day to day. Despite proudly wearing that Turbo badge, there's no hint of lag, the power delivery completely linear throughout the rev-range. In Autumn 2013, the 1.4-litre petrol Turbo will become available with front-wheel-drive capable of 0-62 mph in 9.5 seconds. Fuel consumption is a claimed 47.1mpg, while CO2 emissions are 139g/km of CO2.
Spacious cabin
There's actually a decent amount of room inside the Trax, for front and rear seat occupants as well as their luggage. Leave those rear seats up and there's 356-litres of loadspace on offer, which can be increased to a maximum of 1,370-litres with the bench fully folded.
Rear seat room is good, and it's easily large enough to carry four if not five full-size adults – headroom is especially impressive. There's even a domestic plug socket back there for charging portable devices on the move.
Up-front isn't quite as impressive, with average quality plastics and some poor switchgear. Still the MyLink infotainment display looks impressive and the motorbike-style instrument cluster adds some extra personality to the proceedings.
Read the full Parkers Chevrolet Trax review to find out if this new compact SUV was worth the wait.