Citroën C5 review
Current Model
A distinctive-looking and comfortable addition to a crowded SUV market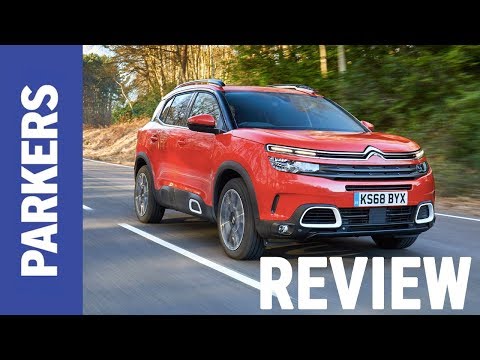 Enlarge
1

videos
Enlarge
26

photos
PROS
Distinctive styling inside and out

Comfortable ride quality and seats

Decently sized interior that's well finished

CONS
If you're after a sharp drive, look elsewhere

Lacks a high-power petrol version
You're waiting until 2020 for the PHEV version
PROS
Distinctive styling inside and out

Comfortable ride quality and seats

Decently sized interior that's well finished

CONS
If you're after a sharp drive, look elsewhere

Lacks a high-power petrol version
You're waiting until 2020 for the PHEV version
The Citroen C5 Aircross joins its similarly badged C3 sister car to help increase the French car company's line-up in the super-competitive family SUV market. It's a change in direction for Citroen, as the last C5 was a stylish saloon and estate car, and although it was excellent, it really didn't sell well in the UK.
This C5 is going to have to be good to make a dent in a sector that's so crowded – with cars such as the Volkswagen Tiguan, SEAT Ateca and Ford Kuga already proving so popular. It's not Citroen's first crossover of recent times: the distinctive C4 Cactus tapped into that market pre-2018, while the seven-seater C-Crosser was a clone of the previous-generation Mitsubishi Outlander.
At 4.50m in length it sits between the Peugeot 3008 and 5008 in terms of size - SUVs it shares much of its underpinnings and mechanical components with. Similarly, it's closely related to not only the DS 7 Crossback, but also the Vauxhall Grandland X. As with the recently facelifted C4 Cactus, the C5 Aircross majors on comfort and style, and is also available with a raft of personalisation options, which prove so popular with family car buyers.
What makes the 2019 Citroen C5 Aircross different?
Citroens are renowned for their ride comfort, a trait the company's bosses are keen to focus their attention on with forthcoming models. The C5 Aircross is the first model designed with the Citroen Advanced Comfort philosophy in mind from the outset, although the revised C4 Cactus hatchback also has some of these developments retrospectively installed.
Chief among the hardware changes is a suspension set-up with what Citroen calls Progressive Hydraulic Cushions. It doesn't completely replicate the famed 'magic carpet ride' of hydropneumatic Citroens of old, but as we'll see, it does iron out the majority of surface imperfections without making the C5 Aircross list like a ship whenever you encounter a corner.
Furthermore, Citroen's equipped the C5 Aircross with soft and supportive sofa-like seats with a massage function, optionally available for the front pair. There's also a reclining backrest function and seat slider for the three individual seats that make up the rear bench. The cabin is trimmed in soothing hues, and all of the touchpoints look and feel durable and of a decent quality. Double-glazed acoustic-insulating glass will also be available.
Distinctive and functional C5 Aircross styling
Recent hallmarks of Citroen's distinctive design language are present and correct with the C5 Aircross, not least the eyebrow-like LED day-running lights with main headlamp units nestled separately below. There's also a smattering of Airbumps – think toughened bubble wrap – along the lower edges of the doors for a dash of rugged protection.
Unique – so far, at least – to the C5 Aircross are the chrome-look hoops around the side-door windows, with a subtle third piece of glass appearing blacked-out towards the back.
LED-rich tail lamps are bisected by a wide-opening tailgate, while the exterior can be spruced-up further with flashes of red detailing. There's an upmarket look to the distinctive cabin, boasting a 12.3-inch infotainment screen on high-spec versions, with a wide centre console and an electronic instrument binnacle directly ahead of the driver.
Citroen C5 Aircross model range

Sales are split between petrol and diesel in the UK with a straight 50/50 between the two – a solid reminder of how the family car market is changing to reflect the views of buyers who are keen to leave the diesel fold.
There are no pared-down entry-level models. Instead, there's a three-tier range, starting with the Feel version. That comes with 17-inch wheels, 12.3-inch digital instruments and an 8.0-inch touchscreen. This model is only available in 130hp PureTech and BlueHDi engines.
Next up is the Flair, which includes 18-inch wheels, front parking sensors, a reversing camera, the Advanced Comfort seats as standard, a sat-nav upgrade, tinted glass and leather and cloth upholstery. This is the model that Citroen says sells the most of in the UK.
Will this SUV fit into your life?
If you're looking for a stylish, unpretentious, and family-friendly SUV, this should be right up your street. Citroen has done well with the C3 Aircross, and it's no surprised it's repeated the formula with the C5 version. Read on to see how if fares in the Parkers full review.