Citroën DS5 Hatchback (2012 - 2015) review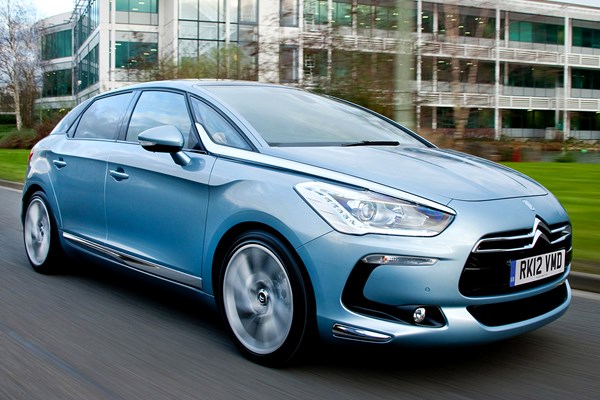 PROS
Clean and frugal Hybrid4 version, unique and premium feeling interior, very good to drive
CONS
Restricted rear view, smaller boot for hybrid model, cramped rear passenger space
PROS
Clean and frugal Hybrid4 version, unique and premium feeling interior, very good to drive
CONS
Restricted rear view, smaller boot for hybrid model, cramped rear passenger space
This is the new Citroen DS5 – the third attempt at a posh car from the French manufacturer.
Citroen's attempts at offering a selection of premium cars - with the stylish DS range - have been hit and miss. While the DS3 offered a genuine alternative to the MINI, the DS4 had some major shortcomings.
For a start, the rear windows didn't open. Things, however, look to be back on track with the DS5.
Premium interior
Inside the car has a real premium feel, with a bespoke design that won't be seen on any other Citroen model in the range.
There's a novel sunroof system: rear passengers get a large one and front passengers get a smaller sunroof each, while the switches above the driver's head and head-up display add a real quality finish.
There's also a choice of some frugal diesel engines and a Hybrid4 model that offers an excellent mix of performance and low running costs.
Even more impressive is the handling, something that has always been lacking in previous Citroen models.
The DS5 is a safe car too, earning a maximum five stars in the Euro NCAP crash testing programme. Features such as lane-departure warning, clever traction control and the inclusion of six airbags help make this car as safe as it can be.
Facelift in 2012
In July 2012 there was a minor facelift which saw Hybrid4 DStyle and DSport models get a no-cost option of smaller 17-inch wheels which reduce CO2 emissions to 99g/km. Two new Signature packs were also introduced as optional extras and the e-HDi 110 Airdream EGS6 gets a hike in power, re-dubbed the e-HDi 115 Airdream EGS6.
The lowest CO2 emissions available come with the DSign trim level and 17-inch alloys, which when coupled with the hybrid powertrain can emit as low as 88g/km. That's going to be very interesting to company car drivers who demand low CO2 for low tax bills.