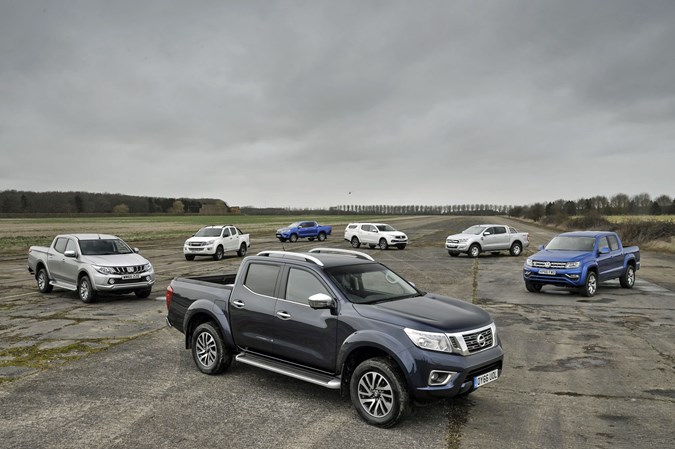 Pickups may not be the traditional choice when you're looking for a new company car, but there are advantages - especially the tax savings on offer.
In this article, we look at the key advantages of choosing a pickup as a company car and reveal our favourite three currently on sale.
For more info on pickups, check out the Parkers Vans pickup group test, where ever major model is compared, by clicking here.
Flat-rate BIK tax for pickups
Most pickups are considered light commercial vehicles (LCVs) so they are taxed differently to conventional company cars. Simply put, benefit-in-kind (BIK) is set at a flat rate, irrespective of CO2 emissions or price.
For the 2018/19 tax year, BIK for pickups is fixed at £3,350. So if you pay tax at 20% that's just £670 a year or £55.83 a month. For a 40% tax payer it works out at £1,340 for the year or £111.67 a month.
When you consider that very few company cars will cost a 20% payer £50 a month, you can immediately see the potential to make savings here.
Check out this comparison between taxing a Mercedes-Benz X-Class and some popular conventional company cars:
| | | | | | |
| --- | --- | --- | --- | --- | --- |
| Model/Make | Price | CO2 | BIK tax bracket | 2018/19 Cost per month (20%) | 2018/19 Cost per month (40%) |
| Ford Focus 1.5 TDCi Zetec Edition | £20,840 | 99g/km | 24% | £83 | £166 |
| Mercedes-Benz X-Class Pure 4WD | £32,772 | 200g/km | Flat rate | £56.00 | £112 |
| SEAT Ateca 2.0 TDI SE Technology | £27,910 | 134g/km | 31% | £141 | £282 |
| Audi Q7 3.0-litre Quattro SE | £51,425 | 150g/km | 35% | £297 | £594 |
Savings on fuel, too
Company car drivers are taxed on private-use fuel that's paid for by the employer, and again pickups can bring big savings here. The 2018/2019 taxable beneift amount is £633 - and you'll be taxed at 20% or 40% of that, depending on your banding.
This differs again from conventional company cars, which have a rate set at £22,600 for the 2018/19 tax year and then multiplied by the car's BIK tax percentage and your own salary tax band – the same way company car tax is calculated.
With all of that factored in, more often than not, the pickup is the cheaper option.
Practicality credentials
Because of their utilitarian roots, it'll come as no surprise that pickup trucks are generally very practical; usually more so than many of the cars available on your user-chooser list.
There's a large load space on offer and most models offer 3,000kg or more braked towing capacity too.
Opt for a doublecab bodystyle and there's space for four to travel in comfort, and many also offer four-wheel drive as standard - though only the Volkswagen Amarok and Mitshibishi L200/Fiat Fullback offer all-wheel drive usable on dry roads. Mercedes-Benz will offer this when the V6 diesel X 350 d is released.
When we've driven pickups off-road before we've come away impressed with their capabilities. So if you're considering a 4x4 as your next company car because you genuinely need the off-road capability, a pickup truck is an alternative worth considering.
What are the downsides of a pickup as a company car?
The biggest negative for company car drivers is likely to be the actual driving experience when you're behind the wheel. Despite the advances in engine technology and refinement, pickups are still relatively agricultural on the road and not the most dynamic to drive.
They're generally a lot heavier as well, and although the latest-generation models have improved a lot in terms of ride quality, most cars will be far superior when it comes to passenger comfort.
Perhaps most significant of all, if you pay for your own private fuel mileage, most pickups will be much thirstier than an average hatchback or SUV.
---
Our top-rated pickups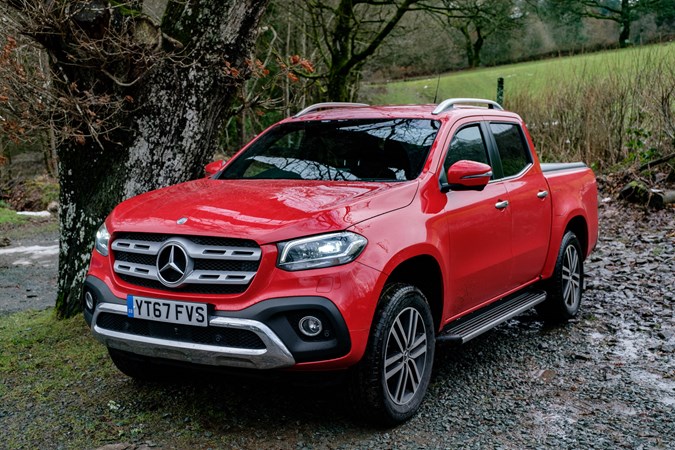 Introduced in 2017, the Mercedes-Benz X-Class is one of the highest-rated pickups on the Parkers Vans and Pickups site.
Using the same platform as the Nissan NP300 Navara, the initial engine range adopted the same a 2.3-litre engine four-cylinder diesel engine too; available in two states of tune with 163hp or 190hp. In mid-2018, a 3.0-litre V6 was added to the range, boasting one of the highest power ratings in the class at 258hp and 550Nm of torque.
Featuring a high-quality interior and solid off-road ability, the X-Class does feel more premium inside compared with its rivals - regardless of which one of the three trim levels you decide to choose.
On the road, the Navara underpinnings also mean the X-Class comes fitted with car-like rear suspension, with Mercedes-Benz having fettled it to a deliver a less agricultural drive compared with its rivals.
Click here to read our full review of the Mercedes-Benz X-Class
---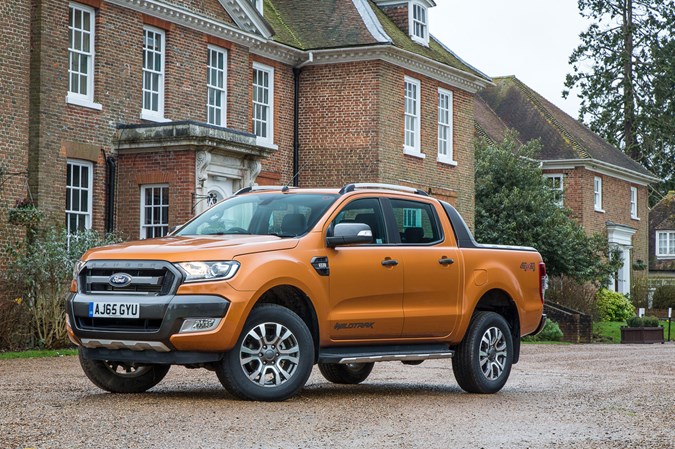 Redesigned from the ground up in 2011 and then facelifted in 2016, the Ford Ranger is one of the easiest pickups to live with day-to-day and comes generously equipped as standard.
There are three engines to choose from and the Ranger offers 3,500kg of towing capacity.
This generation of Ford Ranger made history too, by being the first pickup to receive the maximum five-star Euro NCAP rating - though this was back in 2012, and standards have moved on quite a bit since then. So don't expect it to be as safe as the very latest cars.
Also consider that the ride comfort isn't great, the interior is nothing special and the smaller engine is rather slow. It's a good looking truck, though, and out-sold every rival last year to become the UK's most-popular pickup.
Click here to read our full review of the Ford Ranger
---

One of the biggest-selling pickups in Europe, the VW Amarok recieved a major facelift in 2016 ushering in a new engine, improved interior and updated tech.
The big news is the introduction of the 3.0-litre V6 diesel engine, replacing the previous 2.0-litre four-cylinder unit. This is available in three power outputs, including a range-topping 258hp model with a massive 580Nm of torque.
And thanks to the unique way LCVs are taxed, remember you'll pay the same amount for any version.
Four-wheel drive is standard across the range, and you can option a DSG automatic transmission, just like a regular Volkswagen Amarok. The comfort levels and driving experience are also pretty decent - it really is surprisingly like driving a giant Golf...
Click here to read our full review of the Volkswagen Amarok
We're also running one for six months in our long-term review. Find out how we get on with it here

Also read:
The Parkers Vans pickup group test - every major model compared
Mercedes X-Class pickup unveiled