Nissan Navara review (2020)
One of the most accomplished all-round pickups on sale
PROS
Car-like rear suspension
Class-leading fuel economy
3.5-tonne towing capacity
Long service intervals
Five-year warranty
CONS
Still not quite car-level comfort
Uninspiring interior
No basic single cab variant
Original manual gearbox not great
Some visibility concerns
Summary
If you're looking for a pickup with a car-like driving experience, a lot of people are going to steer you towards this Nissan Navara.
First introduced to the UK market in 2016, when it was officially known as the NP300 Navara – the NP300 part has subsequently been quietly disappeared from most UK marketing – its key feature is the rear suspension.
Here, instead of the simple and conventional leaf-spring suspension used by most pickups, Nissan has chosen to fit a complex multi-link arrangement that uses coil springs instead. Coil springs are exactly what you'll find under your car – hence the promise that the Navara delivers a similar driving experience.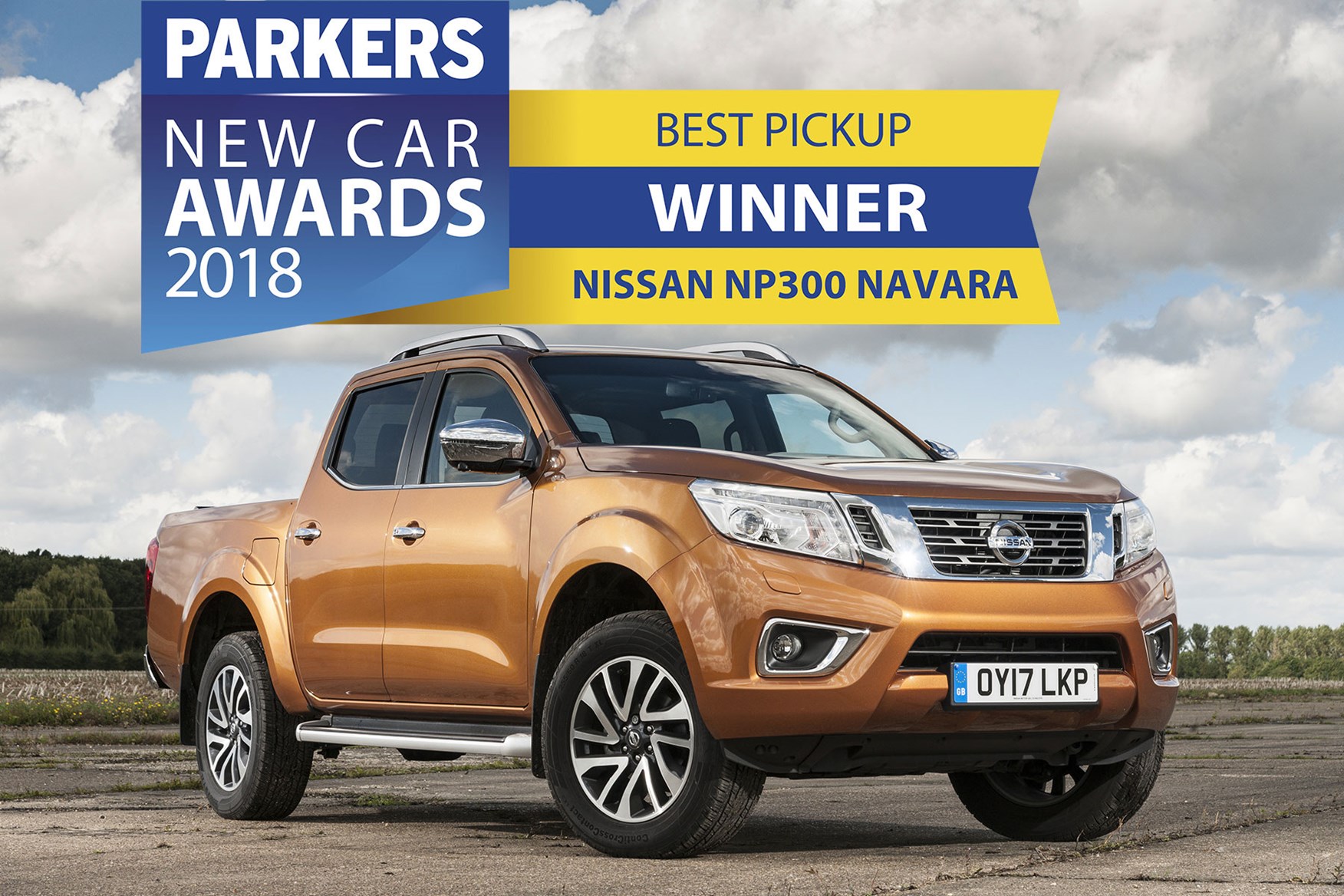 Add this to some powerful engines, a neatly styled cab interior and 3.5-tonne towing capability, and it impressed us enough that we awarded it the inaugural Parkers Pickup of the Year Award.
The Navara has subsequently gone on to form the basis of the posh Mercedes-Benz X-Class (and the Renault Alaskan), while 2019 brought a number of engineering upgrades intended to deliver an even better pickup (see below for more details).
Trim levels and bodystyles
The Navara is available in five standard trim levels and two bodystyles:
King Cab with short rear doors, occasional rear seats and a longer load bed
Double Cab with four full doors, proper rear seats and a shorter load bed
For the first time, Nissan also offers a chassis cab version of the Navara King Cab, suitable for specialist conversions. However, a straightforward single cab pickup (two doors, two seats, longer load bed) is not available.
As with most pickup makers, Nissan is fond of regular special editions, so if you're looking for something out of the ordinary keep an eye on our news and advice section for all the latest models.
In 2018, Nissan even launched a Navara Off-Roader AT32 variant designed for particularly taxing off-road work, and top-of-the-range N-Guard, bringing the total number of trim choices up to seven.
Engines and gearboxes
The Navara is powered by a 2.3-litre four-cylinder dCi turbodiesel engine; developed specifically for commercial vehicles, this also sees duty in the Nissan NV400 large van.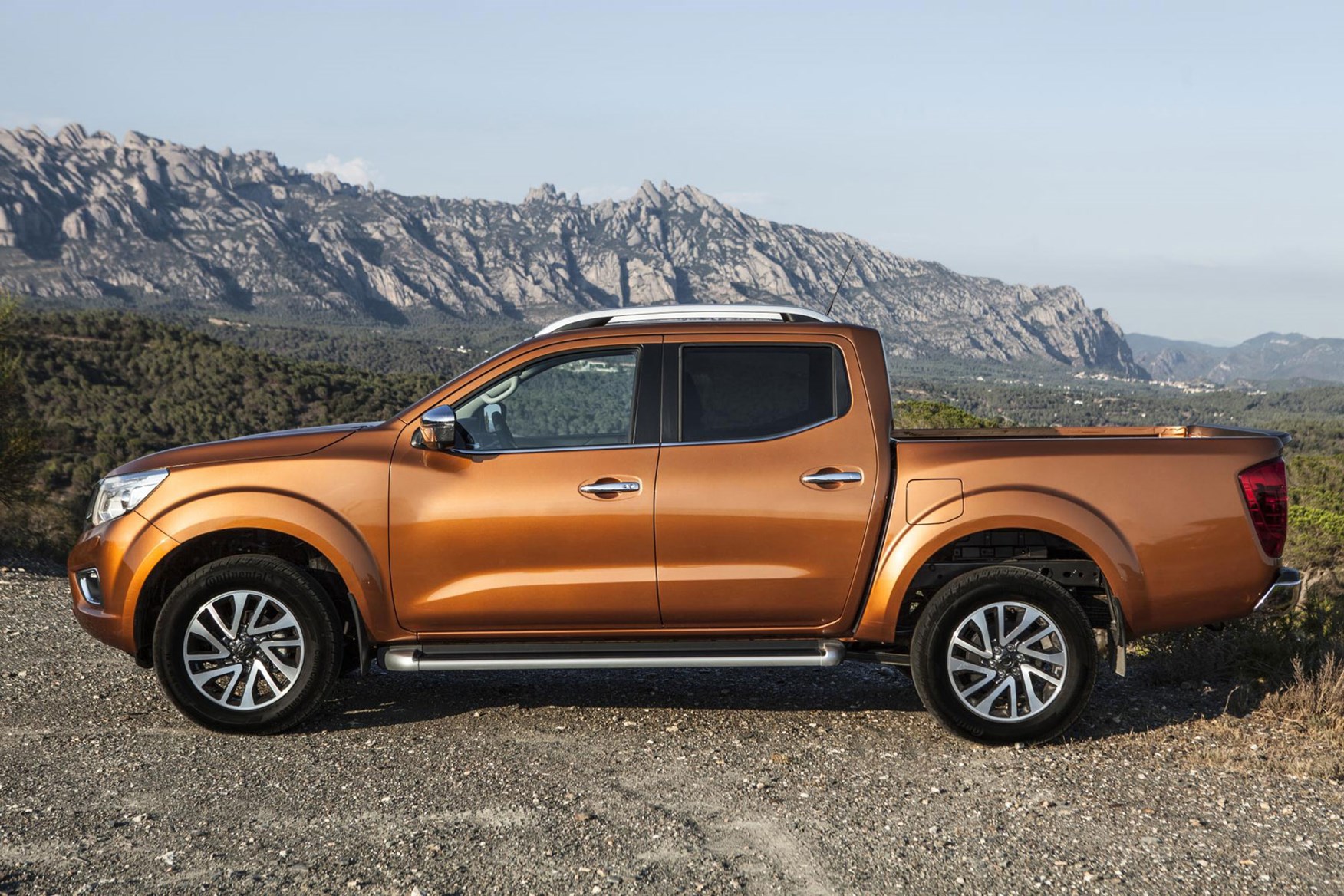 The result is not only a choice of two power outputs – 163hp (confusingly, Nissan shorthands this to 160hp in its technical details) and 190hp, making it one of the most potent pickups on sale in the UK – but also the most fuel efficient pickup range available.
There are six-speed manual and seven-speed automatic gearbox choices, and while most Navaras are four-wheel drive there is a two-wheel drive entry-level King Cab for those who simply need a basic workhorse.
Is the Navara really car-like to drive?
Well, it's a lot more car-like than most pickups, especially in terms of steering sharpness, grip and handling corners. However, you shouldn't expect it to be as comfortable as your family hatchback - the load bed is still rated to carry over 1,000kg, so those fancy rear springs still need to be pretty firm.
This hasn't stopped some operators raising concerns about the coil spring suspension's ability to withstand heavy loading and towing. Which may explain some of the updates for 2019.
Nissan Navara 2019 model update
On sale from 1 July 2019, there's not much of a visual difference between this updated Navara (pictured below) and the existing model, but Nissan has changed a number of less obvious parts in order to keep its pickup competitive against increasingly premium opposition.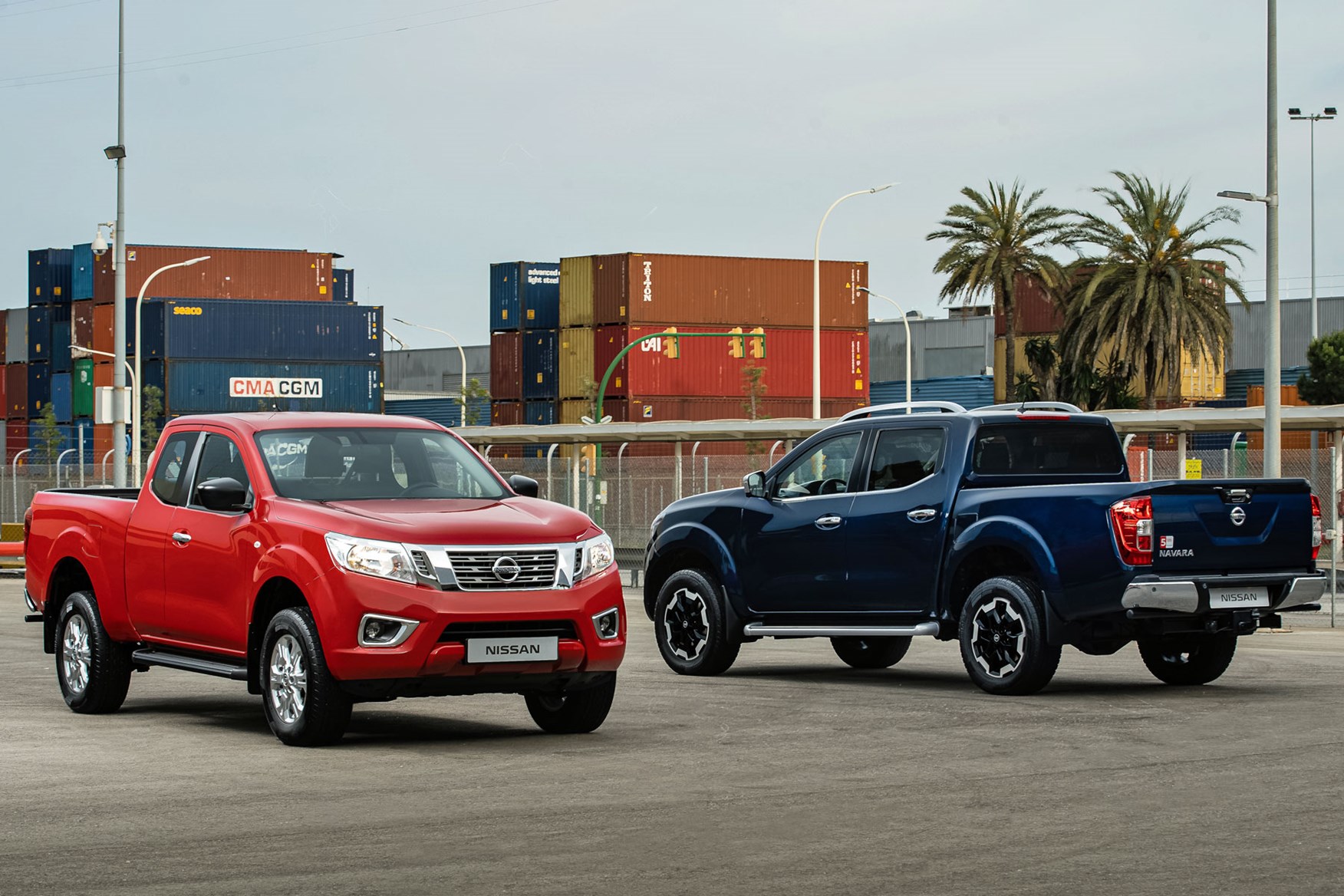 As a result, it now has rear disc brakes (and larger, more powerful front brakes), a new six-speed manual gearbox that's said to be more pleasant to use, and new 'dual rate' rear springs.
Proving Nissan's commitment to the multi-link rear suspension design, this is now fitted to the King Cab model as well for the first time; prior to this Navara King Cabs used leaf springs at the back.
The changes increase the Navara's payload rating (by as much as 46kg) and improve safety. There's a smarter infotainment system, too.
We'll be testing this updated Navara soon.
Rivals
Key Navara rivals are traditionally the Toyota Hilux and Mitsubishi L200, though these days the bestselling Ford Ranger will have a place on most shopping lists, while the Volkswagen Amarok offers huge power from its V6 engines, a comfortable right and strong badge kudos.
Looking for a working truck rather than a lifestyle model? Then try the Isuzu D-Max and perhaps the SsangYong Musso for value and capability, though the Navara is usually very competitive on price when you're finally negotiating for a deal.
As mentioned above, the Navara also forms the basis of the Mercedes X-Class, and although the German brand has made a lot of changes you will still find Nissan parts inside, not least the key and the 2.3-litre engines under the bonnet.
The X-Class is enormously expensive by comparison, but it's also distinctly better to drive - and available with a 258hp Mercedes V6 at the top of the range.
---

Nissan Navara verdict
The Navara is a winner for us because it's a great all-rounder. It's sharper than your average pickup to drive, nicely finished inside, offers class-leading fuel economy and 3.5-tonne towing capacity.
Add an extensive model range with lots of standard equipment, a five-year, 100,000-mile warranty and lengthy servicing intervals, and you can easily understand why it's a popular choice.
Check out the Parkers pickup group test to see how it compares with its latest rivals.
Keep reading for the full review Nissan Navara on Parkers Vans and Pickups - or for details of load capacity and payload see our dedicated Navara Dimensions page.
Skip to our full verdict on...
This is a good pickup to drive, with engines and steering that impress
Some concerns about rear suspension when loaded or towing
Very capable off-road, especially in Off-Roader AT32 guise
From its sharp steering to its powerful engines, the Nissan Navara is one of the better pickups to drive - just don't expect it to be quite as comfortable as a car.
What are the Nissan Navara's engines like?
From launch until the update on sale 1 July 2019, the Navara has used two slightly different 2.3-litre engines to produce its choice of 163hp and 190hp power outputs.
Simply put, the 163hp engine has only a single turbo and produces 403Nm of torque, while the 190hp engine has two turbos and produces 450Nm of torque. Torque is the stuff that gets heavy loads moving, so it's always desirable to have as much of this as possible in a pickup.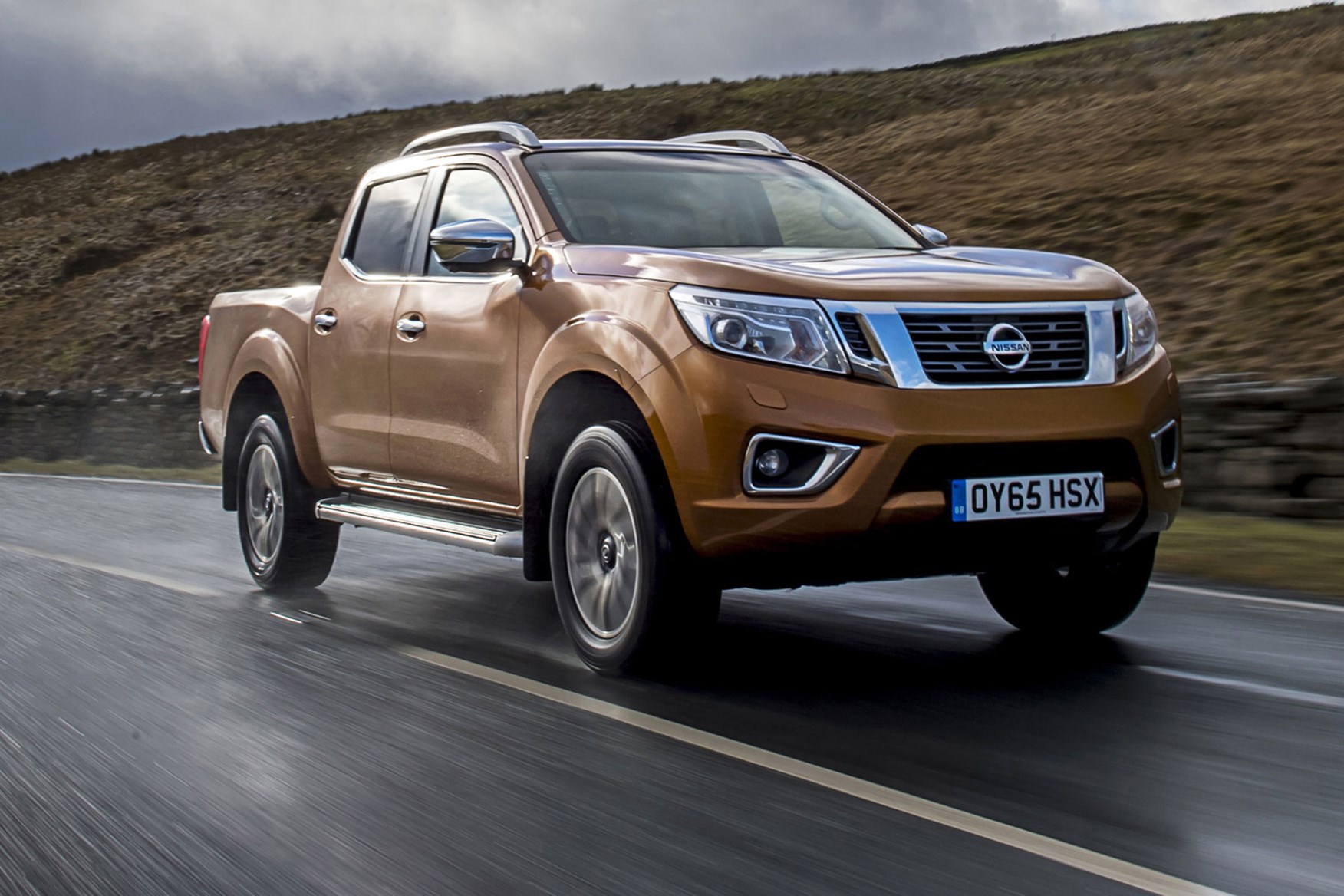 Initially these engines were Euro 5 emissions compliant, but they were updated to initial Euro 6 requirements in September 2016; we mention this just so that used buyers in need of a Euro 6 Navara don't get caught out by accidentally buying a very early example.
After the update, however, the 163hp engine is also a twin-turbo motor. As a result it gets a 22Nm boost to 430Nm. Both 2019 engines meet the latest Euro 6D Temp emissions regulations
While we're yet to drive a 2019 model, both the previous single-turbo and twin-turbo are quiet and responsive in pickup truck terms - though there's also no doubt that the additional sound insulation Mercedes has added to the X-Class (which is based on the Navara platform) has made a noticeable further improvement in the area of refinement.
Still, when testing the Navara with a 400kg load, the lower output struggled only briefly when travelling up a 25% slope on a low traction surface. Little will trouble the 190hp variant, and there's equally no doubt that the since the Nissan is substantially lighter than the X-Class it feels rather quicker than the equivalent Mercedes as well.
What about the gearboxes?
The standard six-speed manual gearbox fitted until the 2019 update is notchy and has a very lengthy action - so no surprise that many owners prefer the seven-speed automatic, which is available as an option on all but the entry-level Visia and Acenta trim levels.
While this is certainly smoother - not to mention considerably less combatative to use - it can still be slightly hesitant, and doesn't quite match the very best auto transmissions available in modern cars.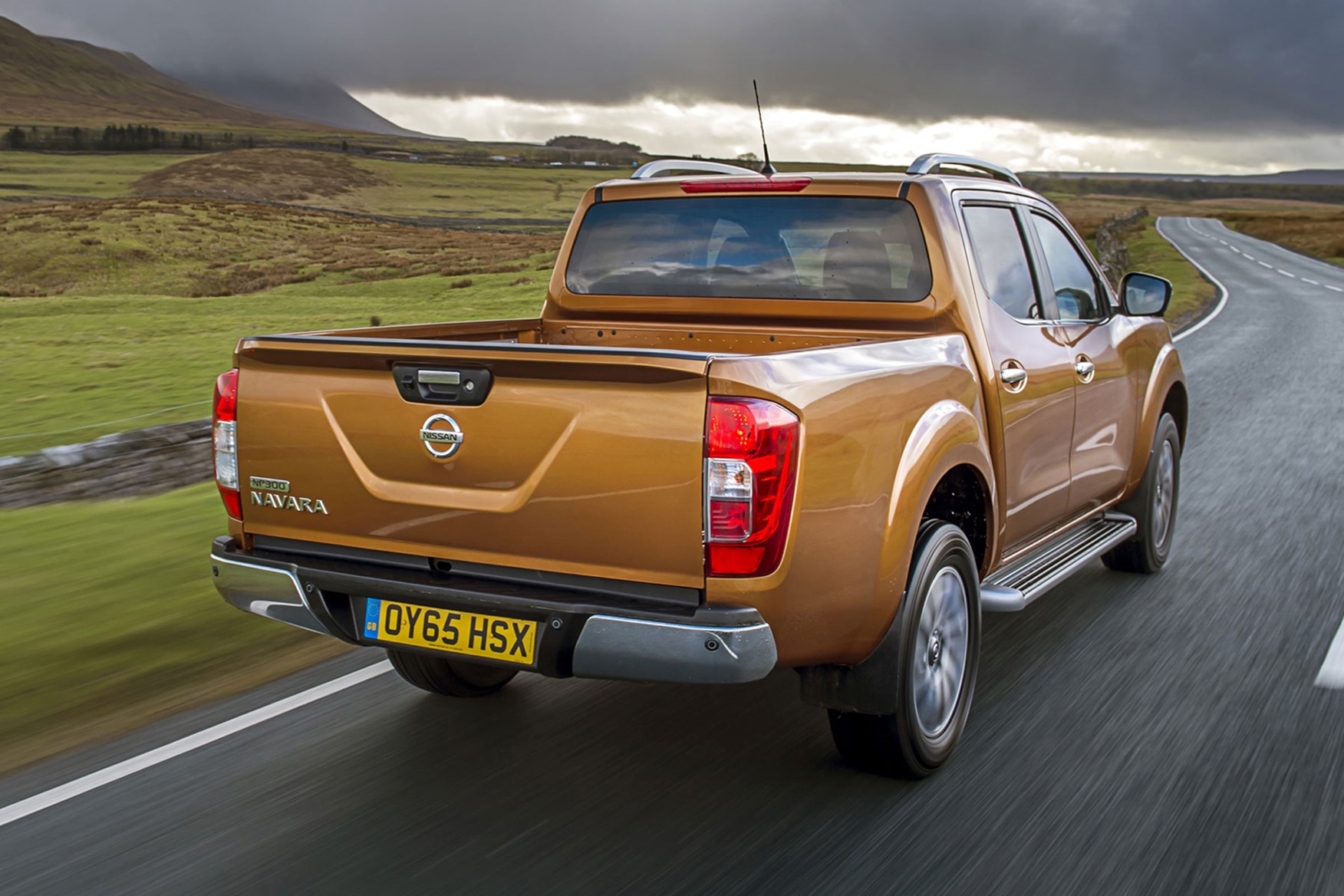 We'd still go for it, though. It's lighter than the manual (increasing payload) and will prevent clumsy drivers from causing premature clutch wear.
The 2019 update promises a much improved manual gearbox, with a shorter shift action and longer gear ratios - apparenrly so you have to change gear less often. We'll report back on this once we've had the change to drive it.
What is the Nissan Navara like to drive?
In terms of driving manners, the Nissan Navara Double Cab performs far better than the majority of its competitors. This is thanks to the multi-link rear suspension, which features coil springs – much like a regular car.
Most pickups still use a traditional leaf springs at the back (and by traditional we mean dating back to the horse and cart), which are typically strong but jittery.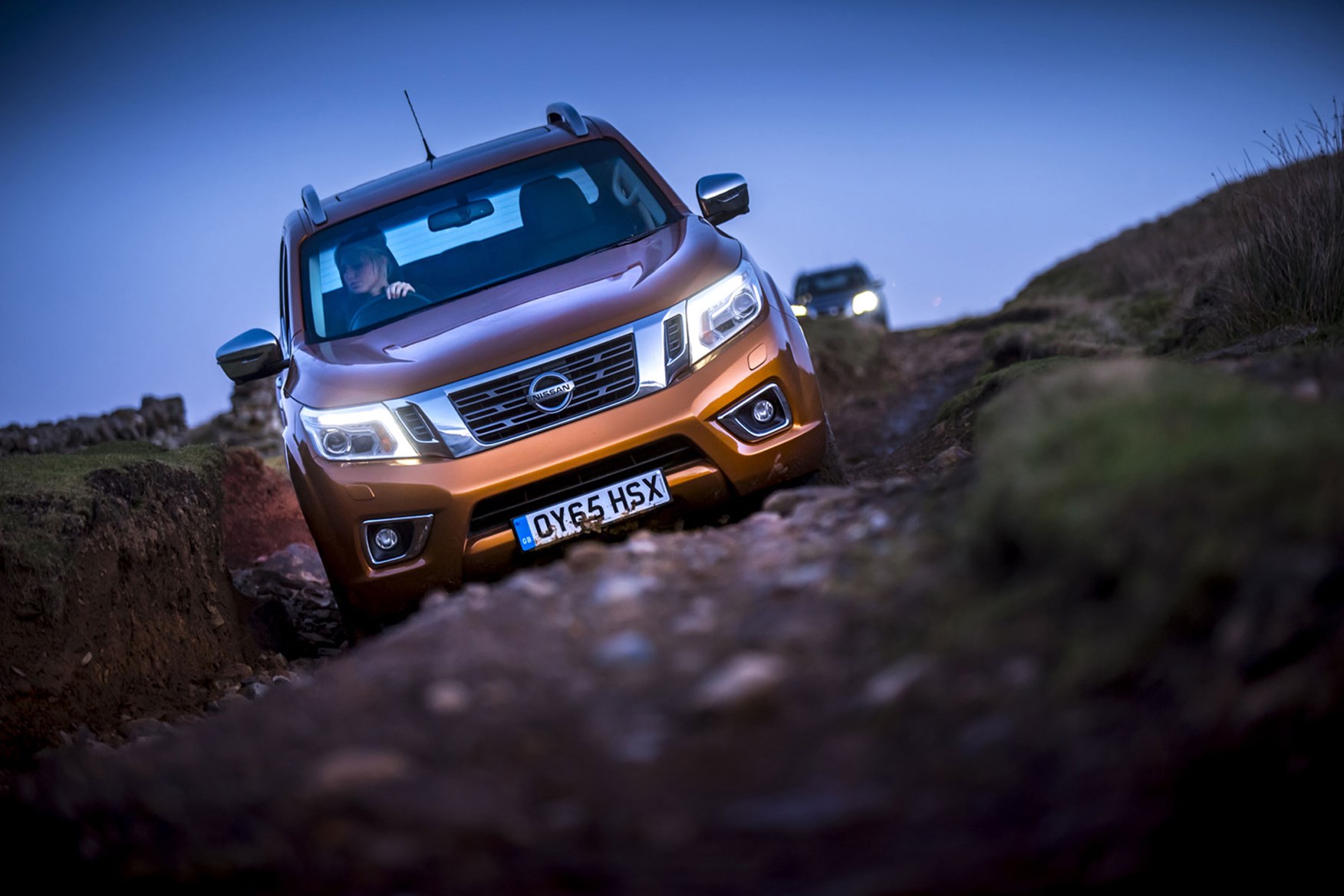 While the Navara is by no means as cosseting as a Nissan Qashqai, it absolutely does do a much better job of coping with inconsistent road surfaces than almost every rival. It also offers lots of grip and far more precise steering than most pickups, making it well-suited to lifestyle buyers who may be switching to a pickup truck from a conventional car or SUV.
The Navara King Cab, however, still uses leaf springs (again until the July 2019 update). This makes bumps and potholes a lot more noticeable, and means it's a lot bouncier when unladen. That said, neither version rolls overly much in the corners, and the steering remains light and accurate.
Can the Navara cope with hard work?
Plenty of Navaras are still bought as working trucks, where the latest creature comforts remain appreciated of course.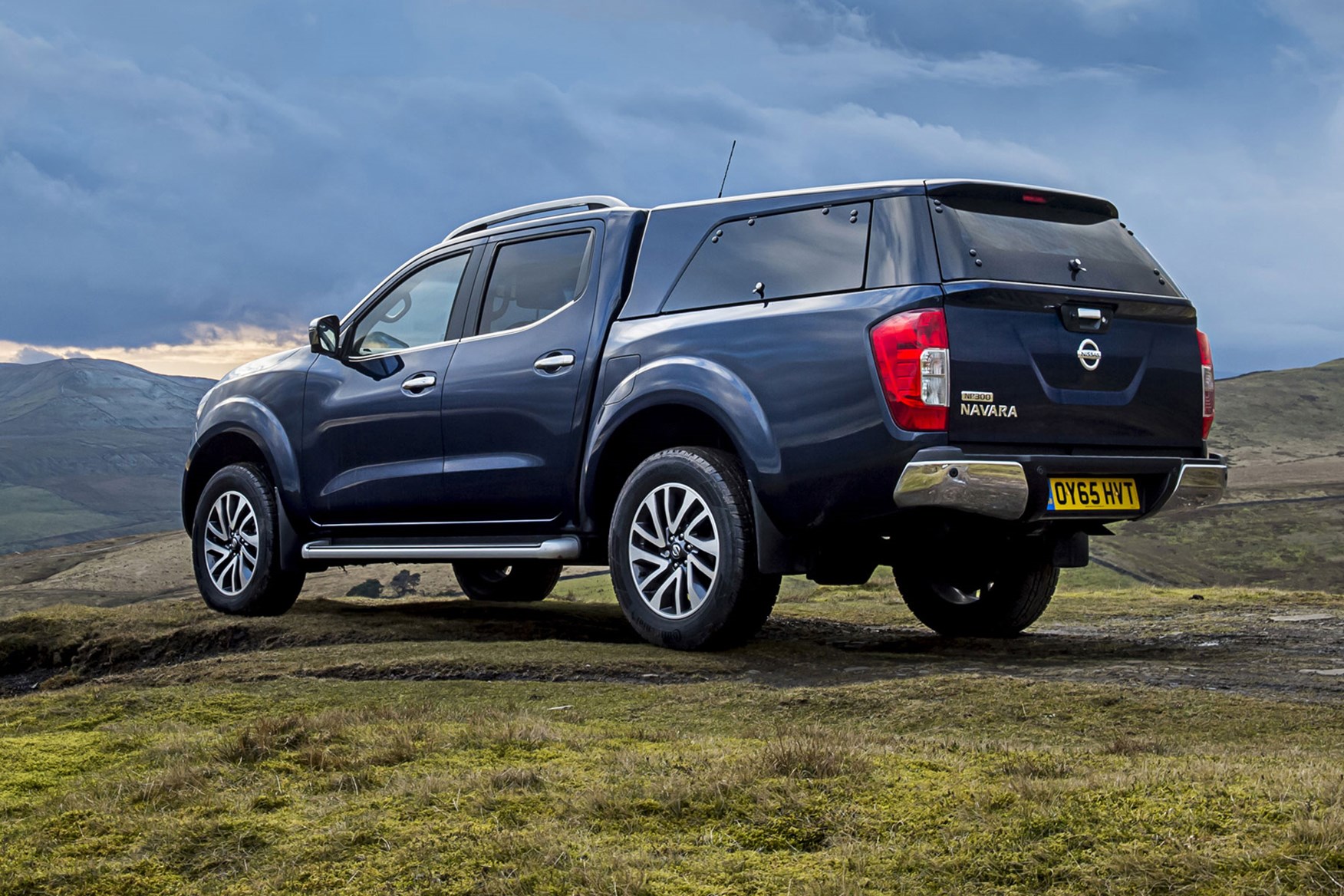 But there have been concerns raised about the ability of the rear coil springs to cope with heavy loading and towing. Certainly, they seem to struggle more than traditional leaf springs in this area, with some drivers complaining about the way the Navara seems to sink right down at the back, making the steering feel light and the ride uncomfortable.
The new dual-rate springs being added as part of the 2019 update may be a means of redressing this issue, allowing the truck to become much stiffer at the back when loaded up. We'll report back on this once we've tried them.
Electronically-controlled four-wheel drive system
Four-wheel drive is standard-fit on all but the entry-level Visia King Cab model.
A completely new electronically controlled system, this has three settings labelled 2Hi, 4Hi, and 4Lo. The 2Hi system is for normal road conditions, 4Hi is for wet road, gravel tracks and other moderately slippery surfaces, while 4Lo is for more extreme and muddy conditions.
A mechanical centre differential lock is also available should your needs require one. An electronic limited slip differential is standard at the rear.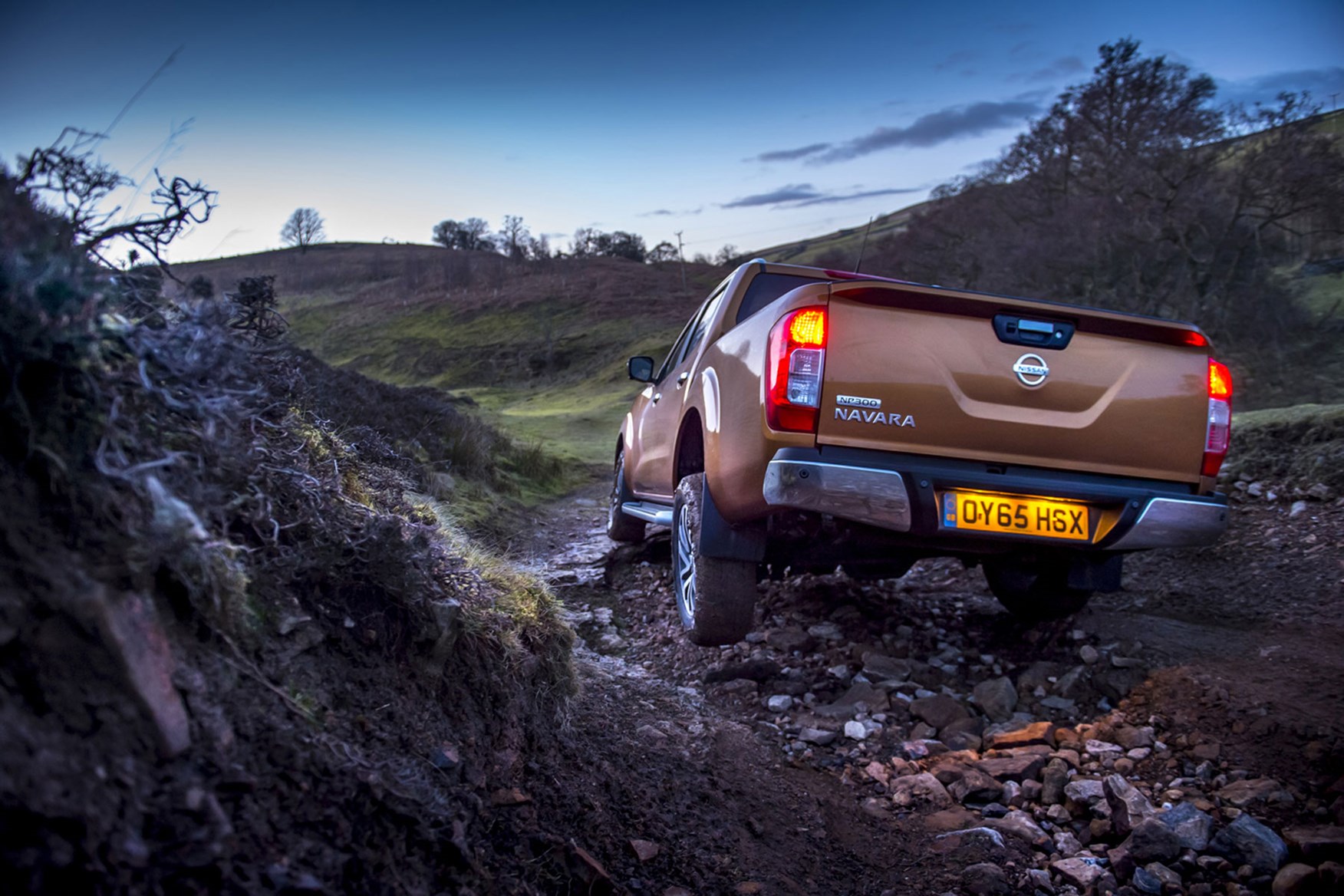 We've tested the Navara in locations as exotic as the Sahara Desert (see below), and can confirm it copes very well with off-road challenges.
Anyone looking for particuarly good off-road performance should seriously consider the AT32 version, which increases ground clearance and wading capability, but isn't as bulked up as rivals' AT35 models, which can feel too large for some British roads.
Car-like interior design with plenty of room
Comfortable seats but no steering wheel reach adjustment
High-tech solution to visibility limitations
The Nissan Navara has one of the more car-like cabs in the current pickup truck sector, with design themes familiar from the firm's passenger SUV range.
It's still not the most inspiring interior to look at, but it has sensibly laid-out buttons and a relatively user-friendly infotainment system - albeit one that's also rather dated by modern car standards, and being updated in 2019.
Build quality could be better, and practicality isn't as good as hard-working rivals like the D-Max when it comes to in-cab storage.
Spacious inside
There's plenty of passenger space front and rear in the Double Cab models, though rear space is compressed in the King Cab, as you'd expect given the additional load area behind.
Nissan claims the seats were designed by NASA, and the lower-end fabric versions are particularly comfortable. But it is a big shame Nissan hasn't included reach-adjustment for the steering wheel, which means you may not be able to find your ideal driving position.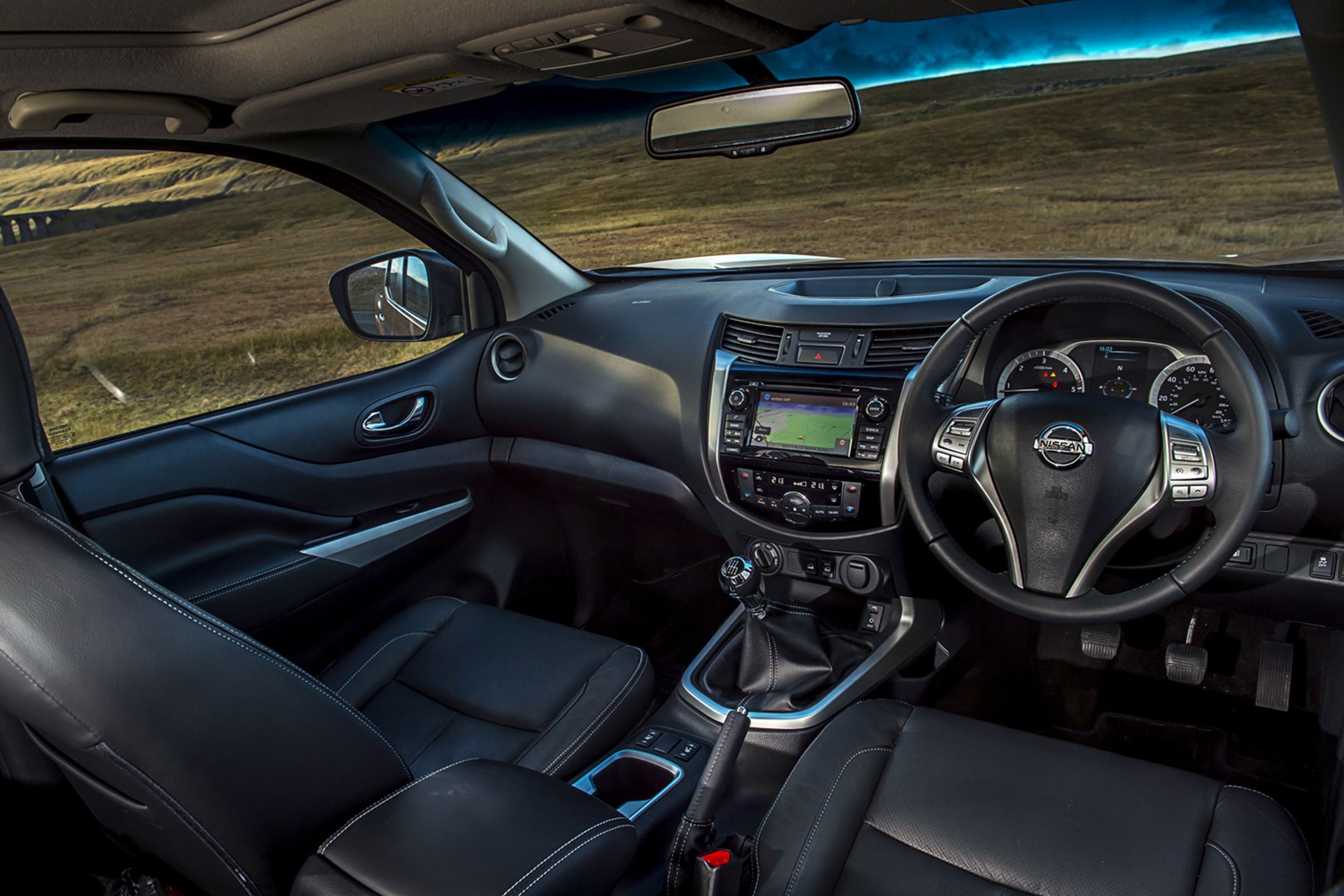 Access to the back of the King Cab is via a pair of stubby, backwards-opening doors and there's a set of fold-down seats that are very much for occasional use only.
The Double Cab has four full doors and proper rear seats complete with Isofix mountings for child seats.
Visibility issues?
We have seen some complaints about forward visibility – and indeed the seats are mounted quite low while the dashboard and bonnet are quite high.
The available 360-degree camera system is amazingly helpful for this, and still an unusually high-tech feature for a pickup that few rivals are able to match.
Excellent fuel economy for a pickup
Long service intervals and five-year warranty
Plenty of standard kit right across the range
Nissan claims the Navara is the least expensive of any pickup to run, and with best-in-class fuel economy and lengthy service intervals, it's hard to argue that it's wrong.
Nissan Navara mpg
The most fuel-efficient Navara of all is the two-wheel drive King Cab, which only comes in Visia specification and returns a claimed 46.3mpg.
All four-wheel drive models with the manual gearbox claim 44.9mpg, while automatics return 41.0mpg.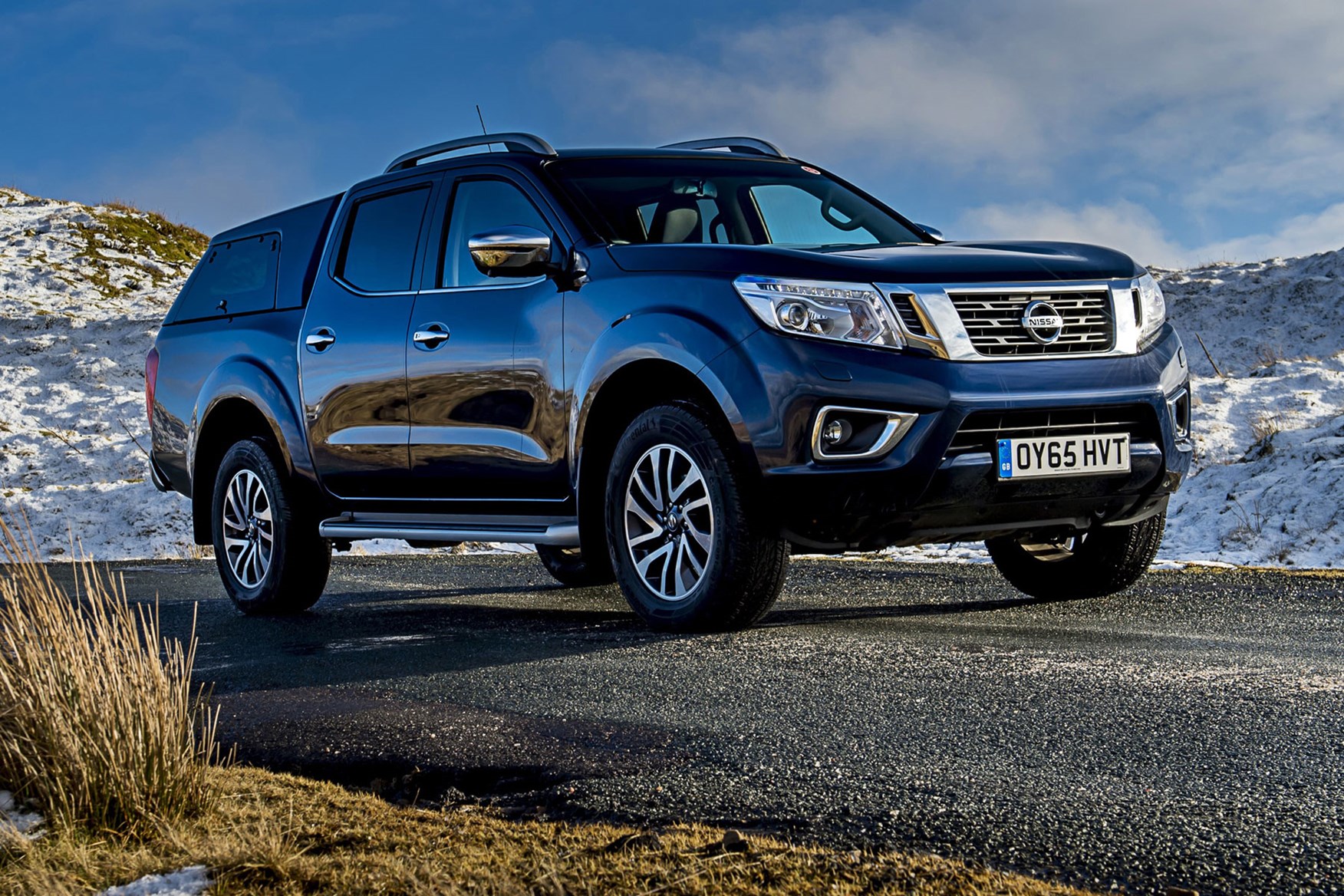 However, with its extra gear ratio, the seven-speed auto is particularly efficient at motorway speeds. So if you tend to do a lot of longer journeys you may find this is actually the more efficient choice.
Regardless of tranmission, few rivals get anywhere near such official figures, and though fuel economy in the real world is more likely to start with a three than a four, you can still expect the Navara to be as frugal as you can get from a pickup.
What are the service intervals for a Nissan Navara?
The Navara needs a service every 25,000 miles or two years, whichever comes sooner.
This means it goes twice as far between dealer visits as most rivals, which should make a significant difference to your running costs.
How the long is warranty on a Nissan Navara?
The Navara has a five-year, 100,000-mile warranty as standard - exactly matching the Toyota Hilux.
This is one of the better pickup warranties in the UK, though the Isuzu D-Max is covered for five years or 125,000 miles, and the SsangYong Musso seven years or 150,000 miles.
Nissan Navara trim levels and standard equipment
Initally there were five standard Nissan Navara trim levels: Visia, Acenta, Acenta+, N-Connecta and Tekna.
However, in 2018 Nissan added some even more premium options at the top of the range labelled the N-Guard and the Off-Roader AT32, both based on the Tekna grade but with added items of kit.
Visia and Acenta trims are offered as both the King Cab and Double Cab but with the 160hp engine only, and are aimed more at working operators and fleets. The posher rest are only available as 190hp Double Cab models.
Here's what you get as standard.
Nissan Navara Visia standard equipment highlights:
Multifunction steering wheel
Cruise control and speed limiter
Three 12v sockets
Hill descent control (4WD only) and hill start assist#
Rear electronic limited slip differential (e-LSD)
Nissan Navara Acenta standard equipment highlights (in addition to Visia):
16-inch alloy wheels
C-Channel load lashing rails
Chrome step rear bumper
Body-coloured front bumper
Nissan Navara Acenta+ standard equipment highlights (in addition to Acenta):
18-inch alloys wheels
Dual-zone climate control
Heated and electrically folding door mirrors
Auto-dimming rear-view mirror
Reversing camera
Side steps
Nissan Navara N-Connecta standard equipment highlights (in addition to Acenta+):
Nissan Navara Tekna standard equipment highlights (in addition to N-Connecta):
Intelligent Around View Monitor 360-degree camera system (makes manoeuvring easier by providing a bird's-eye view of surrounding objects - very clever)
Leather upholstery
Heated front seats
Rear parking sensors
Roof rails
Nissan Navara N-Guard standard equipment highlights (in addition to Tekna):
Black 18-inch alloys
Black front grille
Black roof rails
Black rear bumper
Black side steps
Black LED headlight inlays
Black foglight surrounds
Black door mirrors
Black door handles
Choice of Storm White, Metallic Black or Twilight Grey paint
N-Guard side graphics
Sunroof
Headlamp washers
Part leather seats with yellow stitching
N-Guard floor mats
The N-Guard began life as a special edition, but will continue on into the 2019 updated model as the top of the regular range.
Nissan Navara Off-Roader AT32 standard equipment highlights (in addition to Tekna):
17-inch black alloy wheels with 32-inch off-road tyres
Arctic Trucks suspension with 20mm increase in ground clearance
Steel underbody protection
Rear differential lock
Arctic Trucks wheel arch extensions
Arctic Trucks mud flaps
AT32 exterior badging
This version of the Navara is, as the modifications suggest, designed to tackle more extreme off-road challenges. As such, optional extras for the AT32 include a snorkel air intake and a front differential lock.
In 2017, Nissan also launched a limited run of Trek-1° models. Based on the range-topping Navara Tekna, just 400 were offered to UK buyers in a choice of black or white paint. Unique features included black alloy wheels, LED spotlights mounted on a sport styling bar, and an unusual hard load cover.
Engine specially developed for commercial vehicles
Some issues with past models
The Navara uses a 2.3-litre engine developed specifically for commercial vehicles, and one that's been in service with the Nissan NV400 van since 2010.
So, in this respect you should expect the Navara to be well up to the challenge of a tough working environment. Issues aren't unheard of, but they aren't common either, so as long as you keep the pickup well maintained it should prove a reliable partner.
Some scepticism about the ability of the coil spring rear suspension to cope with heavy loads and towing does remain, however.
The 2019 model update sees Nissan move more of the range over to this set-up, though, so clearly it remains confident in the product - albeit with a change to dual-rate springs and a 25mm increase in height at the rear introduced at the same time.
Nissan Navara reliability historically
Previous-generation 'D40' Navara models suffered from a number of issues, including the engine block, which has been known to fail under strenuous conditions.
Most notorious of all, however, is the so-called 'snapped chassis' problem which afflicts those older Navaras. Hopefully Nissan has cured this for the 2016-onwards model.
Seven airbags and an alarm as standard
All Double Cab models come with AEB
While pickup truck safety has traditionally not quite been on a par with regular passenger cars, the Navara is one of an increasing number that is offered with at least some modern active safety aids.
Nissan Navara safety
The Nissan Navara has no less than seven airbags as standard (driver, passenger, side, knee and curtain), in addition to electronic stability control on all models.
What's more, all Double Cab models are fitted with autonomous emergency braking (what Nissan calls Forward Emergency Braking) as standard - something that you can't get at all on VW Amarok.
Nissan Navara security
All versions of the Navara come alarm system and an immobiliser, remote locking, locking wheelnuts and a lock for the spare wheel.
Which Nissan NP300 Navara is best for me?
The Nissan Navara is an exceptional all-rounder, and we've had the opportunity to drive a number of versions over the years, sometime in some rather special locations - such as when we went off-roading in the Sahara Desert.
Both of the engine outputs deliver impressive capability, but though you won't exactly be going wrong with a less powerful model, the full 190hp and 450Nm of torque will make the most of the Navara's talents on and off the road. And since the engines are largely linked to trim levels, you'll be getting more equipment as well as more power if you go for the stronger model.
That said, this pickup is well-equipped right across the range, so if your budget is limited you won't find yourself missing out on too many luxuries.
You can compare new and use deals right here on Parkers:
>> Find new Nissan Navaras for sale
>> FInd used Nissan Navaras for sale
For more detailed impressions of the specific versions we've driven click the links below:
---
Nissan Navara Trek-1° special edition review
Tested August 2017 by CJ Hubbard
Top-end limited edition of popular pickup
Lots of bespoke extras including hard load cover
We test seven-speed automatic, priced from £31k
Just 400 examples of the new Nissan Navara Trek-1° special edition are available to UK buyers.
Prices start at £29,220 (ex. VAT but on-the-road) for the standard six-speed manual gearbox, increasing to £31,054 with the optional seven-speed automatic – which is what we've got on test here.*
The name is inspired by the longitudinal location of the Navarre desert in Spain, and it takes the range-topping Navara Tekna as its starting point.
So not only do you get the full-fat twin-turbo 2.3-litre diesel engine with 190hp and 450Nm, it's also absolutely loaded with standard equipment.
However, it comes in choice of just two colours: exclusive Storm White or Black Metallic.
What's different about the Nissan Navara Trek-1°?
It's the visual upgrades that really make this truck stand out – and we aren't talking about the Trek-1° decals on the rear flanks.
First thing even casual observers will notice is the sport styling bar, which is not only resplendent in black but also topped by a pair of bright LED spotlights. There's more black for the side styling bars – and those chunky six-spoke 18-inch alloy wheels.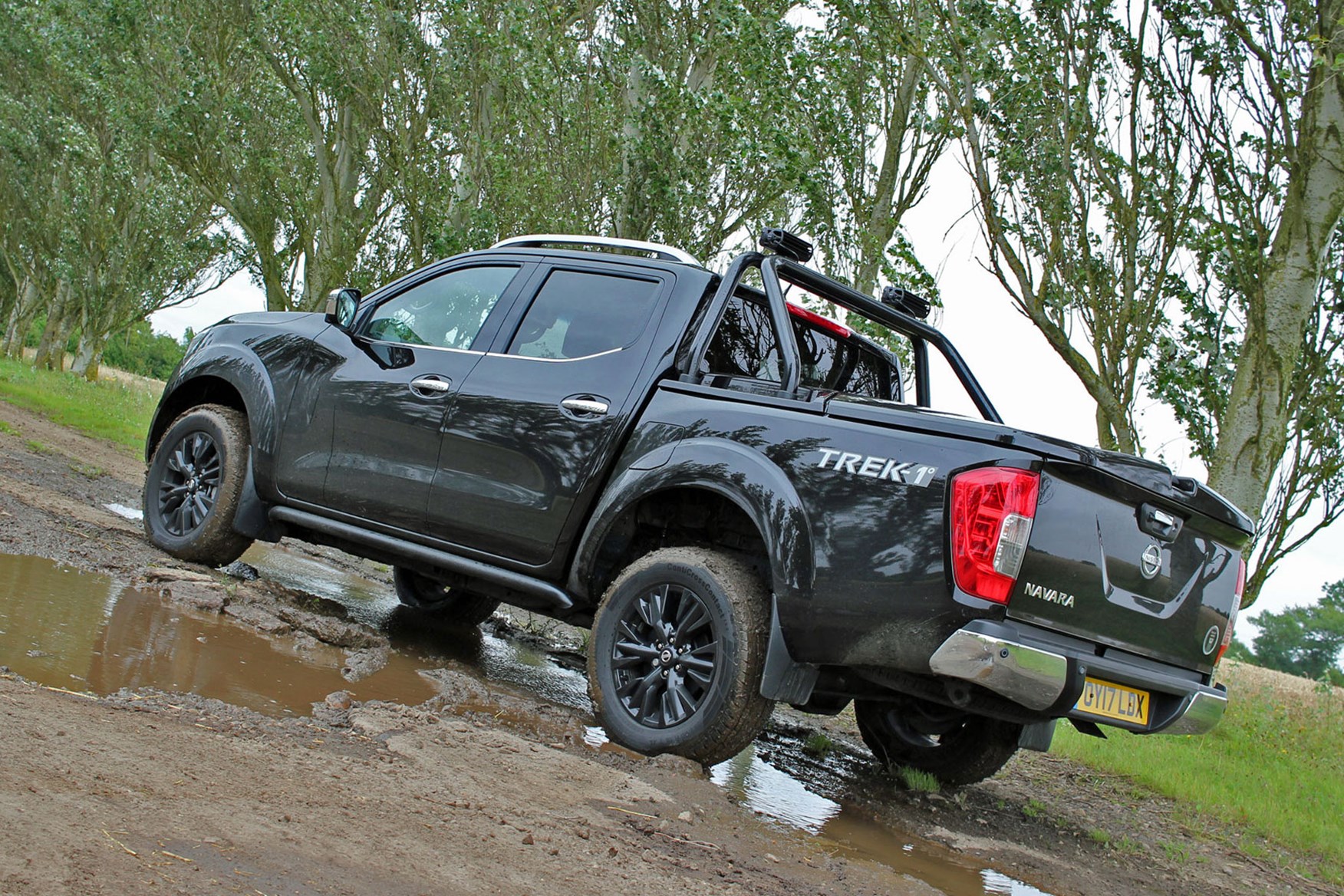 But what really gives the Trek-1° a distinctive appearance is the unusual plastic load cover. This is effectively a hard tonneau, hinged near the cab and supported on twin gas struts when open.
With its swoopy, streamlined look, sticking out beyond the trailing edge of the tailgate almost like a ducktail spoiler, the cover gives the Navara a particularly sporty look, and should help the load area stay dry, too.
Any other interesting items of standard equipment?
Beneath the load cover the Trek-1° is fitted with a standard bed liner and a bed divider – which attaches to the Navara's C-Channel load restraining side rails, making it easy enough to move back and forth depending on what you want to put in the back.
There's quite a bit of kit on the inside, too, with all of the following included in the basic asking price:
NissanConnect infotainment system with sat-nav
DAB digital radio
Bluetooth
360-degree Around View Monitor camera system
Rear parking sensors
Heated front seats
Leather upholstery
Cruise control
Optional extras include a tow hook and a locking rear differential for more serious off-road work. Nissan's selectable four-wheel drive system with low-range setting is fitted as standard.
The infotainment system feels rather old compared to some rivals, but the traffic jam avoidance works well.
What's the Trek-1° like to drive?
The driving experience is much the same any other high-spec Navara – which is to say very impressive, for a pickup.
Grip levels and cornering are particular highlights, helped by Nissan's oft-noted rear suspension design, which uses car-like coil springs in place of the truck-traditional leaf springs most rivals continue to favour.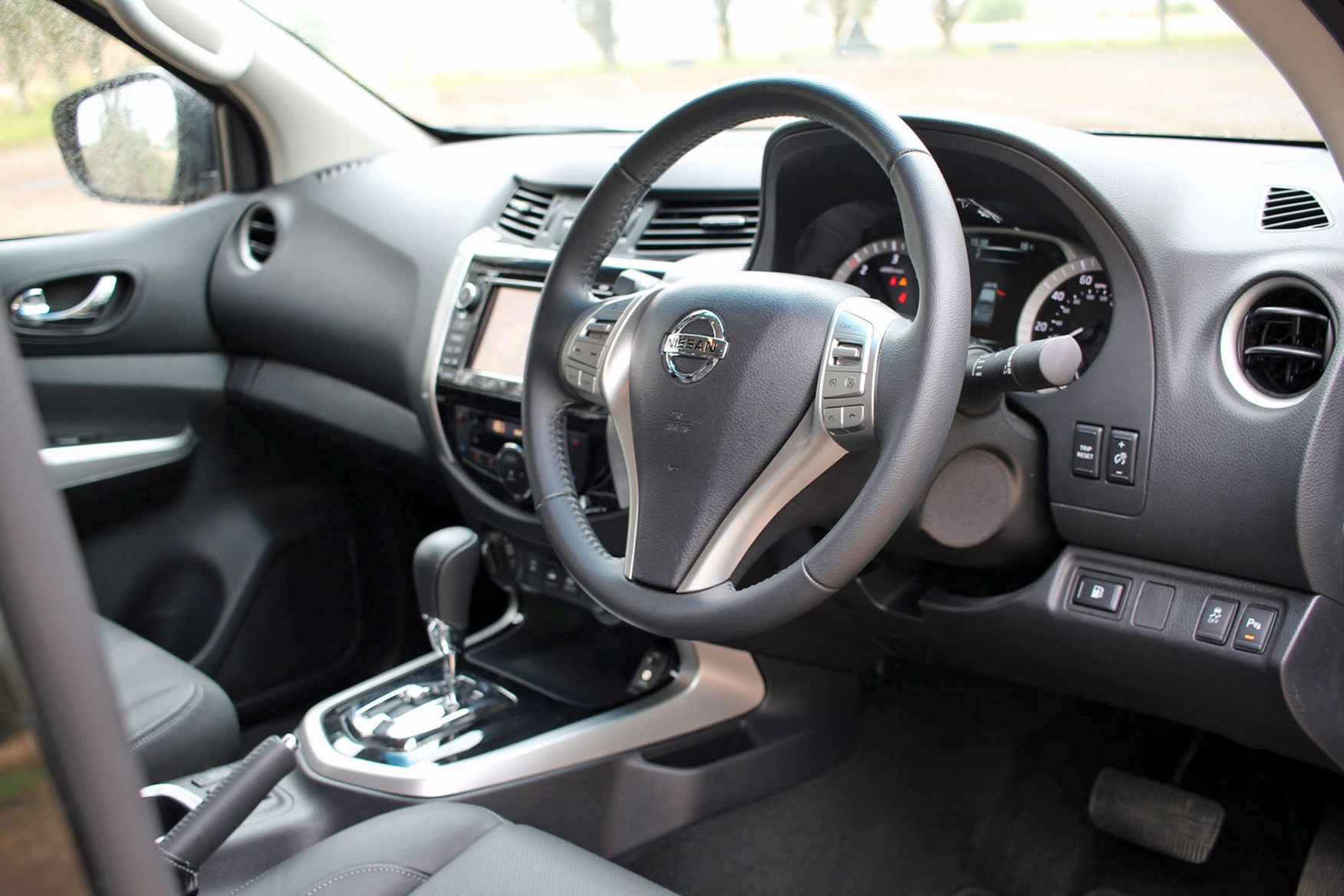 We always expect this to deliver better ride quality than it really does, however, so the unladen bounciness is particularly jarring. But after a few miles behind the wheel you come to realise that really it's not bad at all, and certainly endurable over lengthy distances.
The optional seven-speed automatic is a very worthy addition for this sort of duty, too, being generally smooth and responsive. As is typical for a pickup – the Mitsubishi L200 being a rare exception – there are no paddleshifters for taking manual control, but we can't say we particularly missed them.
Do the modifications cause any problems?
Hard to say whether the load cover reduces wind noise versus an open bed, as frankly Nissan's pickup was already excellent for refinement. But the style bars and spot lamps certainly don't make it any worse.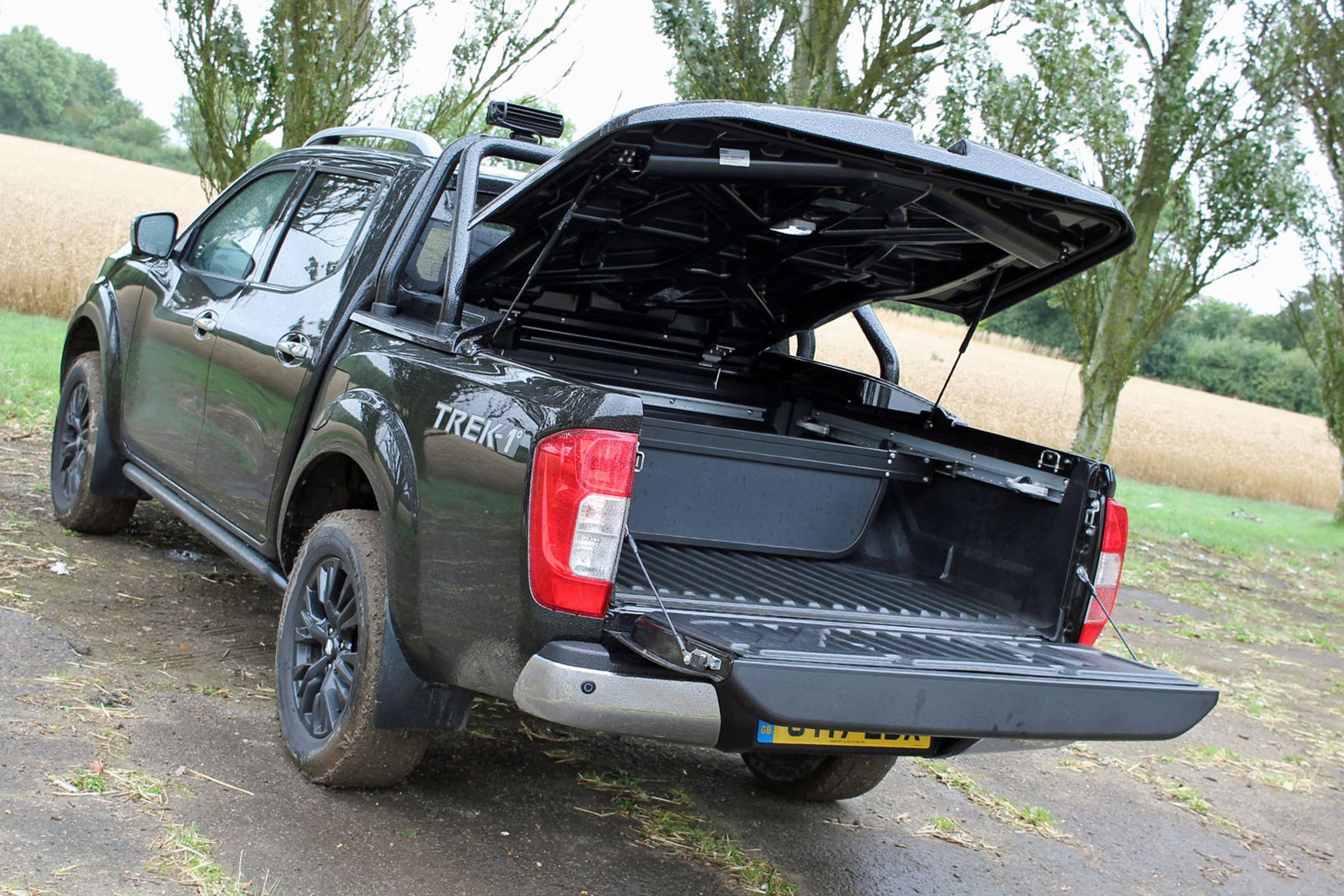 We did find the load bed cover slightly tricky to unlatch, though – seemingly requiring you to release the tailgate first. And although the opening angle is reasonably generous, it inevitably cuts down on the ultimate practicality of the Navara's load area.
Still, the LED light fixed to the underside is a useful addition, and the included load divider is very sturdy and secure.
What are the load area dimensions for the Nissan Navara Trek-1°?
Height restriction due to the load cover aside, the Trek-1° offers a similar amount of space to any regular Navara double cab model.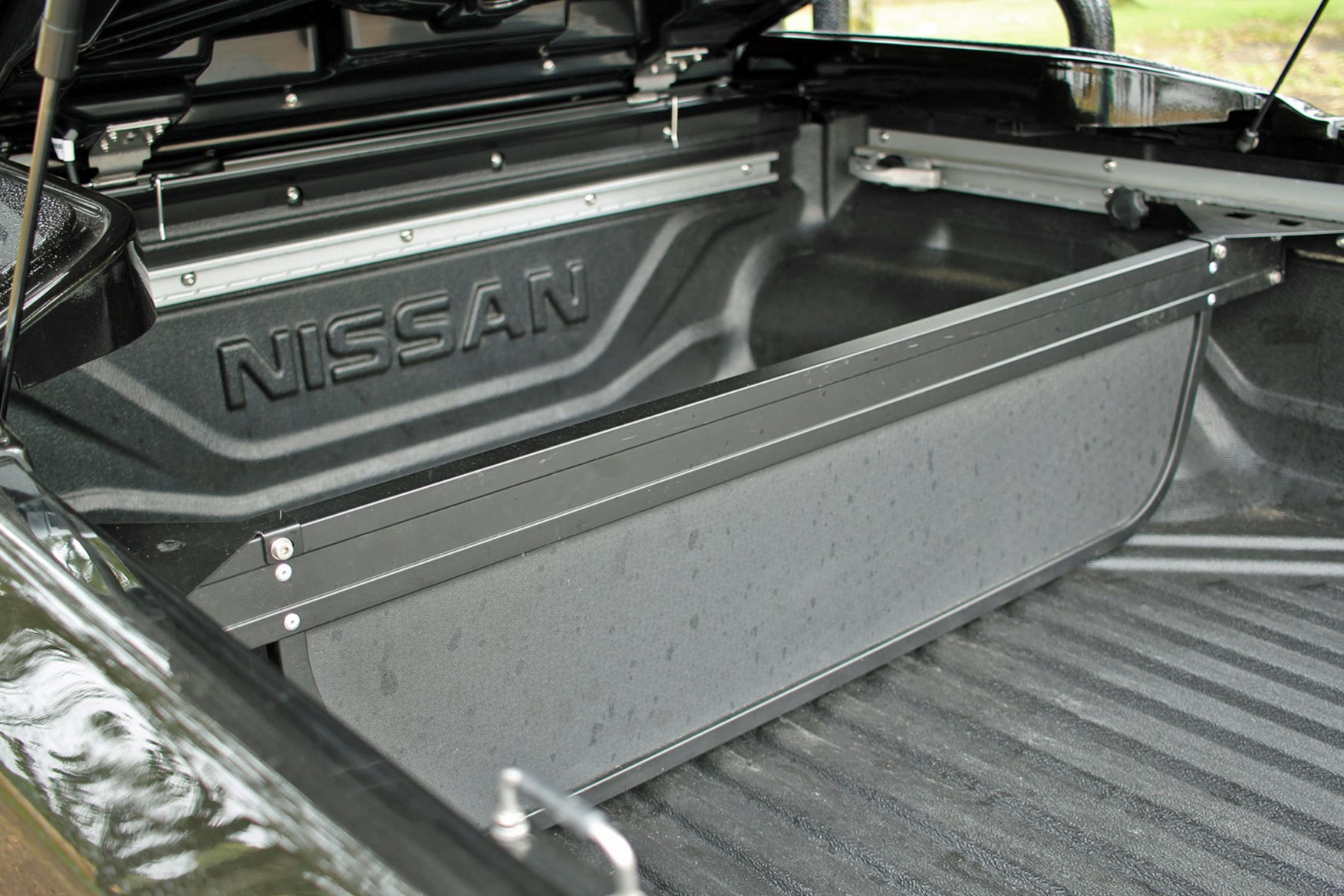 We use the word 'similar' above, because the included bed liner and bed divider will have a modest impact on the amount of room in the back. Just as the extra kit will eat into that quoted double cab legal payload.
Should I buy a Nissan Navara Trek-1°?
It's hardly a shocker that the Trek-1° limited edition is great pickup, given how well regular versions of the Navara perform. The only question is whether you want to spend the extra £3k it costs for the bespoke kit and the exclusivity of owning one of just 400 examples.
Compared with premium rivals such as the Amarok – let alone the forthcoming Mercedes-Benz X-Class (which is based on the Navara platform) – the Trek-1° is still great value, either way.
But if you do miss out, don't despair, the regular range-topping Navara Tekna comes with just as many creature comforts, and a wider choice of paint finishes...
*All prices correct at time of writing
---
Review: Nissan Navara Tekna takes on the Sahara Desert
Tested November 2016 by Tom Goodlad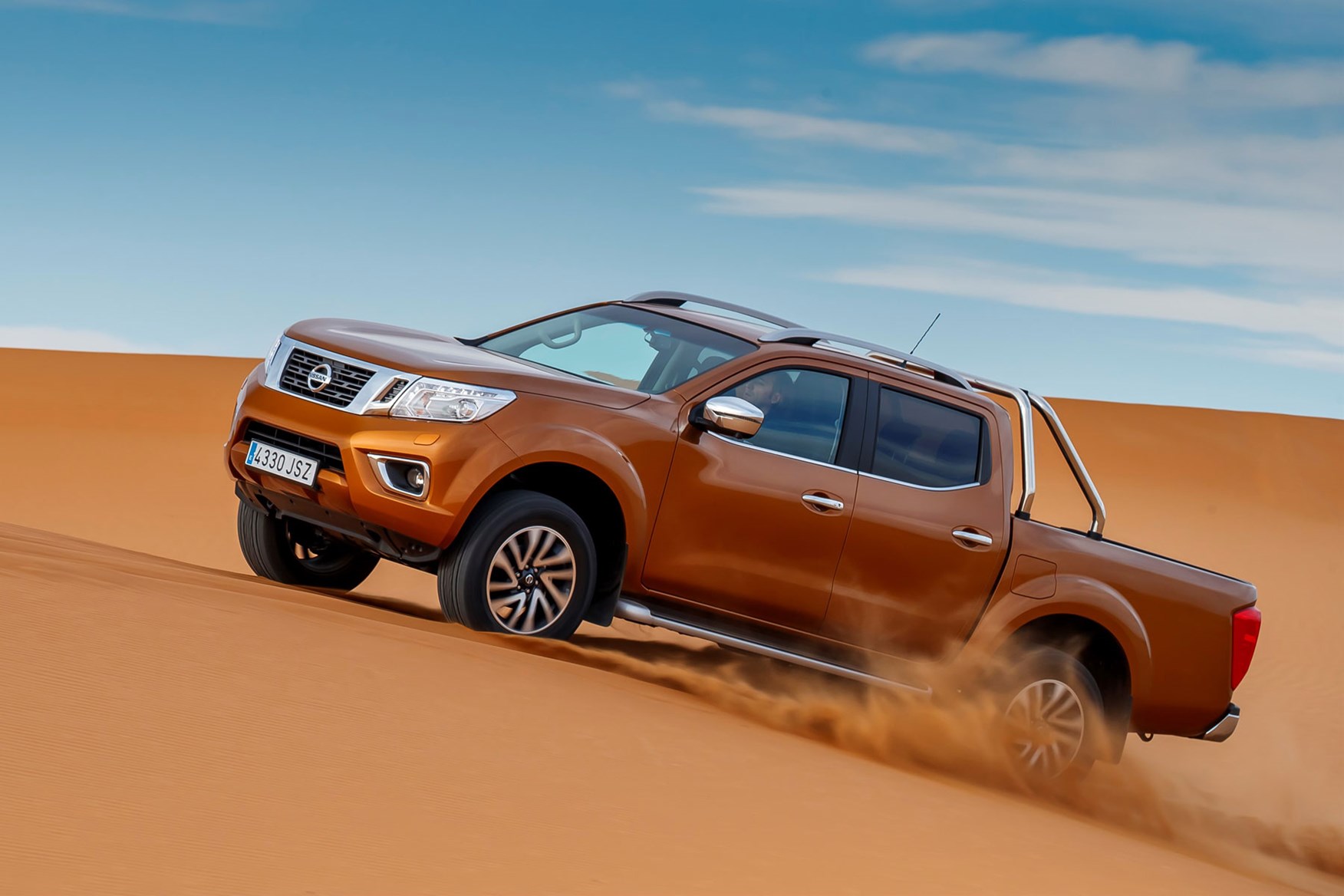 Euro 6-compliant Nissan pickup tested
Impressive both on- and off-road
Lots of equipment, but costs nearly £32k
This is our first test of a Nissan NP300 Navara with the Euro 6 engine upgrade, and to celebrate its introduction, Nissan's brought us to the Sahara Desert to give it a proper work out.
What makes it Euro 6 friendly? In short, a 17-litre AdBlue tank. By equipping the Navara with AdBlue technology, the amount of harmful nitrogen oxide (NOx) emissions coming out of the exhaust is reduced.
Impressive on-road refinement
On the road, the Navara impresses thanks to its remarkably car-like driving manners. That doesn't mean you'll be attacking corners like you would in a hot hatchback, but it's much more like a regular SUV than you might think. It has a comfortable ride and impressive refinement, and this is largely due to the five-link rear suspension set-up which soaks up the worst bumps in the road better than most comparable commercial vehicles, such as the Ford Ranger and Toyota Hilux.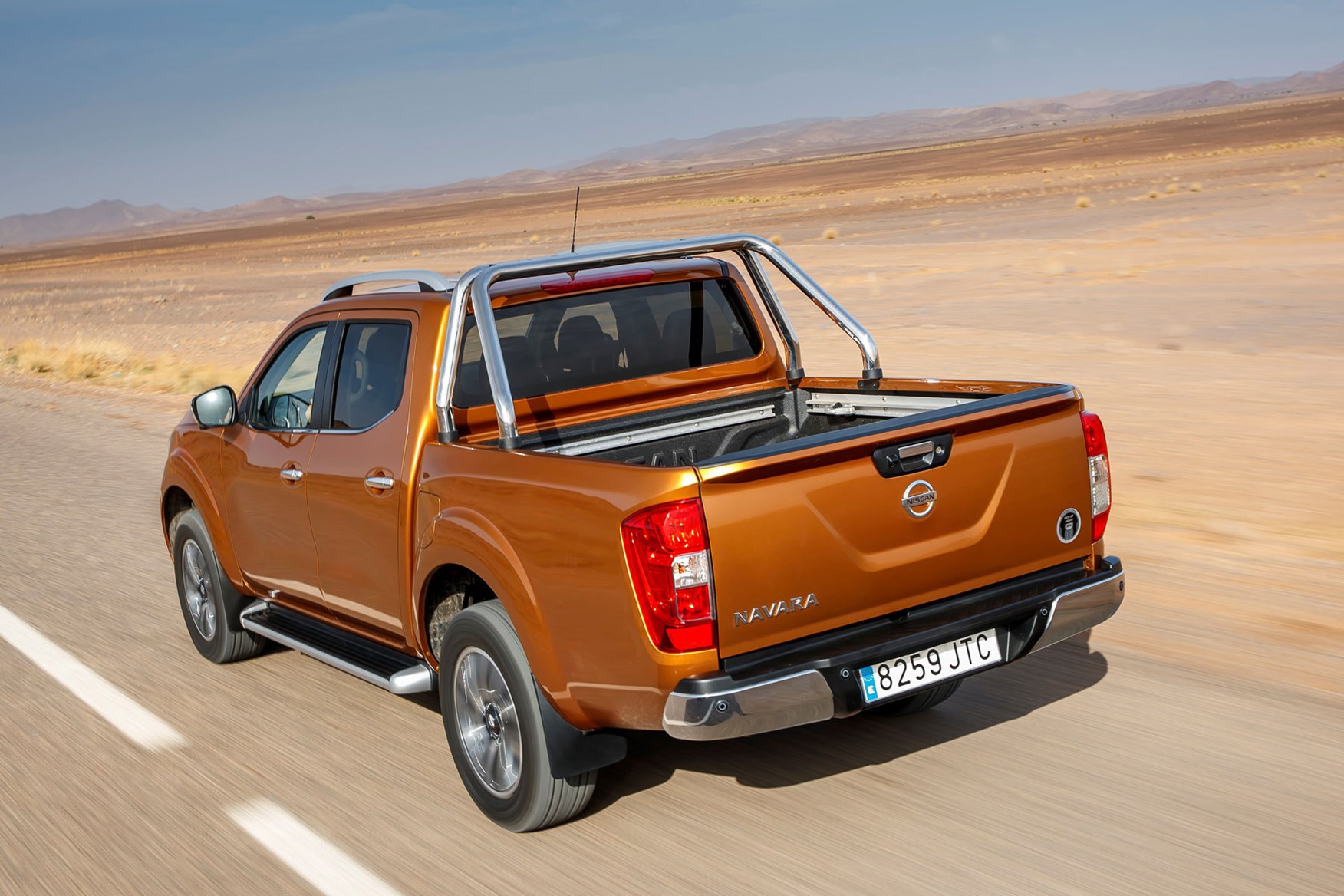 Performance is car-like, too. The engine produces 190hp and 450Nm of torque, meaning the Navara will sprint from 0-62mph in 10.8 seconds.
It doesn't feel that fast in ordinary driving, but put your foot down for an overtaking manoeuvre and the smooth-shifting seven-speed automatic gearbox responds quickly and ensures the Navara overtakes safely. This is where Nissan's commercial-only diesel makes itself heard, but it's not too overbearing and settles down again when you're back to cruising speeds.
There's little road feel in the steering, but it's well-weighted. It means the Navara is very easy to drive around town and on faster roads. Operating in rear-wheel drive mode means running costs are kept in check, with improved economy.
Solid and dependable off-road
We're sampling the Navara off-road, and not just on rutted, muddy tracks. No, no: we're in the wilds of the Sahara Desert in Morocco to see how capable the Navara really is.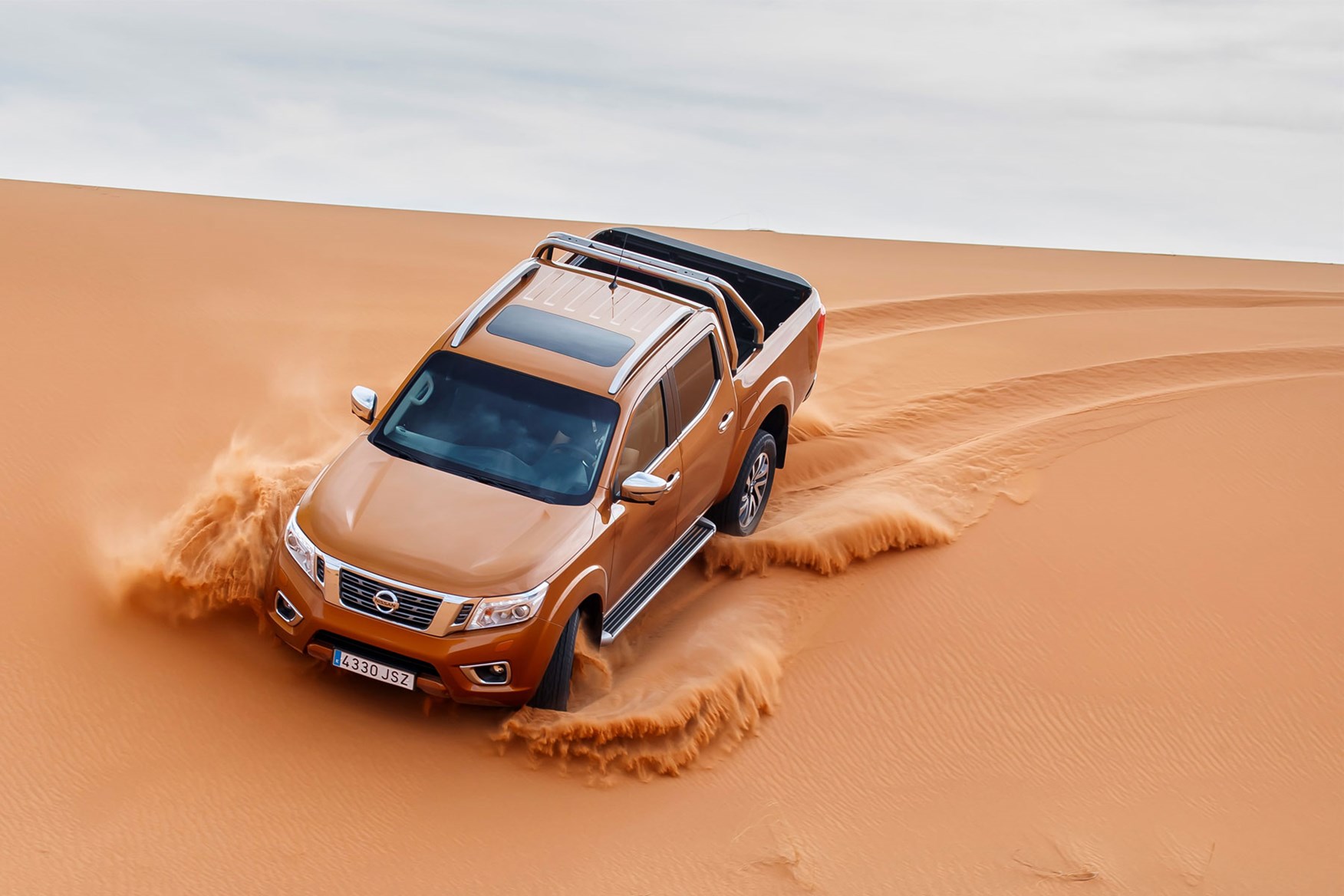 It's seriously capable. On a mixture of dried river beds, an unpredictable mix of rutted gravel and sand and full-on Saharan dunes, the Navara doesn't miss a beat.
It copes admirably with high-speed sections on loose gravel and sand, remaining planted and secure. The switchable four-wheel drive system also allows for an impressive scrabble along tight and twisting rocky mountain tracks, while the hill-descent control and 360-degree cameras ensure you make it back down with minimal fuss.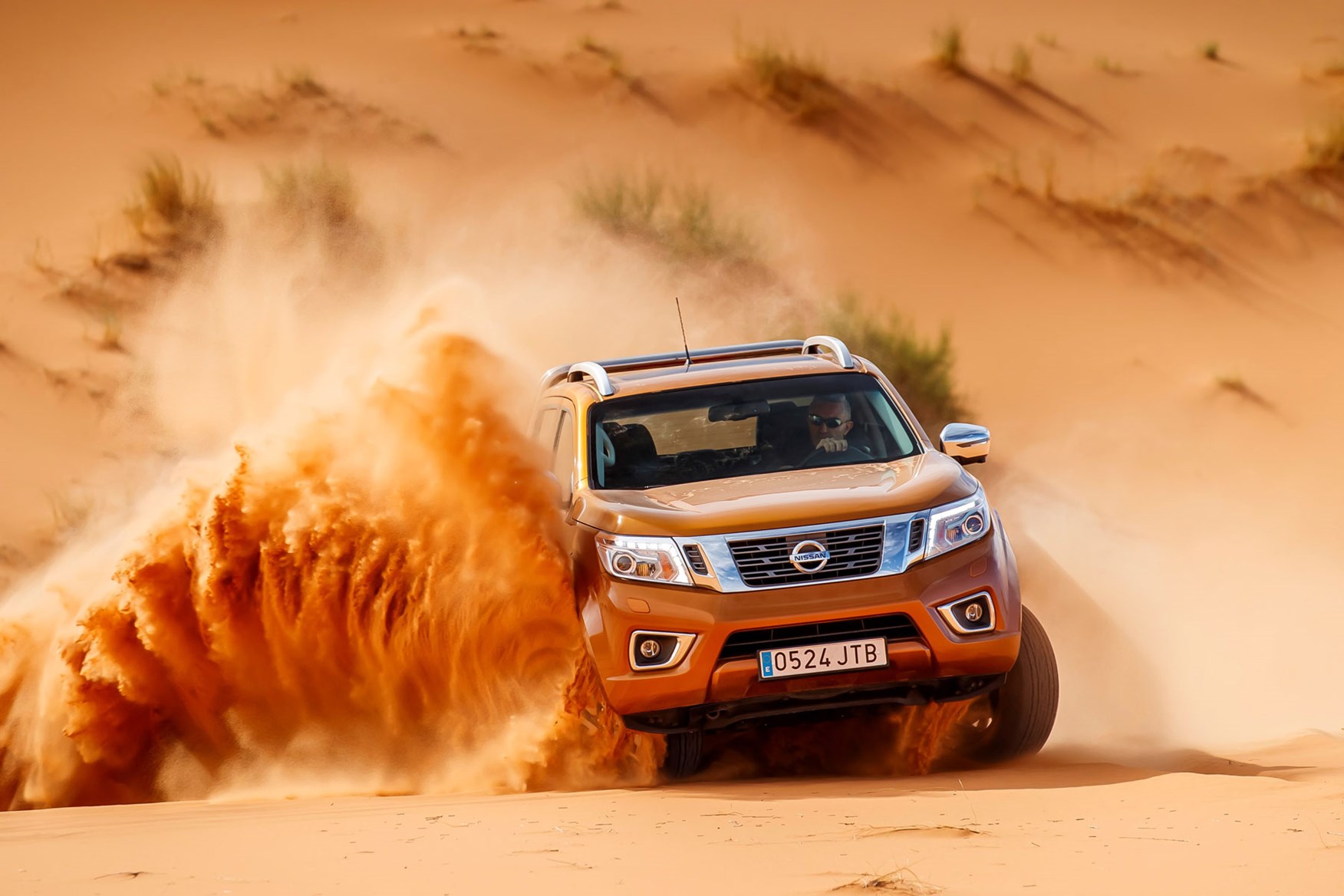 In the sand dunes, the Navara really comes into its own. All that's required is a drop in tyre pressures and a degree of driving skill to maintain momentum – driving on this kind of surface really isn't like anything else. It all combines to give a real sense of invincibility which counts for a lot when you can go for hundreds of miles and not come across anything else, apart from the odd camel or two.
Car-like interior with lots of equipment
Step up into the Navara and you'd be forgiven for thinking you're inside one of Nissan's road cars, namely the Qashqai and X-Trail. It looks very familiar inside thanks to similar design and the same 7.0-inch touchscreen infotainment system.
The plastics all feel more hard-wearing than the cars, which is only a good thing when it's designed as a workhorse.
Should I buy a Nissan Navara Tekna?
This top-spec version of the Navara may well be expensive at £26,585 before VAT, but its breadth of abilities is seriously convincing.*
On the road it's well-mannered and refined, while the well-equipped, car-like interior means you can use it as an everyday family vehicle, although at over 5m long it isn't going to be the easiest thing to park.
Add in strong towing abilities, a large load bed and impressive off-road ability and you've got a great all-rounder. And one that costs just a little bit less to run than before, too.
*All prices correct at time of writing