View all Ferrari F12berlinetta reviews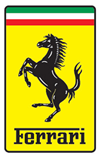 Ferrari F12berlinetta Coupe (2013 - 2017) review

PROS
Incredible performance
Exclusivity
Easy to drive at low speeds
Comfort
Engine noise
CONS
Few places to use the performance
Cost of options
Everyone wants to race you
PROS
Incredible performance
Exclusivity
Easy to drive at low speeds
Comfort
Engine noise
CONS
Few places to use the performance
Cost of options
Everyone wants to race you
Ferrari is famous for its V8 mid-engine high-performance sports cars such as the 458 but the Italian company's heritage goes back further with its front-engine V12 Grand Tourer (GT) cars.
The Ferrari F12berlinetta is a GT with supercar credentials rather than being just a luxurious grand tourer with galactic straight-line speed. It takes on other prestige rivals such as the Bentley Continental GT though it's less practical than the Ferrari FF .
Blistering acceleration and top speed
At the heart of the F12 is a 6.3-litre V12 engine. Not only is it large in terms of capacity (it's more than four times the size of a typical engine powering a medium sized family car, plus it's got three times the number of cylinders) but the engine produces breathtaking amounts of power – nearly 730bhp and 690Nm of torque.
What's more, the V12 engine is 'naturally-aspirated' so it doesn't use any turbo chargers or superchargers. Ferrari is also keen to point out that while it is the most powerful V12 it has produced it also emits less and consumes less fuel than the previous V12-powered model, the 599 GTB.
'Formula 1' steering wheel
To emphasise its connections with Formula 1, Ferrari has created a steering wheel that wouldn't look out of place in a F1 race car. All the main controls a driver would use are to be found here including the indicators and the windscreen wipers. It means indicator stalks are not required.
There is a switch in the lower right hand corner of the wheel that enables the driver to select one of five different driving modes. These vary from 'Wet' (driving in slippery conditions) through to 'Esc off' which is for experienced drivers enjoying the car's full performance on a race track.
Practicality and comfort
The F12 is much more practical than its supercar siblings. You get a decent sized boot (320 litres) that's bigger than an Audi TT's and should take a couple of weekend bags. You can increase luggage space to 500 litres by dropping the rear bench panel.
In the central divide a cup holder and storage area with hinged arm rest can be fitted, plus there is a glovebox and door bins to place further items.
The two passengers secure a lot of leg, shoulder and head room. Ferrari has reduced the seat volume so there is more space for the passenger. Both seats provide plenty of support including at the sides and there is a multitude of electrically powered adjustments. Read on for the full Parkers Ferrari F12berlinetta review.