Honda Civic Hatchback (2012 - 2017) review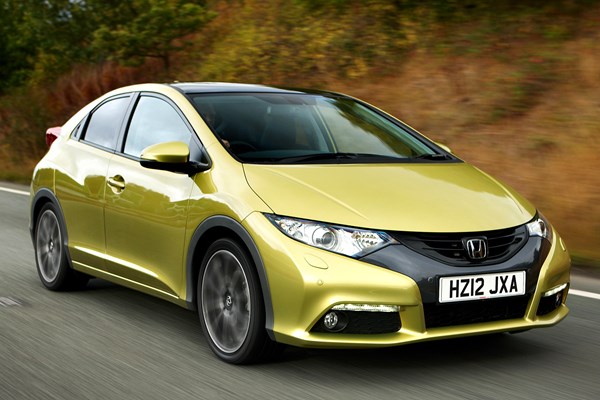 PROS
Cavernous boot
Lever rear-seat folding system
Comfortable ride
Economical diesel
CONS
Poor rear visibility
Pricey when compared with rivals
Uninspiring driving experience
PROS
Cavernous boot
Lever rear-seat folding system
Comfortable ride
Economical diesel
CONS
Poor rear visibility
Pricey when compared with rivals
Uninspiring driving experience
Honda Civic Hatchback rivals
The Honda Civic has been around for a very long time: the first generation was launched in 1972 and since then there have been all manner of iterations that Honda has pet names for. The 1983 model is known as the 'Wonder Civic', and one wonders why, and then there's the 1995 'Miracle Civic' that prompts more vigorous head scratching.
Thankfully, by the time you get to the 'Revolution Civic' launched in 2006 there's some justification because it really did represent a major departure from the previous, rather dull versions. It had triangular exhaust pipes, out-there styling and a rather annoying rear spoiler that spoiled the view out of the back, but it was undoubtedly unconventional.
This new model is up against some accomplished rivals, including the Ford Focus, Volkswagen Golf and Vauxhall Astra, but the Civic is a capable car that offers a very real alternative.
More subdued styling
So now there's the ninth generation Civic that's not quite so radical. At first glance not that much has changed. Yes, it's still got a spoiler that serves to ruin the rear view, but Honda tells us that under the spoilered skin this is, in fact, a revolution that'll take the Civic into the big league.
Excellent interior space
One of the Civic's strong points is practicality. The boot is far bigger than its competitors' and there's loads of room inside thanks to what Honda calls 'Magic Seats'. These can fold in a clever range of combinations, freeing up plenty of space for transporting large items.
The Civic has been awarded a five-star EuroNCAP rating thanks to its plethora of safety equipment including adaptive cruise control and collision mitigation – which applies the brakes if it thinks you're about to crash.
Two petrol and one diesel engine
There's a choice of three engines, two petrol and one diesel, plus an older 2.2-litre diesel. Petrol options are a 1.4-litre or a 1.8-litre engine, available with either a manual or automatic gearbox.
The highly-refined 2.2-litre diesel engine was phased out leaving smaller and even more efficient 1.6-litre unit, with emissions well below the 100g/km mark for ultra-low tax costs.
Facelift in 2014 brings new styling and Sport derivative
Honda tidied up the Civic's exterior styling in 2014 by moving the daytime running lights into a new headlamp cluster. Sleeker bumpers were added front and rear, and the spoiler was moved to tie into new LED rear lights.
Inside the Civic was given a premium uplift with new fabrics and stitching, different door trims with chrome door handles, and a control panel finished in a metallic black.
New Sport Derivative added to range
A Sport derivative was added, which uses the 1.6-litre diesel or 1.8-litre petrol engine, offering Civic Type R looks without the associated running costs.
To find out more, read on for our full Honda Civic review.
Other Honda Civic (2012 - 2018) models: