View all Honda Civic reviews


Honda Civic Hybrid Saloon (2006 - 2010)
Review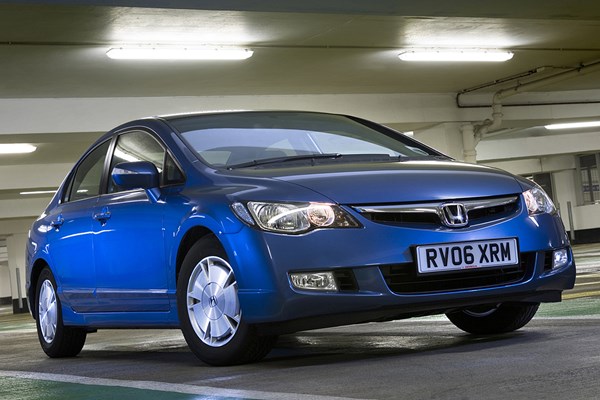 PROS
Good fuel economy, excellent build quality, futuristic interior design, roomy
CONS
Dull styling compared to hatch, sluggish performance, engine noisy when pushed
PROS
Good fuel economy, excellent build quality, futuristic interior design, roomy
CONS
Dull styling compared to hatch, sluggish performance, engine noisy when pushed
Other Honda Civic (2006 - 2011) models:
Verdict
It may look like simply a saloon version of the Civic hatchback we're all familiar with, but in fact this is a very special Honda. It's actually a hybrid so, like the Toyota Prius, it uses an electric motor along with a conventional petrol engine. The electric motor assists the engine by giving it a boost during acceleration to improve economy - it also runs the car at idle to reduce emissions.
The clever bit is when you brake or coast, the energy is captured to charge the battery for the electric motor. That means you get the power of a 1.6-litre engine, with the fuel consumption of a 1.1-litre. It works up to a point, but the car does feel underpowered and needs to be revved hard to get decent performance - which sees fuel economy rapidly drop.