Infiniti M Saloon (2010 - 2018) review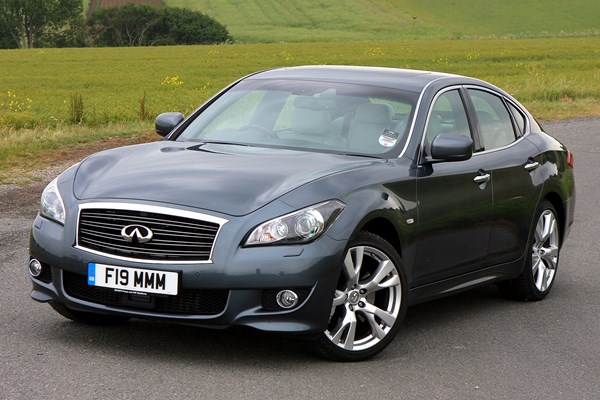 PROS
High levels of standard kit, premium interior finish, competitive performance, true alternative to German rivals
CONS
Not the best looking car on offer, rivals are more engaging to drive, expensive running costs
PROS
High levels of standard kit, premium interior finish, competitive performance, true alternative to German rivals
CONS
Not the best looking car on offer, rivals are more engaging to drive, expensive running costs
The Infiniti M - or Q70 following the brand's renaming of its cars early in 2013 - is here to dethrone premium saloons like the Mercedes-Benz E-Class, BMW 5 Series and Jaguar XF. It's incredibly well equipped and there's a choice of three engines, one a petrol-electric hybrid.
For buyers concerned about running costs there is a diesel option but it still lags behind the big rivals on fuel economy and emissions, which makes the M35h the most economical and appealing. It is an alternative worth considering, offering eager performance and a slick seven-speed automatic gearbox. If you're after something a little left-field then the M saloon is definitely worth a look.
Engine choice
With three engine options on the cards for buyers, the Infiniti M saloon can compete with its European rivals on most fronts. The petrol M37 is quick enough to see off 0-62mph in 6.2 second and uses the same slick seven-speed automatic gearbox as the others in the line-up.
More buyers are likely to be tempted by the 3.0-litre V6 turbodiesel M30d, but it doesn't have the economy or emissions to come close to its key rivals, never mind the likes of the BMW 520d or Audi A6 2.0 TDI.
For better economy and emissions you have to go back to a petrol engine in the Infiniti M, though this is coupled to an electric motor in the M35h hybrid model. It delivers 40.9mpg and 159g/km carbon dioxide emissions, and it's also the quickest by dashing off 0-62mph in 5.5 seconds.