BMW 5-Series Saloon (2010 - 2017) review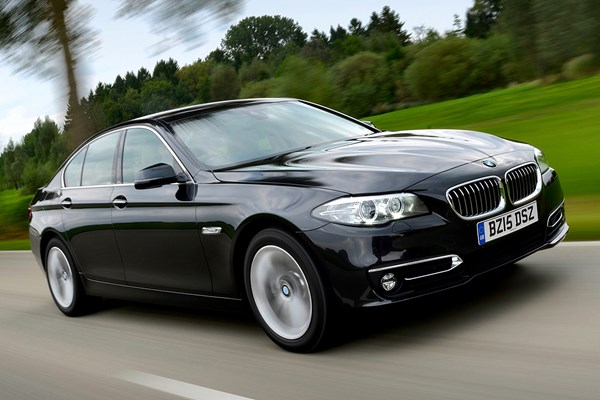 PROS
High-class luxury car feel
Superbly refined and quiet
Outstanding handling
Generous passenger room
Forgiving ride
Amazingly frugal 520d version
CONS
Steering lacks some of the feel you'd expect from a BMW
PROS
High-class luxury car feel
Superbly refined and quiet
Outstanding handling
Generous passenger room
Forgiving ride
Amazingly frugal 520d version
CONS
Steering lacks some of the feel you'd expect from a BMW
BMW 5-Series Saloon rivals
BMW is renowned for building cars that are great to drive but sometimes at the expense of comfort. That's not the case with the 5 Series, however. It's the most complete executive saloon on the market and manages to blend superb handling with limousine-like comfort as well as unsurpassed cabin refinement.
History lesson
BMW's first 5 Series appeared in 1972 and this, the sixth-generation car, has a raft of new technologies and is the first in its class to feature start/stop technology and an eight-speed automatic transmission. The elegant styling gives it a larger appearance than the previous model and is more akin to the bigger 7 Series, which is also the case with the upmarket cabin. Compared to its predecessor, this 5 Series feels more sophisticated and has the edge over alternatives like the Mercedes-Benz E-Class.
Engine choices
The engine line-up is hugely impressive with every model, even the entry level 520d, offering great performance. This engine is capable of 0-62mph in 8.1 seconds but it'll still return a claimed average of 56.5mpg. If you want more grunt you might want to go for the 295bhp 535d that'll get you to 62mph from a standstill in just 5.7 seconds and return a creditable 44.8mpg. If petrol is your thing you won't go far wrong with the 528i that'll do the benchmark sprint in 6.9 seconds, although it's relatively thirsty returning a claimed average of 35.3mpg.
BMW 5 Series equipment highlights
You'll find that the entire range is incredibly well equipped and all models get leather seats, parking sensors and Bluetooth connectivity. This is the car that truly sets a new standard for executive saloons. The BMW 5 Series is such a well-rounded car that it's hard to beat - especially when you take into consideration how good it is to drive, the excellent levels of standard equipment and its wallet-friendly fuel economy. With all this in its favour, the BMW 520d SE Business Media Saloon romped away with the 2011 Parkers Cost of Motoring award in the Executive sector. Does it make more sense than the E-Class? Read the full BMW 5 Series review to find out.
Other BMW 5-Series (2009 - 2017) models: