With more than 200 used Jaguar E-Pace cars for sale on Parkers, finding a version that suits you is easy using our search filters. If it's a new Jaguar E-Pace for sale that you're after, we have scores to pick from.
Results

1

to

10

of

286

2019/69
10 miles
Automatic
Diesel

Lookers Jaguar Buckinghamshire,

Aston Clinton

2018/18
4,813 miles
Automatic
Petrol

Kirkfell Cars,

Darlington

2018/18
27,000 miles
Automatic
Diesel

Burton Bradstock Cars,

Bridport

2019/69
2,991 miles
Automatic
Diesel

Taggarts Jaguar Glasgow,

Glasgow

2019/19
14,102 miles
Automatic
Diesel

Taggarts Jaguar Glasgow,

Glasgow

2018/18
19,626 miles
Automatic
Diesel

Lookers Jaguar Buckinghamshire,

Aston Clinton

2018/68
17,000 miles
Automatic
Petrol

Vertu Volkswagen Lincoln,

Lincoln

2018/68
13,267 miles
Automatic
Diesel

Taggarts Jaguar Glasgow,

Glasgow

2019/19
14,675 miles
Automatic
Diesel

Peter Vardy Jaguar Aberdeen,

Aberdeen

2018/68
6,711 miles
Automatic
Diesel

Taggarts Jaguar Glasgow,

Glasgow
Disclaimer
Telephone numbers starting with 08XX will cost you 7p per minute plus your phone company's access charge. Calls to other telephone numbers will only cost your phone company's access charge.
What is the Jaguar E-Pace?
Entry-point to this upmarket British car-builder's range is the Jaguar E-Pace; it's the baby Jag that customers are clamouring for. While the XE is a lovely car to drive, but it hasn't delivered the goods in terms of introducing new people to the brand. The E-Pace small SUV, on the other hand, is in much stronger demand – it's not only outselling the XE, it's also now beating the bigger F-Pace in the sales charts.
Challenging the Audi Q3, BMW X1 and Mercedes-Benz GLA, it's also the sportier alternative to its sister Range Rover Evoque in JLR showrooms. Oh, and when we say baby Jag, we mean it: there's even a cute little graphic of a jaguar and her cub on the windscreen.
Top-speed: 120-149mph
0-62mph: 6.5-10.7 seconds
Fuel economy: 26-42mpg
Emissions: 143-203g/km CO2
Boot space: 577-1,234 litres
Which versions of the Jaguar E-Pace are available?
Jaguar offers the E-Pace SUV in a single small five-door bodystyle. It is available in two guises, standard and R-Dynamic; this is your first decision, before picking the trim line you'd like to equip it to – basic E-Pace, S, SE or HSE.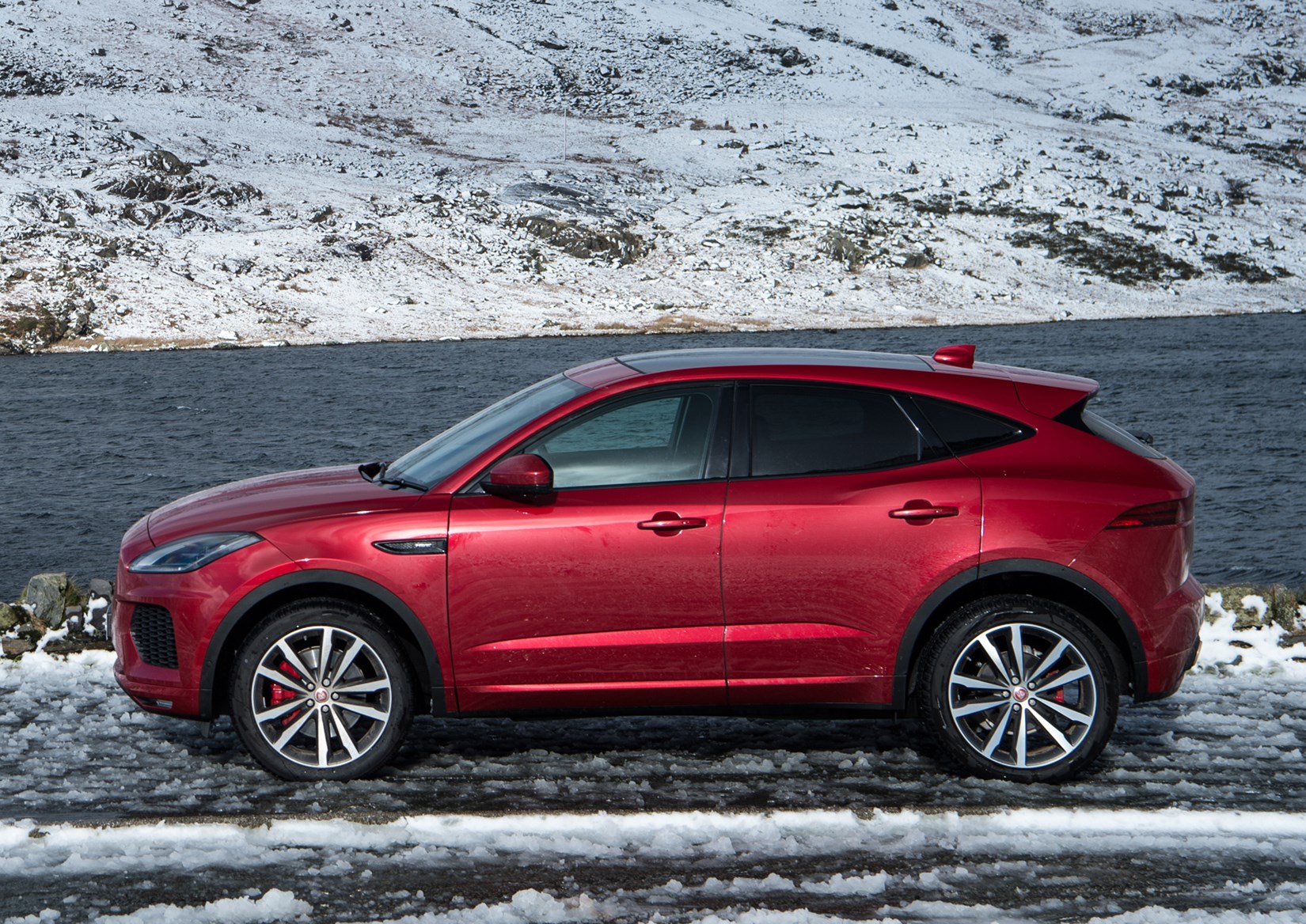 Most prefer R-Dynamic: it adds gloss black and satin chrome exterior detailing, extra body colour-coding, chrome tailpipe finishers, front foglights and, inside, a black roofliner, sport steering wheel and seats, metal pedals and automatic gearshift paddles. Engines are either four-cylinder, turbocharged 2.0-litre diesels and petrols, of various power outputs. A hybrid is not (yet) available, but given JLR is introducing PHEVs across its range
Currently, there is no high performance E-Pace, but you can create a fairly potent one yourself by mating R-Dynamic trim with the P300 petrol engine. This delivers the power of a punchy hot hatch and, with the aid of all-wheel drive, can accelerate from 0-62mph in a pacy 6.5 seconds. It has a top speed just shy of 150mph. If you want a scorchingly quick Jaguar SUV, your choice is limited to the F-Pace SVR for now.
Styling and engineering
The Jaguar E-Pace is another Ian Callum SUV success. Following on from the groundbreaking F-Pace, Jag's first SUV, the more compact E-Pace (not to be confused with Jaguar's electric SUV, the I-Pace) is perfectly proportioned and lives up to Callum's description of it as a 'cute cub'. The firm offers some punchy colours to further help it stand out, including Caldera Red, Yulong White and Caesium Blue. Borasco Grey is a modern hue, too.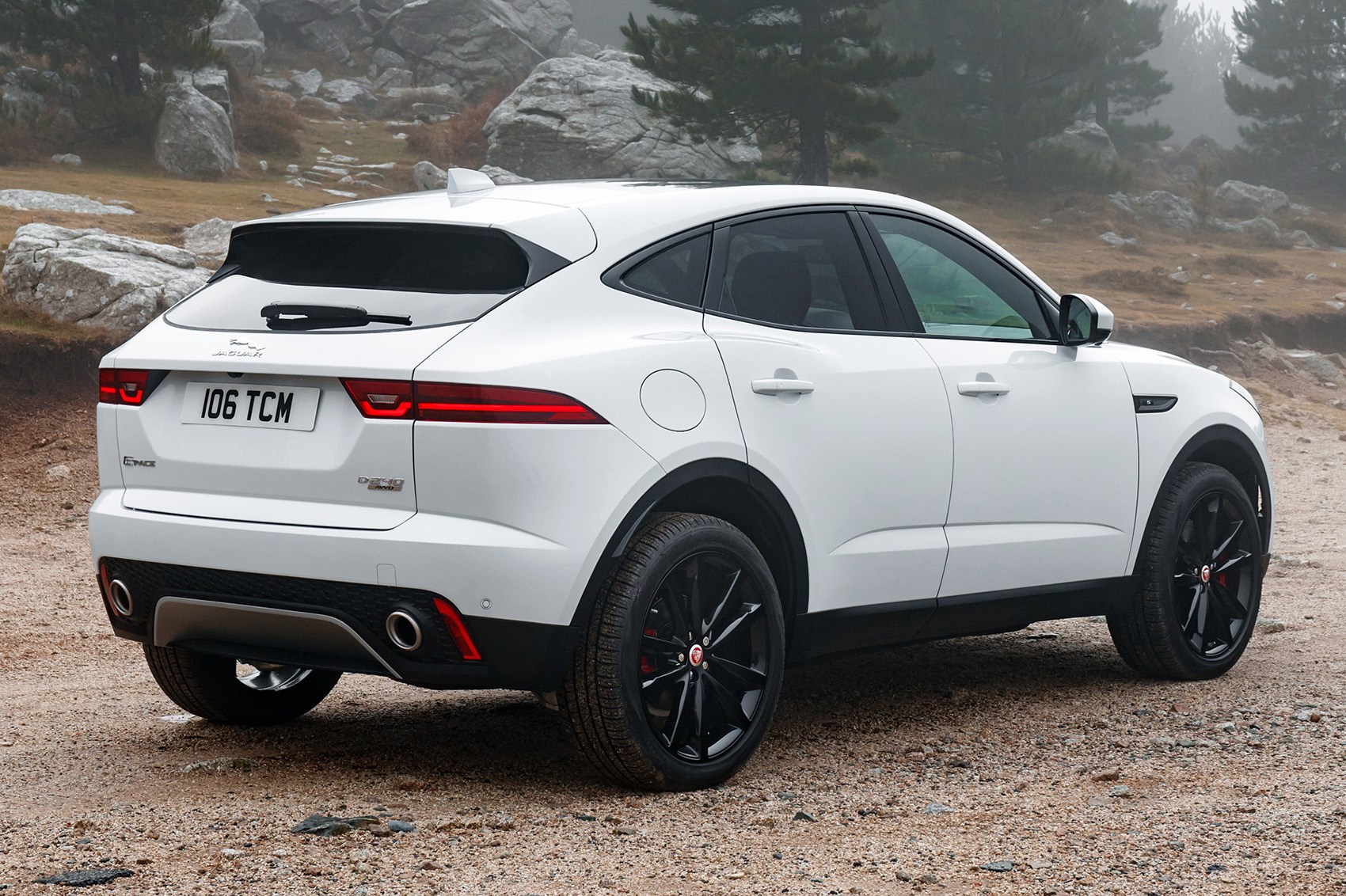 Engineering-wise, it is derived from the older JLR steel architecture also used by the first-generation Evoque and Land Rover Discovery Sport; it is not aluminium-intensive like other Jags. Inside, it is, by Jaguar standards, modern and distinctive – arguably more so than the older F-Pace. The shape of the dashboard is sportier and more distinctive (the references to the F-Type sports car are obvious) and materials quality is higher than some other Jags. Rear-seat space isn't bad either. Some rivals are bigger but it's still reasonably accommodating, and the 577-litre boot is a good size. This extends to 1,234 litres with the seats folded (and maximum boot width of 1.3 metres is pushchair-friendly).
How does it drive?
Our earlier description of the Jaguar E-Pace as a wannabe hot hatch is fitting, because that's exactly how it drives. The emphasis is weighted towards sporty prowess through the corners rather than cushioned comfort on the straights. It's a firmly suspended car with a taut feel that will pick out city centre lumps and bumps. It's not excessively crashy or uncomfortable, just on the sporty side of focused – but grin-inducing lack of roll when you chuck it about may, for many, compensate. Besides, JLR dealers have the new Evoque for those who want comfort.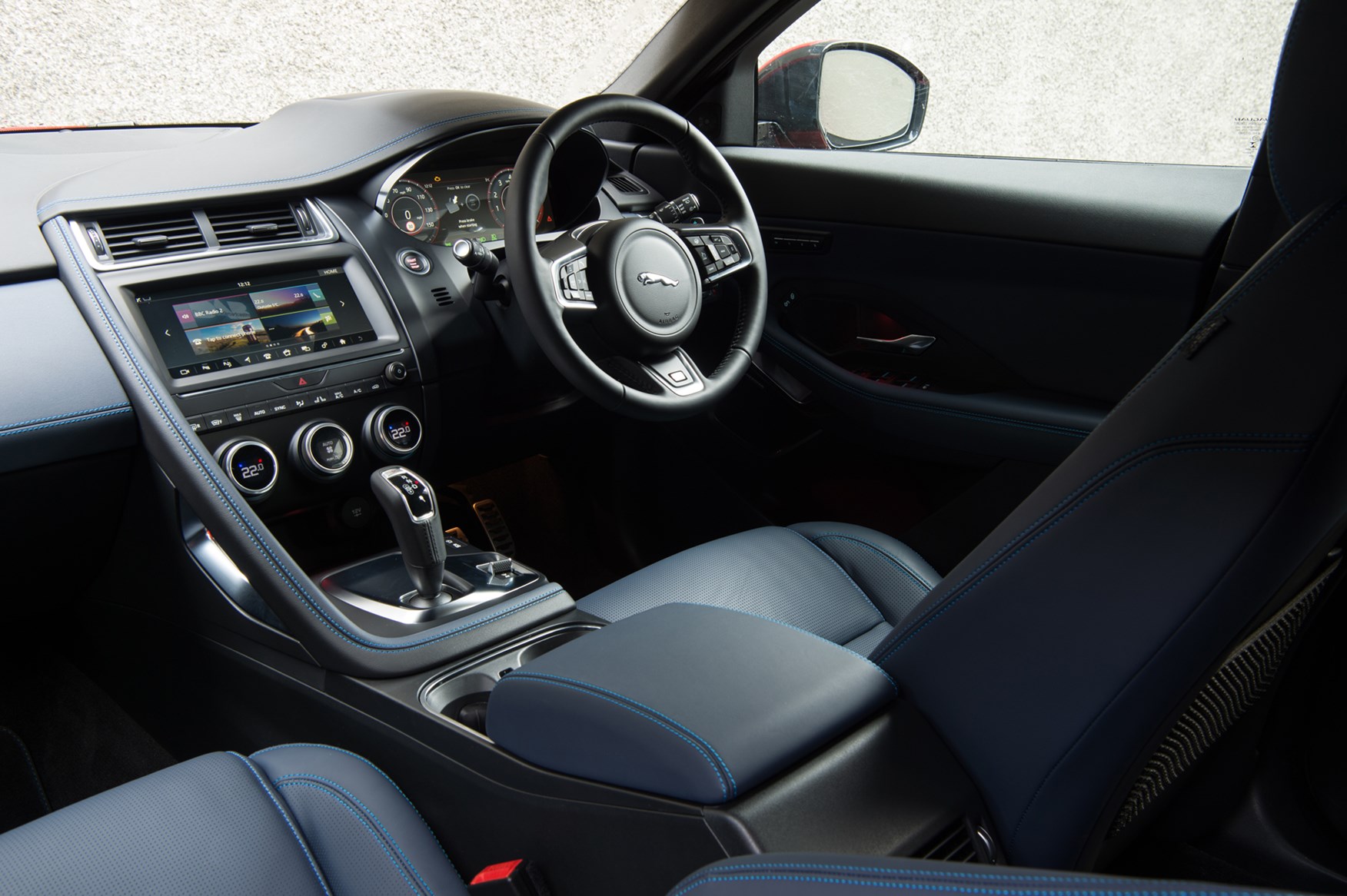 No matter if you choose petrol or diesel, all the engines are a bit on the vocal side, albeit smooth enough. The nine-speed automatic that's standard on most variants is also fussy, rarely seeming to settle on a choice of gear. It's preferable to the standard manual, but it really should be better.
How much does the Jaguar E-Pace cost?
The Jaguar E-Pace has a headline-grabbing entry-level price from under £30,000. Of course, that's not the car you'll want to buy; add on R-Dynamic trim, a more powerful D180 engine instead of the base D150, all-wheel drive and the automatic transmission, and the price rises to a smidge over £35,000.
When you start moving up through the model grades, prices quickly leap up - fancy that all-singing, all-dancing R-Dynamic HSE P300? Dn't expect much change from £50k.
Find out how E-Pace drivers rate their cars with our user-generated owners' reviews.
Parkers has thousands of used Jaguar E-Pace cars for sale in our classified listings. Find your next secondhand model in our ads – we've everything from family cars and hatchbacks to executive saloons and sports cars.