Browse thousands of used Jaguar F-Pace cars for sale with Parkers. Our search filters help you find the best secondhand models from our selection of used Jaguar F-Pace cars for sale.
Results

1

to

10

of

550

2016/66
48,997 miles
Automatic
Diesel

County Motor Works,

Chelmsford

2017/66
45,509 miles
Automatic
Diesel

County Motor Works,

Chelmsford

2016/66
49,701 miles
Automatic
Diesel

County Motor Works,

Chelmsford

2016/66
17,020 miles
Manual
Diesel

County Motor Works,

Chelmsford

2016/66
17,020 miles
Manual
Diesel

Grange Jaguar Swindon,

Swindon

2017/17
17,427 miles
Automatic
Diesel

Swansway Jaguar Crewe,

Crewe

2017/17
10,250 miles
Automatic
Diesel

County Motor Works,

Chelmsford

2018/18
19,428 miles
Automatic
Diesel

Marshall Jaguar Ipswich,

Ipswich

2017/66
14,150 miles
Automatic
Diesel

County Motor Works,

Chelmsford

2018/67
12,000 miles
Automatic
Diesel

Peter Vardy Jaguar Aberdeen,

Aberdeen
Disclaimer
Telephone numbers starting with 08XX will cost you 7p per minute plus your phone company's access charge. Calls to other telephone numbers will only cost your phone company's access charge.
What is the Jaguar F-Pace?
Launched in 2016, the Jaguar F-Pace was the first SUV to wear the leaping cat badge, bringing the upright crossover aesthetic to the formal Jag family look for the first time. For a brand famous for its grace, space and pace, it is remarkable that it took this long to produce a car that really delivers on family practicality, with lashings of space for luggage and limbs.
Rivals to consider if you're thinking of buying the F-Pace include the Audi Q5, BMW X3, Mercedes-Benz GLC and Porsche Macan. That is to say, you'll need to find a larger SUV if you need to carry really big loads or seven people, aspects Jaguar currently doesn't cater for.
The Jag's strong points are its crisp design, attractive finance rates and deals and some clever tech, such as the waterproof bracelet Activity Key which lets you unlock the car using your wrist - handy if you've been swimming or surfing.
Top speed: 121-176mph
0-62mph: 4.3-10.2sec
Fuel economy: 23.7-58.9mpg
Emissions: 126-272g/km
Boot space: 650-1740 litres
Which versions of the Jaguar F-Pace are available?
Since it was thrusted into the booming crossover segment, the five-door, five-seater F-Pace SUV has sold like hot cakes. There's a decent range of engines available, although nearly all models are powered by one of the 2.0-litre diesel or petrol engines; if you're feeling brave, you can trade up to the punchier 3.0-litre V6 models, which are available in petrol and diesel form.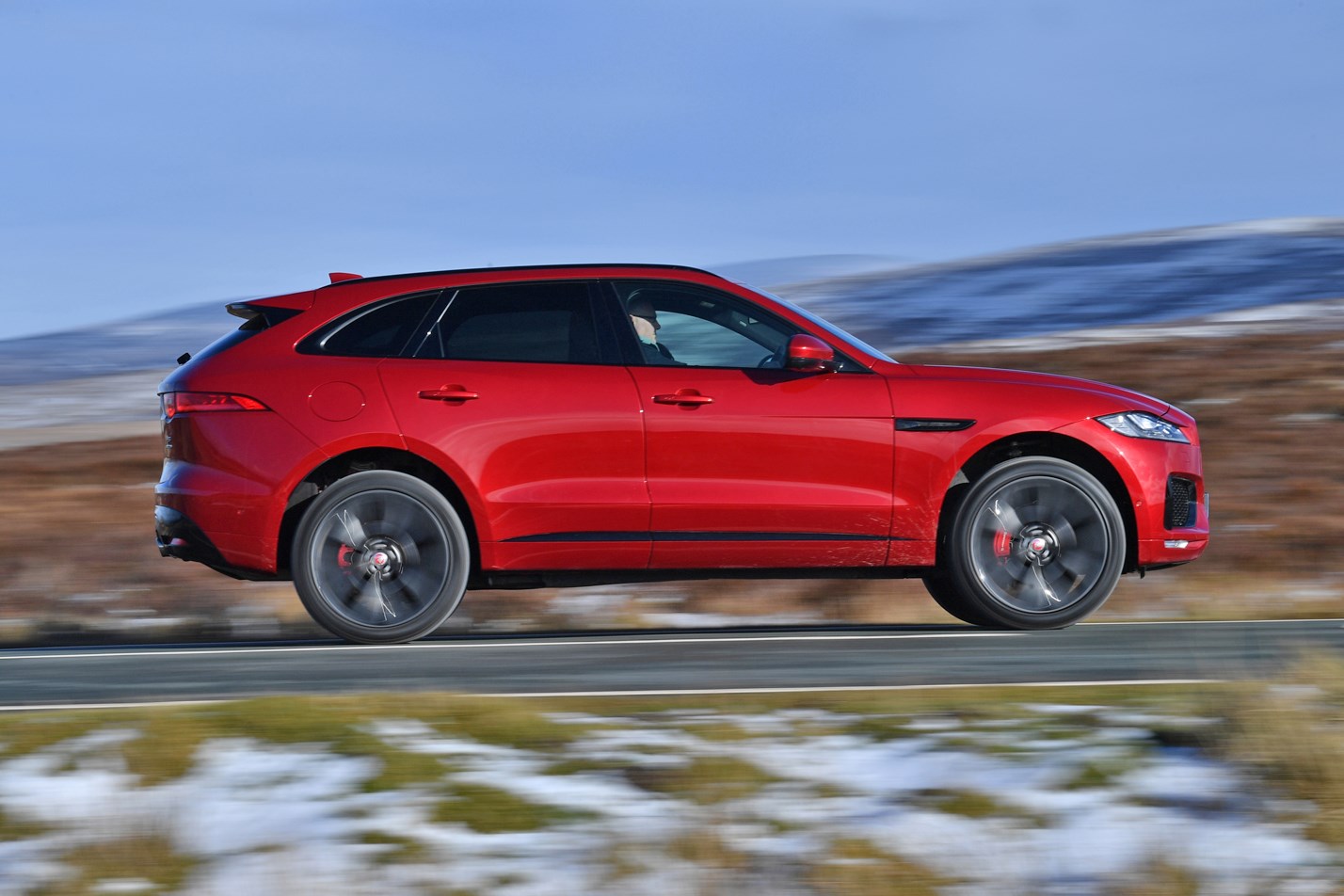 There are no hybrid or plug-in Jag F-Paces available yet, but we know these are under development; expect a battery-assisted model to be launched within the next two years. And if performance is your thing, check out the startling 550hp F-Pace SVR detailed below.
Once you've chosen your engine, you can then pick from Prestige, Portfolio, R-Sport and S specs, each step bringing more toys and trinkets for your budget. The SVR high-performance model is the range-topper.
What is the Jaguar F-Pace SVR?
The SVR model brings a dose of Jaguar sports car attitude to the oh-so-sensible SUV. It borrows the F-Type's muscular supercharged 5.0-litre V8 and an astonishing 550hp driving all four wheels. Which explains the mildly terrifying performance claims of 0-62mph in 4.3 seconds and a storming 176mph top speed.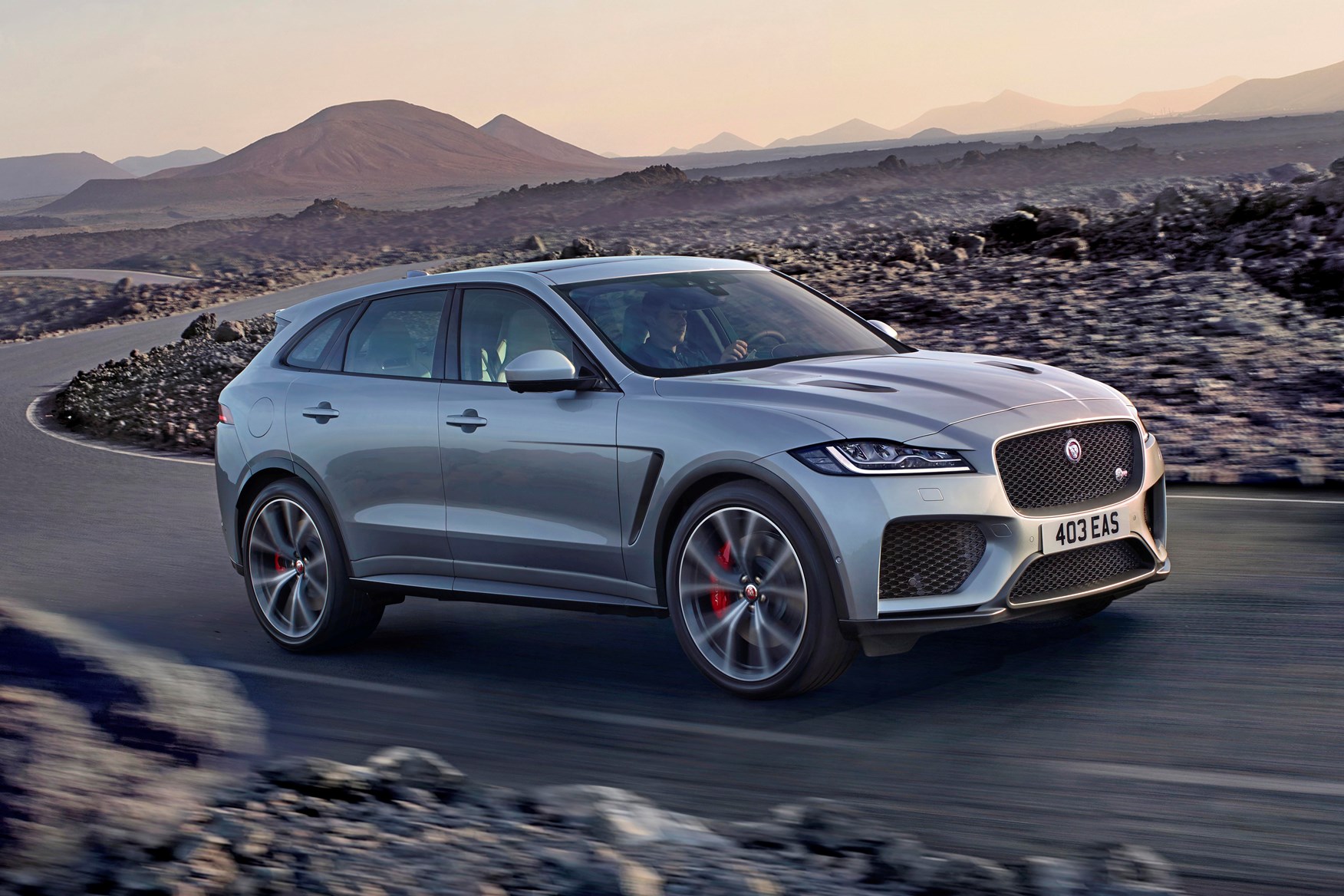 The SVR is designed to handle more like a sports car too, despite being a tip-toeing, high-riding SUV and Jaguar has beefed up the suspension and brakes to cope with the extra power. There's even a special electronic differential on the rear axle to mete out the dollops of supercharged thrust.
Large 21- or optional 22-inch wheels mark out the SVR's styling pack, along with an active pop-up tailgate spoiler and quad exhaust pipes. You can bet your bottom dollar the Jaguar F-Pace SVR will be the fastest and loudest crossover on the school run…
Styling and engineering
All Jag F-Paces have an elegant design that somehow manages to fuse the best of Jaguars of yore to a more modern SUV shape. It's at once slick and stylish, but not too shouty (unless you're one of the lucky few SVR buyers).
Underneath lies the hardware you'll find powering a range of different Jaguar Land Rover products, with familiar engines from the Ingenium family. Our experience of the big-selling 2.0-litre engines is that they're not quite as refined as the class best, but it's competitive if not class-leading on performance, economy and emissions.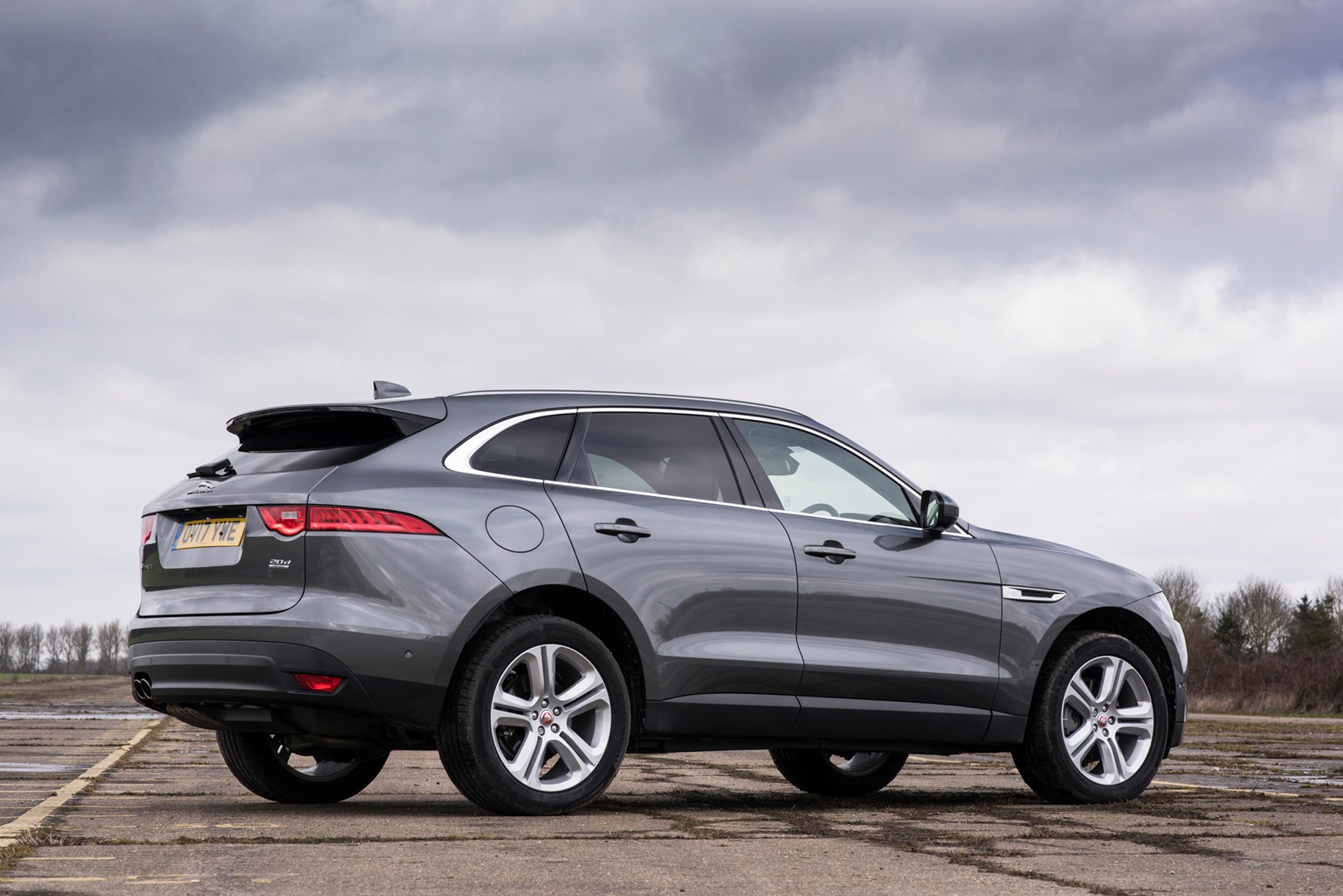 Most F-Paces are all-wheel drive and the 4wd system can shuffle power to the axle with the most grip. The cheapest models are in fact rear-wheel drive, however, so be sure to think through your likely use scenarios before purchase.
Is it good to drive?
The F-Pace drives nicely enough, although it hardly sparkles next to its slick Germanic competition. You sit high up and enjoy the typically lofty driving position of most SUVs, but the interior feels a notch below the best rivals'.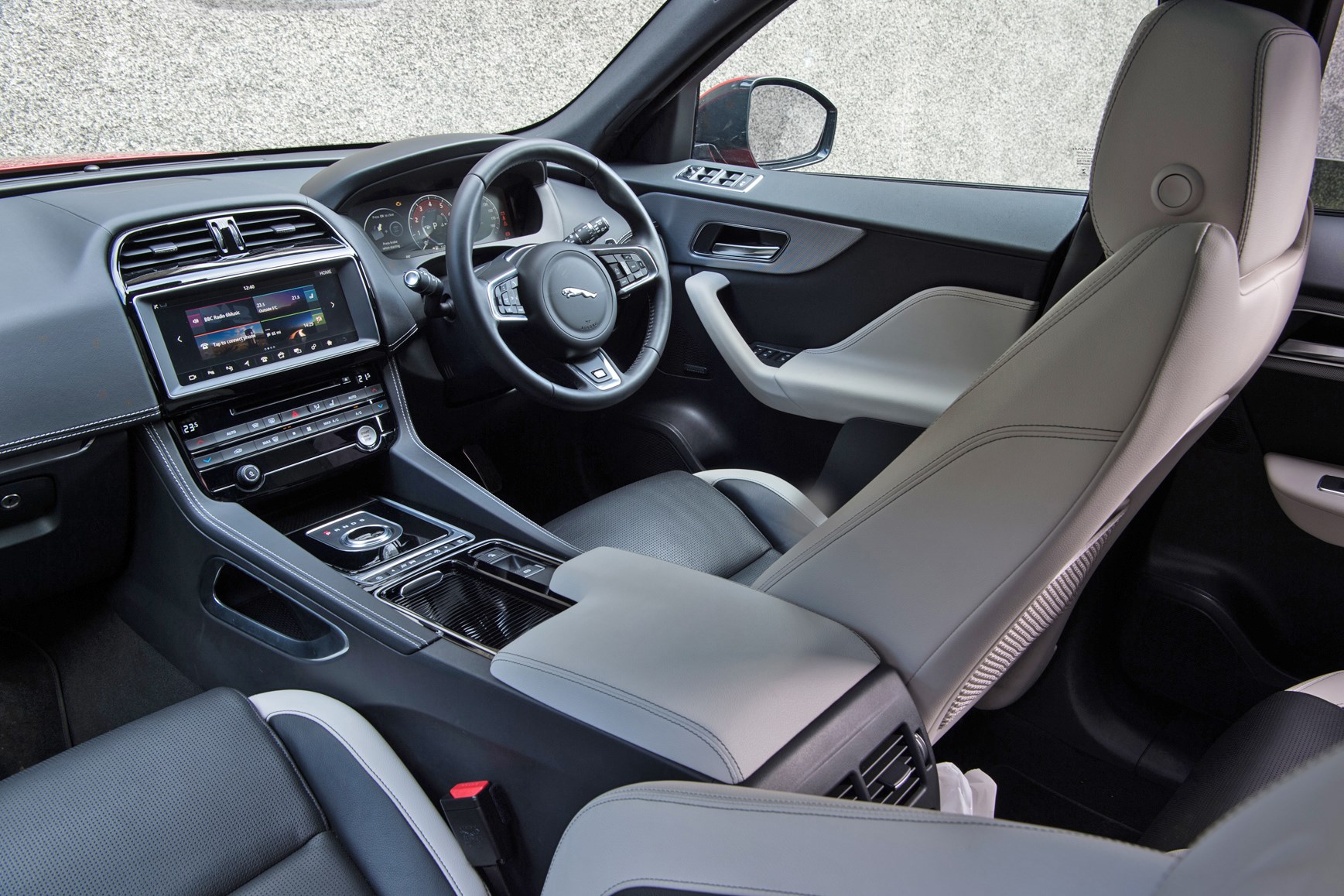 It drives neatly enough, soaking up most of the road acne you'll find on typical British roads, ironing out bumps, lumps and scars in the tarmac. And it's quite fun through the twisties, too.
Many buyers will be best off with a lower CO2 diesel model, although it's worth noting that Jaguar is gradually increasing the choice of petrol engines as the world gradually turns its back on the black pump.
How much does the Jaguar F-Pace cost?
The Jaguar F-Pace is typically available at a discount if you're buying outright, and we forecast that outlook will remain as the model ages.
You can typically fund a nicely equipped F-Pace for less than £400 a month on a Jaguar finance package from a main dealer.
Check out what drivers of the Jaguar F-Pace have to say about their SUV in our user-generated owners' reviews.
Parkers has thousands of used Jaguar F-Pace cars for sale in our classified listings. Find your next secondhand model in our ads – we've everything from family cars and hatchbacks to executive saloons and sports cars.