Land Rover Range Rover Sport SVR (2015 - 2017) review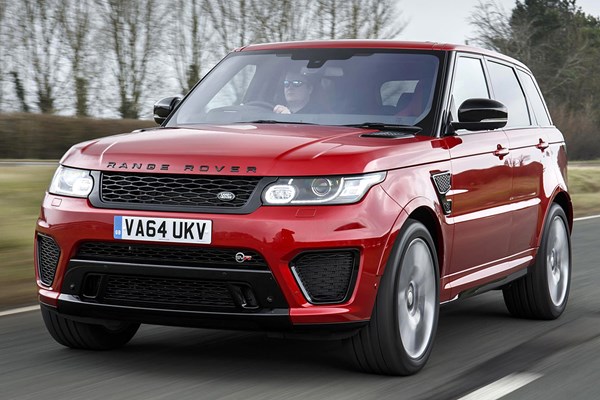 PROS
Performance
Sound
Grip
Off-road ability
CONS
Image
Price
Not overly engaging
PROS
Performance
Sound
Grip
Off-road ability
CONS
Image
Price
Not overly engaging
Land Rover Range Rover Sport SVR rivals
More Range Rover, more Sport, and in the case of the Land Rover Range Rover Sport SVR more performance and more luxury too – this Special Vehicle Operations (SVO) SVR is said to be the ultimate example of the model.
A bespoke interior, more powerful engine, customised dynamics – while retaining genuine off-road ability – and a lengthy standard kit list would seem to reinforce this.
Of course with talented opposition like the BMW X6, Mercedes-Benz GLE Coupe and Porsche Cayenne to contend with, despite the bespoke nature of this vehicle, it won't likely have it all its own way.
Supercharged 5-litre V8 petrol
If you think the five-litre V8 petrol engine found in the standard Land Rover Range Rover Sport Supercharged is plenty fast enough – and why wouldn't you – you'll be startled to hear this Land Rover Range Rover Sport SVR adds another 40bhp and 56Nm to its headline figures. So now there's 542bhp and 680Nm delivered to the tarmac through this car's four 21-inch wheel and tyre combination, via the recalibrated eight-speed automatic gearbox, with a shift-speed up to 50 percent faster.
In raw numbers, that means the Land Rover Range Rover Sport SVR can leap from 0-62mph in just 4.7 seconds, and won't stop head-butting the horizon until you reach (a limited) 162mph. The bark from the SVR's new exhaust, complete with four outlets nestled in the new black rear diffuser, is comically loud under full-bore acceleration – more in keeping with an extreme endurance racer than a stanced Chelsea tractor.
The deleted fuel-cut off on overrun, allowing unburnt petrol to be exploded in the exhaust pipes, popping, banging and crackling as it does so, is sure to raise a grin.
Designed to be dynamic
Alongside the tweaked engine, recalibrated gearbox and bespoke exhaust the Land Rover Range Rover Sport SVR boasts of a complete rework to its suspension, resulting in the most road-focused Land Rover Range Rover Sport so far. The list of changes and highlights is extensive but includes uprated rear subframe bushes and springs, optimised adaptive dampers, bespoke wheels and tyres (choose from standard all season 21-inch rubber or optional 22-inch road focused tyres) and the ability to send 100 percent of its power to either axle.
Fitted with a Dynamic Active Locking Rear Differential that now locks earlier, and with a Corner Recognition system for the gearbox, it means this Land Rover Range Rover Sport SVR can round a bend flatter, faster and harder than anything else from the firm's arsenal. In fact, it'll embarrass some more traditionally 'bona fide' sports cars too.
It is firm though, and with a slightly numb helm you can appreciate this car's considerable size and weight. At least the 6-piston calipers clamping 380mm discs at the front will help bring the SVR back down to sensible speeds when required.
Bespoke Cabin
The general layout of the Land Rover Range Rover Sport SVR's interior is directly related to the standard car, but the most obvious difference is the special SVR seats, complete with harness holes. Not that any owner is likely to use them.
Even with standard seatbelts the Land Rover Range Rover Sport SVR's chairs offer plenty of support, certainly more than enough to cope with its uncannily flat cornering attitude. They look great too, and are swathed in specially trimmed and embossed 'Oxford' leather. The dash and door cards are wrapped in hide too.
And those relegated to the rear shouldn't feel too hard-done by either, as though the bench will accept three occupants it's been designed to perfectly host a pair of passengers on individually sculpted bucket seats replicating the front pair.
Other Land Rover Range Rover Sport models: