Maserati Levante review
Current Model
Engaging drive from well-judged Maserati SUV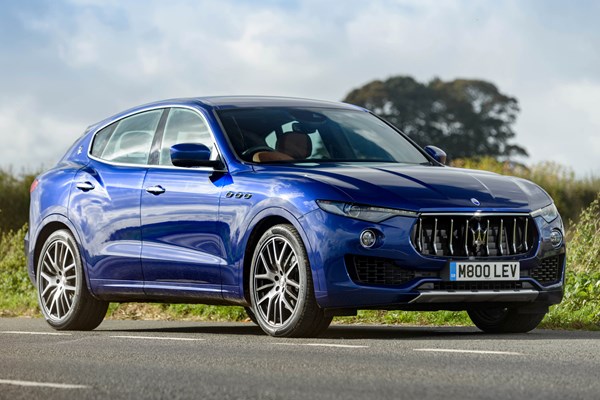 PROS
Low-slung and good-looking
Class-leading aerodynamics
Quiet cabin with improved build quality
Handles better than Ghibli saloon
Competitive pricing
CONS
Diesel doesn't sound like a Maserati
Petrol S is a lot more expensive
Front-seat comfort questionable
Steering heavy
PROS
Low-slung and good-looking
Class-leading aerodynamics
Quiet cabin with improved build quality
Handles better than Ghibli saloon
Competitive pricing
CONS
Diesel doesn't sound like a Maserati
Petrol S is a lot more expensive
Front-seat comfort questionable
Steering heavy
Maserati Levante SUV rivals

A hornet gargling TCP through a loud-hailer; routing MDF with a blunt powertool; rapidly opening and closing a soundproofed door on a soprano with stomach cramps…
These are the sort of high-revving V8-sponsored noises of which, tradition has it, inevitably accompany the rapid progress of any Maserati.
Perhaps, then, the biggest shock to the system appendant to the arrival of the new Levante is not the decision by the company to enter the increasingly glutted luxury SUV fray, but rather, the news that - targeting rivals such as the Porsche Cayenne, BMW X5 and Range Rover Sport - this latest trident-badged offering was initially only offered with diesel power when it arrived in the UK in December 2016.
Maserati Levante S launched a year after diesel
This was remedied in 2017 with a light update to the range, which along with a new steering system and some added driver-assistance technology (active lane-keeping and cruise control) also heralded the introduction of the Maserati Levante S, which gets a fantastic-sounding Ferrari-built 3.0-litre twin-turbo V6 petrol, and is far closer to the spirit of Maserati than the diesel.

It's certainly quicker, with a 5.2-second 0-62mph time and a top speed of 164mph.
Not that there's a great deal wrong with a 3.0-litre V6 punching out 275hp and a wholesome 600Nm of torque mated to an eight-speed automatic transmission and all-wheel drive, except that the Levante diesel panders to our ingrained perceptions of the aural accompaniment a Maserati should deliver about as much as a badger with whooping cough.
High-tech chassis and all-wheel drive system
Ruthlessly benchmarked against Porsche's improbably agile Cayenne, and, mercifully, not based on Jeep Grand Cherokee underpinnings as once intended, the Levante boasts a surfeit of aluminium in both bodyshell and suspension, and has the lowest centre of gravity in its segment along with near perfect 50:50 weight distribution.

Aerodynamic tinkerings include a front grille shutter system which opens for engine cooling purposes and closes to reduce drag, with the result that, overall, the Maserati's shape is slippery enough to garner a best-in-class drag coefficient of only Cd 0.31. This equates to lowest-in-class wind noise at high motorway speeds, making it easier to hear the persistent roar of 20-inch rubber and that vociferous diesel engine, when specified.
The self-levelling air suspension features continuous damper control allied to a choice of five ride heights which hoist the bodyshell a maximum of 40mm above the normal 210mm ride height, or lower it by as much as 45mm for easier access and egress when parked. At speeds above 106mph, the car automatically lowers by 35mm whilst the chances of keeping your licence are simultaneously lowered considerably more.
Drive modes for switchable character
A choice of four drive modes all benefit from an intelligent all-wheel drive system with a sporting bias towards rear-wheel drive. Incorporating a mechanical self-locking differential and active torque control, the system will drive the rear wheels only when dormant, stirring when called upon to transfer as much as 50 percent of torque to the front wheels.
Luxurious cabin
On board, the best build quality Maserati has managed in an age is hallmarked by a gently idiosyncratic meld of flair and functionality. A new multimedia interface combines an 8.4-inch touchscreen with rotary dial control, and works quickly and well enough, though why something as fundamental to winter starts as front-seat heater switching should be buried in a sub-menu is beyond us...

Though the leather upholstery looks appropriately opulent, it somewhat lets the side down on the comfort stakes; inadequate front seat-back lateral support leaves you prone to sliding to and fro like a puppy cornering on Lino, and the bases are sufficiently hard and lumpy to merit updating an old fairy story to The Princess and the Tennis Ball status.
A good-value Maserati?
Pricing is such that the Levante is a relatively good-value option as a diesel, but that Ferrari motor in the S pushes the cost up by over £11,000.
That's a tall order, but the stark reality is that you'll be getting the true Maserati experience if you can afford it.