View all Mazda CX-7 reviews


Mazda CX-7 Estate (2007 - 2011) review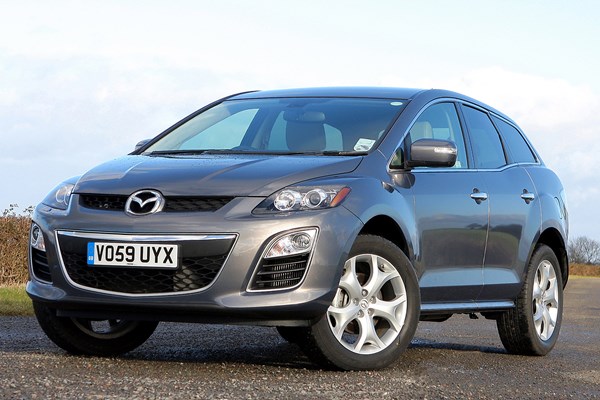 PROS
Sleek styling, strong performance, fun to drive, quality interior, economical diesel available from 2009
CONS
No automatic gearbox option, limited engine choice
PROS
Sleek styling, strong performance, fun to drive, quality interior, economical diesel available from 2009
CONS
No automatic gearbox option, limited engine choice
The Mazda CX-7 is a family car that combines 4x4 looks with an engaging driving experience akin to its sportier models. It certainly looks distinctive and more athletic than traditional off roaders while the 260bhp petrol engine (borrowed from the high performance Mazda 6 MPS) gives it the performance to back-up those good looks.
It's great to drive too and feels like a sporty saloon rather than a 4x4 with responsive steering and excellent body control. In November 2009, Mazda dropped the petrol engine in favour of a 2.2-litre diesel engine with a manual gearbox. It also refreshed the front end with a touch of chrome and new side lights.
The diesel-powered version still offers good performance and improves fuel consumption to 38mpg compared to the petrol's 28mpg. The CX-7 also gained extra safety kit including Mazda's useful blind spot indicator system.
Sleek and fun
The Mazda CX-7 was a great looker straight out of the box when it was launched in 2007, though its sales never really took off due to the poor economy and emissions of the petrol engine preventing it from appearing on all-important company car lists.
This was a shame as the CX-7 is a real rival to the BMW X3 when it comes to driving pleasure on the road – forget off-roading in a CX-7 as all you'll succeed in doing is damaging it. Still, the four-wheel drive makes it very secure and agile on the road and the six-speed manual gearbox has a crisp, short shift. Factor in little body roll, a comfort ride and generous standard specification and the CX-7 is an appealing, if niche, choice.
No automatic gearbox
Mazda replaced the petrol engine with a superb 2.2-litre turbodiesel engine in late 2009, but the company stuck with offering the car only with a manual gearbox. In a sector of the market where diesels with auto 'boxes rule the sales roost, this was an oversight that means the CX-7 remains a rare sight. However, at least the diesel and manual transmission offer decent economy and an engaging drive, which cannot be said of rivals such as the Hyundai Santa Fe. Can it keep rivals at bay? Read the full Mazda CX-7 review that follows.