View all Ford Kuga reviews


Ford Kuga Estate (2008 - 2012) review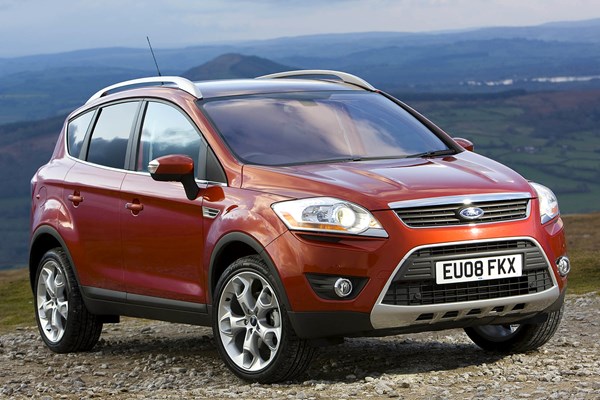 PROS
Stylish looks, car-like handling, premium interior, refined and economical diesel
CONS
Restricted choice of engines, limited off-road ability, no clever rear seat folding system
PROS
Stylish looks, car-like handling, premium interior, refined and economical diesel
CONS
Restricted choice of engines, limited off-road ability, no clever rear seat folding system
The Ford Kuga may be a 4x4 but it's not meant to be a hardcore off-roader. Instead it is designed mainly for driving on tarmac - which explains the sporty rather than chunky styling. It's based on the Focus, one of the best small family cars around, so it's no surprise that the Kuga is good to drive with impressive performance and neat handling - it's certainly unlike traditional off roaders. Of course models with four-wheel drive are capable of tackling more demanding terrain such as muddy tracks while it also makes a good tow car. But for those who don't need the extra traction a cheaper two-wheel drive model is available. Surprisingly, the Kuga is one of the greenest cars of its type – so emissions and tax costs are lower than most alternatives.
Premium feel
The Ford Kuga has enjoyed a look and presence since it was launched in 2008 that has elevated it above many of its more hum-drum rivals. Its classy appearance is in keeping with the trend of SUVs away from serious off-road ability to greater on-road comfort and practicality. Here, the Kuga excels thanks to Ford's know-how when it comes to making cars ride and handle with aplomb. Inside, the Kuga continues its charm offensive with a stylish dash, comfortable seating and spacious boot.
Limited engine choice
Ford has never seen the need to offer a wide engine choice in the Kuga, recognising that most buyers will plump for the diesel engine anyway. However, Ford initially only offered one diesel engine for Kuga buyers, which meant some were left wanting more power. The engine has increased from its original 134bhp to 138bhp, uprated in mid-2010 when a new 161bhp version of this 2.0-litre engine was also added to expand the range. A 2.5-litre, turbocharged five-cylinder petrol engine is the only other choice, which arrived in early 2008, but it accounts for a tiny proportion of Kuga sales due to its 28.5mpg thirst and 234g/km carbon dioxide emissions that rules it out for company drivers. A front-wheel drive Kuga with 2.0-litre diesel engine and emissions of 159g/km (later reduced to 154g/km) joined the range in late 2008 to tempt back some business users. For the full Ford Kuga review read on.