View all Mercedes-AMG GT reviews


Mercedes-AMG GT 4-Door Coupe
Review
Current Model
Most powerful Mercedes on sale has seating for four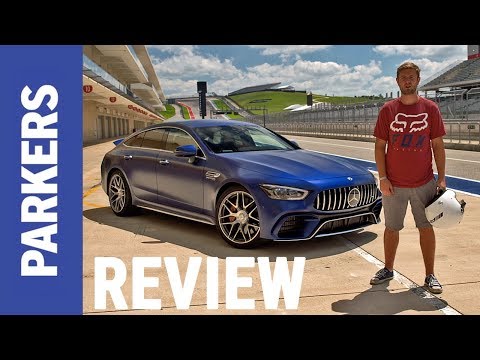 Enlarge
1

videos
Enlarge
66

photos
PROS
Enormously powerful
Luxuriously appointed
Remarkable handling
More exclusive than CLS
CONS
Confusing badge and name
Will be quite expensive
Limited engine range
Less practical than E 63
PROS
Enormously powerful
Luxuriously appointed
Remarkable handling
More exclusive than CLS
CONS
Confusing badge and name
Will be quite expensive
Limited engine range
Less practical than E 63
Verdict
The Mercedes-AMG GT 4-Door Coupe is the second model produced entirely by AMG – it's not a tuned up Benz, but a standalone car.
This is essentially the car you buy if you're a hardcore AMG fan and can't fit your life or family into the two-seat GT sports car.
It's a rival to the Porsche Panamera and BMW 8 Series Gran Coupe but also Mercedes-Benz cars from across the hall – the CLS, E-Class Coupe and to an extent, the Mercedes-AMG E 63.
When engines can I have?
From launch you'll be able to get your hands on a GT 63 or GT 63 S – both use the potent hot-v turbocharged 4.0-litre V8 to produce either 585hp or 639hp.
The latter in S specification is in fact the most powerful Mercedes on sale and boasts a fulsome 900Nm of torque and a remarkable 0-62mph time of 3.2 seconds

In other markets there are 43 and 53 versions – we won't get the former but whether or not the latter will reach these shores is yet to be decided. We hope so, because its 435hp straight six boosted by 48v hybrid technology is a fantastic engine.
What's the Mercedes-AMG GT 4-Door Coupe like to drive?
Absolutely sensational actually, despite the fact it weighs more than two tonnes. It's not entirely like a two seat GT - you don't sit super-low and the bonnet doesn't stretch off into the distance quite the same, but it feels more raw and involving than an E-Class or CLS.

On the road the standard air suspension provided a smooth ride whereas on track it hunkered down and left most of that bulk behind, in sensation at least.
All-wheel drive in the form of 4Matic+ and a nine-speed automatic gearbox are your only choices, while things like rear-wheel steering and a rear differential come as standard on the GT 63 S to help with overall stable.
A lot of work has gone into this car to keep it as lightweight as possible while retaining body stiffness to aid with handling. The bonnet and front wings are made of aluminium, and there's a carbonfibre rear wall and boot cavity. You get an aluminium plate underneath the engine – usually only found in a cabriolet, and substantial steel and aluminium bracing along the underside.

The result of this the GT 4-Door turns in with supreme agility and feels incredibly steady mid-corner. Standard six-pot brake calipers stop the car with alacrity while carbon ceramic items are available at a cost.
New handling modes
As well as six standard drive modes (Slippery, Comfort, Sport, Sport+, Individual and Race) the GT 4-Door benefits from four handling programmes called Basic, Advanced, Pro and Master which correspond to different drive modes.
The first three give you increasing amounts of ESP leeway, while Master, unlocked with Race mode, allows quite a bit of slip from the rear wheels.
If all of this feels a bit complicated then you can select Drift Mode just like in an E63, which means you can easily overwhelm the rear tyres with all that torque, for old-school AMG thrills.
What's it like inside?
If you already own an E-Class or CLS you won't feel lost in the AMG GT 4-Door - the swoopy dashboard and twin 12.3-inch screens controlled by thumbpads on the steering wheel are included, as is the extensive use of LED lighting, including in the airvents (a CLS innovation).
Specific to this car are a Supersport mode for the digital dials with a large central rev counter and shift light when you're in manual mode, plus and there's a flat-bottomed wheel with a 12 o'clock marker.

This also features new wheel-mounted controls including a round drive-mode selector with integrated display, and two customisable buttons on the other side, which you can use to change things like the damping and exhaust noise.
The centre console also features a bank of animated buttons, for things like the manual gearbox mode, ESP, rear spoiler and start/stop. Each one is a tiny TFT display, with a symbol that changes in appearance or colour when you press it.
Is the Mercedes-AMG GT 4-Door Coupe practical?
Yes that's kind of the point. You get three configurations for the rear bench – either two individual seats with fixed backrests as standard, or an additional middle seat that folds, plus the High-Class Rear option.

This gives you two individual folding seats and a special centre console with access to the infotainment functions and comfort features, plus wireless charging, two USBs and a temperature-controlled cupholder.
The boot measures 456 litres, which is more than E-Class Coupe, less than the Saloon, and easier to access than both thanks to the wide opening tailgate. Fold the seats and you get 1324 litres, which is enough for larger items.
The Parkers Verdict
Look past the slightly confusing name and the fact that this isn't simply a more powerful version of a Mercedes-Benz like the E-Class Coupe of CLS and you'll see that the GT 4-Door Coupe is a very talented machine.
Spacious, practical and luxurious, it offers a rawer experience than the very business-like Porsche Pananera and a more exclusive image than the Mercedes-AMG E 63.
This is a practical car you can ferry your family to the shops in or drive to a ski resort for a week, that can also flatter you on track or breeze away from more thoroughbred performance cars at a set of traffic lights.