View all Mercedes-Benz C-Class reviews


Mercedes-Benz C-Class Coupe (2011 - 2015) review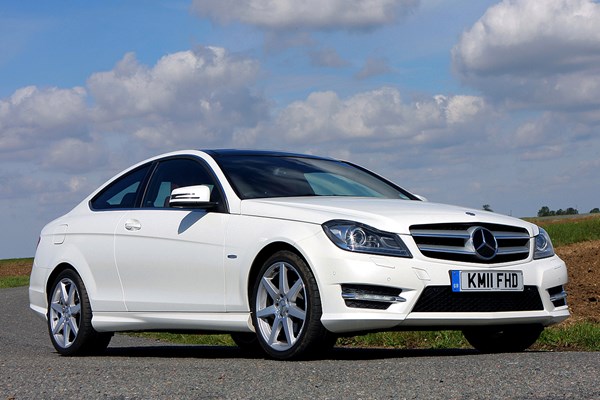 PROS
Drives and handles well, good level of standard kit, should sell well on second-hand market
CONS
Foot operated parking brake, entry to rear seats is awkward, servicing can be expensive
PROS
Drives and handles well, good level of standard kit, should sell well on second-hand market
CONS
Foot operated parking brake, entry to rear seats is awkward, servicing can be expensive
Mercedes-Benz C-Class Coupe rivals
It took some time in coming, but Mercedes-Benz has finally produced a genuine rival to the Audi A5 Coupe and the BMW 3-Series Coupe in the shape of the C-Class Coupe. Taking on the might of its German rivals is no easy task though and the C-Class Coupe will have its work cut-out to topple the competition. The marketing department at Mercedes-Benz is talking the Coupe up as the 'sporty version' of the C-Class range and it certainly looks the part with its sharper styling and the lower profile.
The design is heavily influenced by the larger CLS while it shares its underpinnings with the now defunct CLK and the 2009 E-Class Coupe. It is lower and sleeker than the Saloon by 41mm. The short overhang on the front of the car moulded with the long bonnet, the steeply raked windscreen and stretched roof makes the car look sportier than the more sedate saloon.
Despite the lowered suspension and sporty looks to attract the younger buyer, C-Class lovers will be pleased to know that these tweaks have done nothing to harm the ride, which is superb. It absorbs potholes without sending shockwaves through your back. Mercedes has achieved what it set out to do with this model. There's a good choice of engines too, whether you want all-out performance from the petrol range or the low running costs of the diesel options.
The Coupe should attract a younger audience into the brand thanks to its svelte appearance and entertaining drive, while the comfortable ride and premium finish will continue to please the German brand's faithful. With the C-Class Coupe, Mercedes-Benz has produced an accomplished rival to take on the BMW 3-Series coupe and Audi's A5 coupe, but has the competition got too much of a head-start?
Read on to find out more...
Other Mercedes-Benz C-Class (2011 - 2015) models: