Mercedes-Benz CLA-Class Shooting Brake (2015 - 2019) review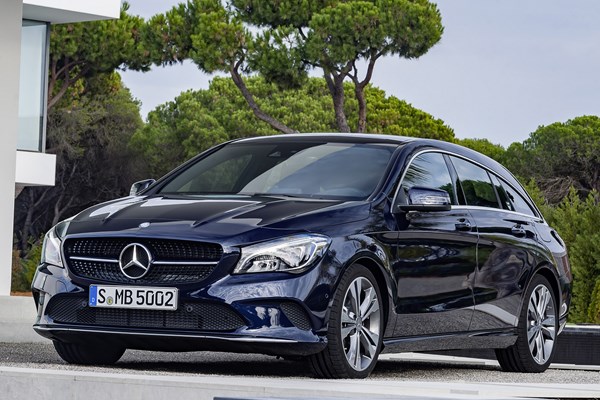 PROS
Looks fantastic
Smart interior
Highly practical
Advanced body design
CONS
Noisy diesel engine
Expensive against rivals
Not cheapest to run
PROS
Looks fantastic
Smart interior
Highly practical
Advanced body design
CONS
Noisy diesel engine
Expensive against rivals
Not cheapest to run
Mercedes-Benz CLA-Class Shooting Brake rivals
In an effort to dream up – and then fill – every single niche in the new-car market, here's the new Mercedes-Benz CLA Shooting Brake.
What we've got here is an estate version of the CLA, which itself is a four-door saloon, styled like a coupe and based on the A-Class Hatchback. A rival for the Volkswagen Golf Estate, Honda Civic Tourer and Ford's Focus Estate, the 'Shooting Brake' part of the name refers to the estate bit in a similar way to the bigger C-Class-based CLS Shooting Brake. So the Mercedes range is getting a little confusing, but thankfully the brand's nomenclature has just been simplified in an effort to keep things manageable for customers.
Thankfully, though all that might sound a little contrived, the car itself isn't bad. It's probably the best-driving car we've tried on the A-Class platform, in fact. In the main it's a very comfortable vehicle with some nice premium touches and serious amount of space in the back. It's let down slightly with its diesel engines and less-than-comfortable ride, though. The CLA 220 CDI we tried felt old-fashioned and noisy, which is a shame because it didn't feel like it suited a car that looks this good.
Practical touches
Since it's an estate, you won't be surprised to learn the boot is bigger than the regular CLA's. It measures 495 litres, but thanks to clever rear seats which can rake, this can expand to 595 litres without folding any seats down. Tucking those back seats down unlocks 1,354 litres.
Rear passengers will be pleased with the extra 50mm of headroom over the normal CLA too – the Shooting Brake's roofline doesn't slope as steeply, unlocking extra space.
What's it powered by?
Upon launch you'll have a choice of five engines and two gearboxes – two diesels, three petrols; one manual and one automatic, respectively.
The best running costs will be from the CLA 200 CDI diesel, which can emit as low as 101g/km of CO2 for relatively low VED car tax and company car tax.
Conversely, the quickest Shooting Brake in the CLA range will be the CLA 250 4MATIC, which dispatches 0-62mph in 6.8 seconds thanks to its 208bhp 2-litre turbocharged engine. This is the only model (other than the CLA45 AMG) that uses a four-wheel drive system.
Other Mercedes-Benz CLA-Class models: