Mercedes-Benz M-Class AMG (2012 - 2015) review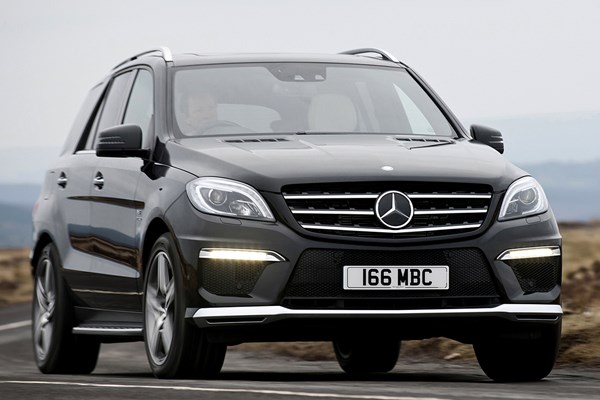 PROS
Ridiculously rapid, comfortable and loaded with kit
CONS
Expensive to buy, costly to run
PROS
Ridiculously rapid, comfortable and loaded with kit
CONS
Expensive to buy, costly to run
The Mercedes-Benz ML63 AMG is the ludicrously quick version of the German 4x4. Powered by a 5.5-litre twin-turbocharged V8 petrol engine, which makes 525bhp and 700Nm of torque, it's a car with a solitary purpose – to get its occupants to where they are going as quickly as possible in absolute comfort. It's a real go-anywhere car too. It has electrically adjustable ride height, which allows for extra clearance when required, and also a lower stance for better handling on the road.
Stunning speed
The engine really is a marvellous piece of engineering. It fires the ML63 to from zero to 62mph in just 4.8 seconds, which is frankly astonishing when you consider that this car weighs a portly 2.3 tonnes. Top speed is electronically limited to 155mph but if you tick a box on the options list marked 'Drivers Package' Mercedes will remove the limiter for a top speed of 174mph. You also get an AMG driving experience, which helps justify the rather large cost for this particular optional extra.
Equally impressive is the seven-speed semi-automatic gearbox. It changes gears almost seamlessly when in normal operation and with a real ferocity when in sports configuration.
Those buying a car like this aren't likely to be hugely bothered about running costs. That's fortunate, because CO2 emissions of 276g/km make this rather expensive to tax. The fuel economy statistics are equally exuberant, with Mercedes claiming a combined 23.9mpg. Drive the ML63 hard, however, and you'll probably average considerably less than that.
Plush interior
Inside the Mercedes-Benz the seats are as comfortable as you'd expect from a car at this price point. In fact the entire interior has a real feeling of class and style. It's a genuinely nice place to be and from the driver's seat you're afforded impressive views of the roads around you thanks to the high driving position and ride height.
So is this the car for you, or should you consider rivals like the Porsche Cayenne Turbo or the Range Rover Sport instead? Read our full Mercedes-Benz ML63 AMG review to find out.