Nissan Micra Hatchback (2010 - 2017) review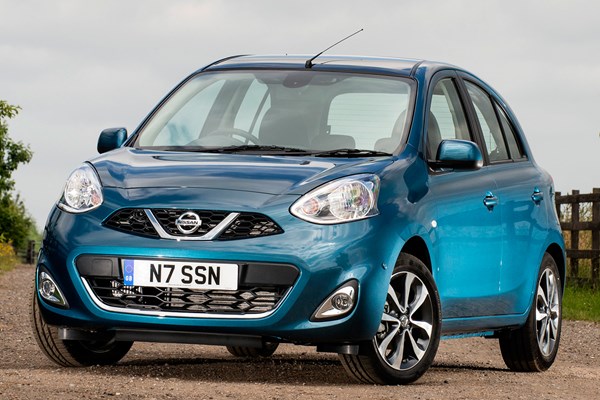 PROS
Cheap to run
Easy to park
Low emissions
CONS
Low quality
Interior
Poor handling
Noisy CVT gearbox
PROS
Cheap to run
Easy to park
Low emissions
CONS
Low quality
Interior
Poor handling
Noisy CVT gearbox
Nissan Micra Hatchback rivals
The fourth-generation Nissan Micra, with its low purchase price, affordable insurance and excellent fuel economy should be an ideal buy for those on a budget who want something a little more left-field than the default, yet more expensive Ford Fiesta and Vauxhall Corsa. The previous incarnations have all satisfied the needs of those who want nothing more than a small reliable car to potter around town.
2013's major facelift brought a new front-end with revised grille, bonnet, wings, headlights and bumper, while the rear end received a redesigned bumper and LED tail lamps.
This mid-life refresh also ushered in a re-designed centre console and an upgraded version of the Nissan Connect infotainment system with various Google extras, while buyers were given the choice of extra personalisation options such as speccing different colour wheel caps or door mirrors.
It is fair to say that the Micra, in all its guises, has been a hit with the UK market but can this latest offering continue to keep the British small car buyers happy?
Low running costs
It's been an enduring feature of the Nissan Micra that it's easy on the pennies when it comes to running this supermini. The latest incarnation of the Micra is no different thanks to prices that give some city cars a run for their money, never mind superminis, and most Micras offer low emissions to provide cheap road tax.
There's a supercharged petrol-powered version that dips below 100g/km CO2 emissions. Add in insurance costs that are very affordable and fuel economy just shy of 70mpg in the most frugal model and the Micra is one of the most cost-effective cars in its class.
Poor drive and build
Nissan has a hard won reputation for the quality of its cars' construction, but the Micra just doesn't live up to this mark. It's not so much the way the car is screwed together but the materials it's made from.
There is just too much cheap, shiny plastic littering the cabin and dash for the Micra to feel anything but second-rate when compared to the likes of the Ford Fiesta and Volkswagen Polo.
Throw in a drive that is at best functional and at worst bottom of the class and the Micra has little to recommend it over its key rivals.
So with poor build quality but ultra-low running costs, can this package hope to sell well in the UK market? Read on for our full Nissan Micra review to find out if it's the car for you.