Peugeot 108 review
Current Model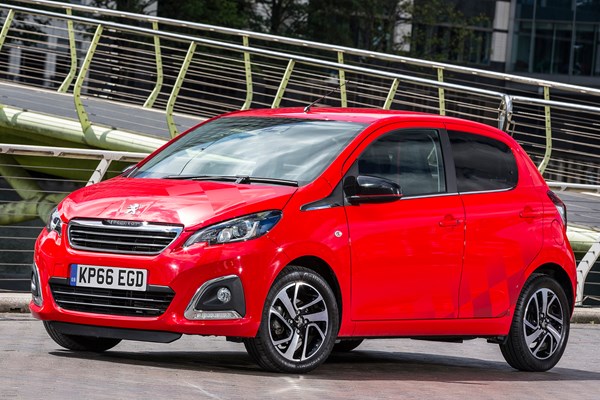 PROS
Lightweight and economical
Impressive kit levels
Personalisation themes
CONS
No diesel option
Some cheap materials
Noisy petrol engines
PROS
Lightweight and economical
Impressive kit levels
Personalisation themes
CONS
No diesel option
Some cheap materials
Noisy petrol engines
This is the all-new Peugeot 108 city car, replacing the long-lived 107 but promising much more.
The new hatchback is once again a joint project with Citroen and Toyota, meaning there are also new versions of C1 and Aygo.
As with the 107, the 108 will be available as a three- and five-door hatchback and with the option of a full-length canvas sunroof on models Peugeot calls 108 Top.
City car appeal
At a small 3.47 metres long, the Peugeot 108 is adept at dealing with city life.
By having the wheels situated out at the body's extremities, it means the overhangs are short and passenger space inside is maximized.
Despite the engine remaining up front, the 9.6m turning circle is usefully small, making it highly maneuverable in urban environments.
The 108 has a stronger resemblance to the larger 208 rather than the outgoing 107, reflecting the 'big car' feel Peugeot is aiming for.
LED lights are available at the front, whereas the rear is still dominated by a fully glazed tailgate, although the aperture itself is larger and lower than the outgoing model - a welcome development.
Opening it reveals a 196-litre boot (or 180-litre if you opt for the spare wheel instead of the puncture repair kit), the parcel shelf cleverly retracting towards the glass when the tailgate is opened.
Economical petrol engines
Weighing from as little as 840kg, the Peugeot 108 is a light car so is able to make the most of its compact three-cylinder petrol engines. For that reason, CO2 emissions don't stray above the rate of 100g/km and so VED car tax or company car tax won't break the bank.
From launch there will be two engines to choose from: a 1.0-litre petrol engine borrowed from Toyota, or the tried-and-tested 1.2-litre petrol which can also be found in the 208, 308 and 3008.
With 67bhp available, the 1.0-litre VTi emits 95g/km with a five-speed manual gearbox or 97g/km when fitted with an automated five-speed transmission. Choose the manual version as the 1.0-litre e-VTi, with stop/start function, and this drops to 88g/km.
If you require a little more performance, the 81bhp 1.2-litre PureTech VTi still only produces 99g/km, again with a five-speed manual gearbox.