View all Ford Ka reviews


Ford Ka (2009 - 2016)
Review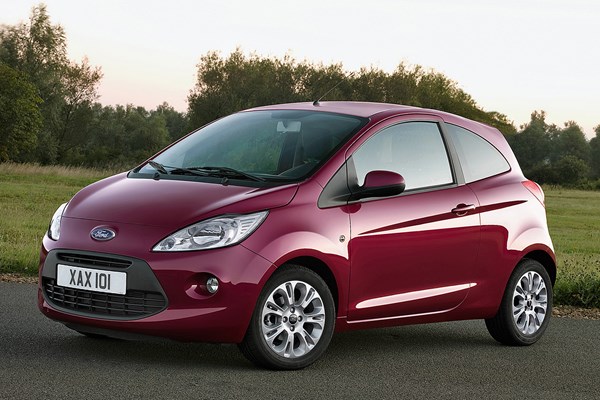 PROS
Enjoyable and easy to drive
Refined at motorway speeds
Cheap to run
Plenty of customisation options
CONS
Some scratchy interior plastics
PROS
Enjoyable and easy to drive
Refined at motorway speeds
Cheap to run
Plenty of customisation options
CONS
Some scratchy interior plastics
Verdict
The original Ford Ka was a hugely popular model, especially among those wanting a cheap-to-run and easy-to-drive small car. Its cartoonish looks made it stand out, and even though it was close to the Fiesta in size it was popular for those who wanted something funky as well as economical. Its replacement is a little more conservative in terms of styling but it builds on those strong foundations. It offers better comfort, refinement and fuel economy but it does cost a little more. It is certainly a much more grown-up car, particularly inside thanks to the well-built and neatly laid out cabin. Of course it retains those cheeky looks of the original and is easy and enjoyable to drive, especially in town, while the supple ride means it's incredibly comfortable.
The Ka was actually developed alongside the Fiat 500 and uses the same petrol and diesel engines as the Italian hatch. There's a 69bhp 1.2-litre petrol and a 1.3-litre but it's the 1.2-litre that is the most popular. If you are insistent that you want a diesel there's the 1.3-litre TDCi with 75bhp. It feels substantial but it's no quicker. It is, however, more economical with an average of 67mpg achievable. Both engines emit less than 120g/km of CO2 making them cheap to tax too. All Kas come with a five-speed gearbox with a high mounted gear-lever close to the steering wheel.
Strong competition
The Ka has plenty of competition in the form of the Hyundai i10, Kia Picanto as well as the stylish Fiat 500 and although a quick comparison with rivals might leave you to believe it's competitive, the entry level Style model is a little short on kit. You don't even get air-con – a must these days. Still, once you step up to the higher-spec models you won't feel shortchanged, just a little short of change. There's no getting away from the fact that the Ka is economical and cheap to run, well built and fun to drive but those stingy kit levels might well go against it. Has it got enough in the tank to beat the competition? Read our full Ford Ka review to find out.