Renault Clio Sport Tourer (2008 - 2012) review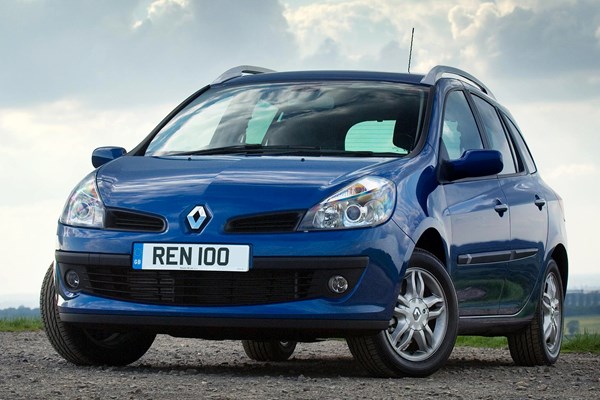 PROS
Smooth refined diesel, practical, light and easy to drive
CONS
Overly light steering, ESP only optional, sluggish petrol engines
PROS
Smooth refined diesel, practical, light and easy to drive
CONS
Overly light steering, ESP only optional, sluggish petrol engines
Renault Clio Sport Tourer rivals
The Renault Clio Sport Tourer has been designed to appeal to those who are after a reasonably small car but with decent carrying capacity combined with low running costs. The small estate combines the more compact dimensions of the standard Clio but adds a dash of practicality, making it ideal for small families. Going head to head with cars like Peugeot's 207 SW and the Skoda Fabia Estate the Clio deserves some serious consideration, not least when fitted with the manufacturer's clean and fuel efficient diesel engines. There's the capability to carry 439 litres of child paraphernalia or flatpack furniture. On early cars you have to find the higher specification models if you want the added 60:40 split rear seats, though all cars now get it as standard. In May 2009 the whole Clio range, including the Sport Tourer model, benefited from a smart new facelift which gave it sharper looks and additional trim grades to choose from.
Engine line-up
It's all fairly simple in the small estate. There are just three engines to choose from, with one diesel and two petrol engines on offer. The entry 1.2-litre petrol with 75bhp is best ignored, particularly if you are going to have a full car the majority of the time as the little engine will struggle to cope with the demands. The more powerful turbocharged 1.2-litre petrol engine with 100bhp is a better option. This will get the car to 62mph in 11.2 seconds and will deal with the majority of tasks asked of it. The French firm, however, does diesel engines best and that's the best pick of the three here. Despite producing just 86bhp the lower down power means it is far better suited to the demands of a small family estate.
Added space
With a carrying capacity of 431 litres, only the Skoda Fabia Estate with 480 litres offers more space than the Renault Clio estate. The rear seats only split 60:40 on the higher specification models, but all cars do get roof rails as standard to enhance practicality while space underneath the boot floor also helps to carry loads. Is the Clio Sports Tourer the ideal solution for a low costs but spacious small family car? Read the full Renault Clio Sport Tourer review to find out.
Other Renault Clio (2005 - 2012) models: