Peugeot 207 SW (2007 - 2013) review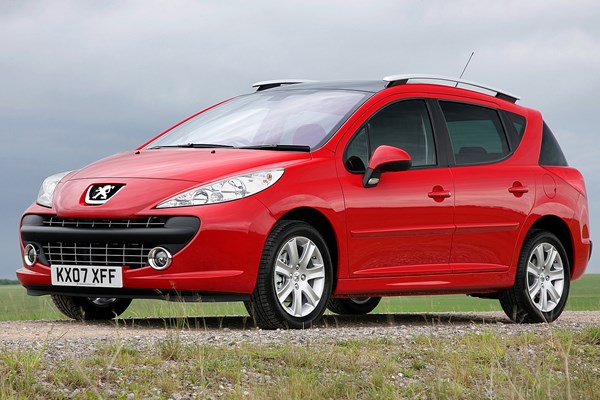 PROS
Great for small families looking for extra practicality, decent-sized boot, standard panoramic glass roof
CONS
Poor five-speed gearbox, not large enough for bigger families, other small estates offer better value
PROS
Great for small families looking for extra practicality, decent-sized boot, standard panoramic glass roof
CONS
Poor five-speed gearbox, not large enough for bigger families, other small estates offer better value
The Peugeot 207 SW is an estate version of the popular 207 hatch and tries to add some glamour to its load-lugging credentials with the 'station wagon' tag. It's by no means the largest estate on the market, but the boot is usefully big and the rear seats fold down flat to augment the carrying capacity.
There's a good spread of motors that offer reasonable performance and economy, but if you intend to use the 207 SW's generous boot space regularly, you'll be better off with the larger petrol or diesel units. The off-road lookalike Outdoor model was dropped from the SW range in 2011.
Practical estate
In turning the 207 into the SW, Peugeot has expanded the standard hatch's boot from 270-litres to 325-litres in the estate. This in itself helps make the 207 SW a very practical supermini wagon, with nearly as much boot capacity as a larger Volkswagen Golf hatch.
It doesn't end there for the SW, though, as the rear seats are easy to fold flat and leave a long, uninterrupted floor and total boot space of 1258-litres.
Add in all of other standard design elements, such as one-hand folding for the rear seats and options such as roof bars for the two higher trim levels and the 207 SW makes life very easy for those who want to transport people and goods in a comfortable, compact car.
Driving differences
The Peugeot 207 SW offers as entertaining a drive as you're likely to find in a small estate and it balances cargo carrying with comfort better than most. However, it's worth noting there is a distinct difference in the suspension of the petrol and diesel models. This is due to the diesel engines being heavier than the petrol units, so the diesels require firmer springs and shock absorbers to cope with the added weight, and this means a firmer ride.
For some drivers, the firmer suspension is not an issue and it even helps make the 207 SW an even more nimble car on country lanes. The caveat applies more to those who spend their driving time on rutted rural roads or crazed city tarmac where the extra firmness of the diesels' suspension means more bumps are felt. For the full Peugeot 207 SW review read on.
Other Peugeot 207 (2006 - 2014) models: