Renault Grand Scenic review
Current Model
Stylish improvement over its predecessor but usability compromised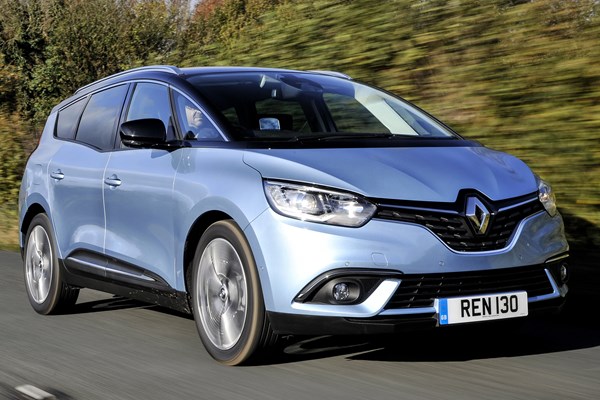 PROS
Unconventional yet elegant design
Higher quality interior fittings
One-touch rear seat folding
Generous equipment levels
Hybrid addition to engine range
CONS
Rear seating very cramped and not as flexible
Complex touchscreen multimedia slow to react
Excessive door mirror wind noise
Lumpy low speed ride quality
PROS
Unconventional yet elegant design
Higher quality interior fittings
One-touch rear seat folding
Generous equipment levels
Hybrid addition to engine range
CONS
Rear seating very cramped and not as flexible
Complex touchscreen multimedia slow to react
Excessive door mirror wind noise
Lumpy low speed ride quality
Renault Grand Scenic rivals
To date, the seven-seater Renault Grand Scenic has been outsold in the UK by its five-berth Scenic sibling at a ratio of three to one. However, with the launch of this fourth generation iteration of a car that pretty much invented the compact MPV segment some 20 years ago, Renault suggests that the two models may achieve something akin to sales parity this time around.
Entering a market place already bustling with the likes of the Citroen Grand C4 Picasso, the Ford Grand C-Max and the evergreen Vauxhall Zafira Tourer, the Grand Scenic walks a fine line between embracing the Sport Utility Vehicle and crossover styling currently enjoying ubiquitous popularity, and continuing to fulfil the remit of a true Multi-Purpose Vehicle (MPV).
Design overhaul
Hence the rather elegant and somewhat unconventional exterior design sharing its lesser sibling's crossover-like lower roofline and SUV-ish 40mm increase in ground clearance, perched upon whopping great 20-inch wheels across the entire model range – a rare instance of the finished article boasting even bigger than an archetypal motor show concept vehicle.
On board, the business end of the cabin has also been subjected to some proper styling. Gone are the grinning emoticon panels that once identified Renault instrument panels the brand over, replaced by a new dashboard console, set in a sea of somewhat sombre but well-made and soft-touch materials. The console houses a seven- or 8.7-inch touchscreen, the latter for control of Renault's R-Link 2 infotainment system.
Flexibility levels compromised
Though the cabin occupies an entirely MPV-like 80 percent of the bodyshell – itself 23cm longer than that of the standard Scenic, with the extra space split between the loadspace and the wheelbase – the rear seating is not as flexible as that found in the outgoing model.
Granted, the rear two seating tiers will flop flat with all the alacrity of a house of cards in a hailstorm, but they are no longer removable with the aid of a hernia truss, and the sliding middle row seats are now split just 60:40 instead of into three. A pity; being able to slide the centre seat out of line was the best way of easing shoulder rub with three prop forwards abreast.
A deal of juggling with middle row positioning is also necessary to offer anything approaching adequate knee room in both second and third tiers simultaneously.
Any combination of both tiers of rear seats may be lowered at the touch of a loadspace wall-mounted button, or via one of the multimedia system's endless menus, to give a flat floor. Typical of any seven-seat format, loadspace with all seats in play feels a tad residual, at just 233 litres.
Petrol, diesel and hybrid power choices
The Grand Scenic will be available with a choice of six engines; two turbocharged TCe petrol units, three dCi turbodiesels and, built around the least powerful diesel, a Hybrid Assist powerplant. This latter is interesting not only for offering an 8-10 percent reduction in fuel consumption and CO2 emissions over the standard diesel, but also because it's rare for a hybrid powertrain to be mated to a manual transmission.
These engine options are spread across a four-model line-up of Expression+, Dynamique Nav, Dynamique S Nav and Signature Nav. Standard specification levels seem generous, and all versions are packed to the rafters with sufficient safety technology to reap a five-star Euro NCAP rating.
Comfortable but could be better
With accurate steering that's as numb as a dental patient's mouth and more that a whiff of bodyroll, the Grand Scenic isn't a car you'll particularly enjoy hustling through the corners. We're happy with that, though, believing such family oriented machines should major in ride quality. Sadly, the Grand Scenic somewhat lets the side down in this respect.
Despite those massive wheels, ride quality is ostensibly quite comfortable. But it struggles to remain supple at low speeds, crashing over obstacles of the kind that blight British roads. Happily it does settle down as speeds rise, making the Grand Scenic happiest ambling in a cruise the quietness of which is shattered by a deal of wind noise from the door mirrors as speeds rise.
So, the Grand Scenic is a handsome effort which, though it makes many welcome concessions to the SUV and crossover genres in the realms of design, cabin quality and equipment specification, still manages to tick enough MPV flexibility and practicality boxes to merit consideration. In all, a significant improvement over its predecessor.
To find out more about this all-new people-carrier, read on for Parkers' comprehensive Renault Grand Scenic review.